As mentioned in the previous post, the bus ride to Cappadocia was a bit rough. So, by around 6:30am, the bus conductor came around tapping on my shoulder to signal that we were about to arrive in Goreme (the main town center of Cappadocia). It was no longer dark at that point, and looking out the window, it was pretty amazing to see a huge number of balloons floating around in the sky as we arrived into Goreme…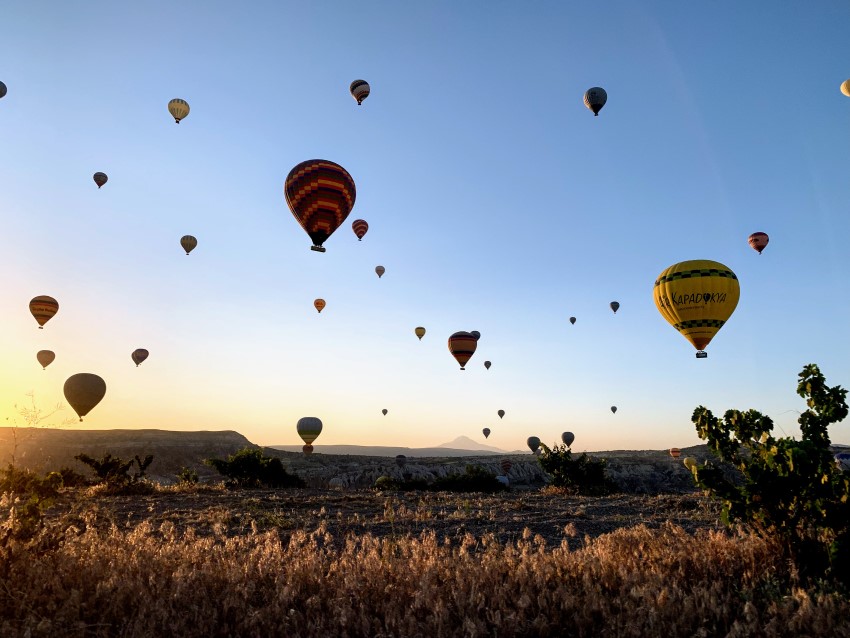 It was a pretty impressive introduction to Cappadocia to say the least! I had deliberately set aside 4 nights in Cappadocia, not because we needed 4 nights to see the sights of Cappadocia, but because we intended to make sure we can get onto the hot air balloon flights in case of cancellations due to bad weather. Just in case you plan to head over there, it only takes the wind velocity to reach 9km/h for all hot air balloon flights to be cancelled. You can actually check first thing in the morning here, if you want to know whether hot air balloon flight is going ahead that day. Luckily for us, our booked flight wasn't cancelled. More on that later.
Our stay in Cappadocia consisted of 2 nights in Goreme, and 2 nights at Uchisar. These are probably two of the most popular options for people to stay in Cappadocia. There's pros and cons to staying in both. Reading around, staying in Goreme being the center of town has its own benefits, including easy access to town, restaurants, tours etc etc. It's the capital of Cappadocia after all, but you won't get amazing views given the town is located at the low point of the valley. While staying at Uchisar meant you will get great views out our window of the whole valley, due to its location. But, you wouldn't get the buzz of the town and it doesn't quite have the variety of options for food and shops you get at Goreme. We couldn't decide, and ended up with staying at both locations.
For our first 2 x nights, we went with Kelebek hotel located right in town, with the added bonus of it being perched on a hill (thus nicer view). They offered to pick us up from the bus stop in Goreme where we got off from our overnight bus, though we were a bit surprised when we were picked up in some dodgy old looking car. Nevertheless, we made it and was soon checked in well before the usual check-in time of 12:00pm. The hotel is well known for its almost perfectly located position to take perfectly Instagramable photos in the morning when the hot air balloons take off. Unfortunately, by the time we checked-in, the balloons have all disappeared. We  ended up just sitting around their restaurant, on our iPhone/iPads deciding what to do with the rest of the day. It helps that the view out the restaurant was very pretty as well. Looking at the view, I think it's fair that one would feel like they are on a different planet, hence the blog title!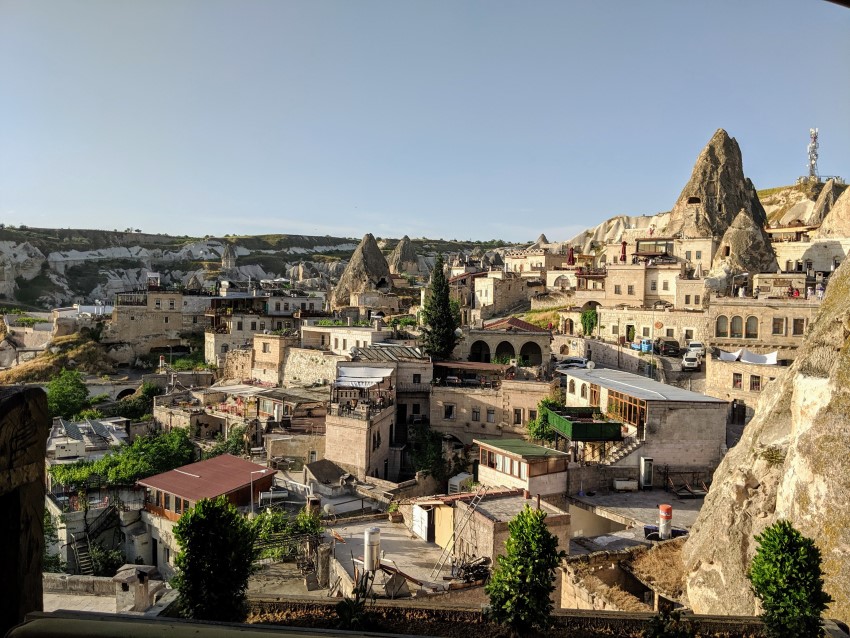 Eventually we were checked into our room , and our first impression was positive. It wasn't a genuine cave hotel, but it does have the feel of one.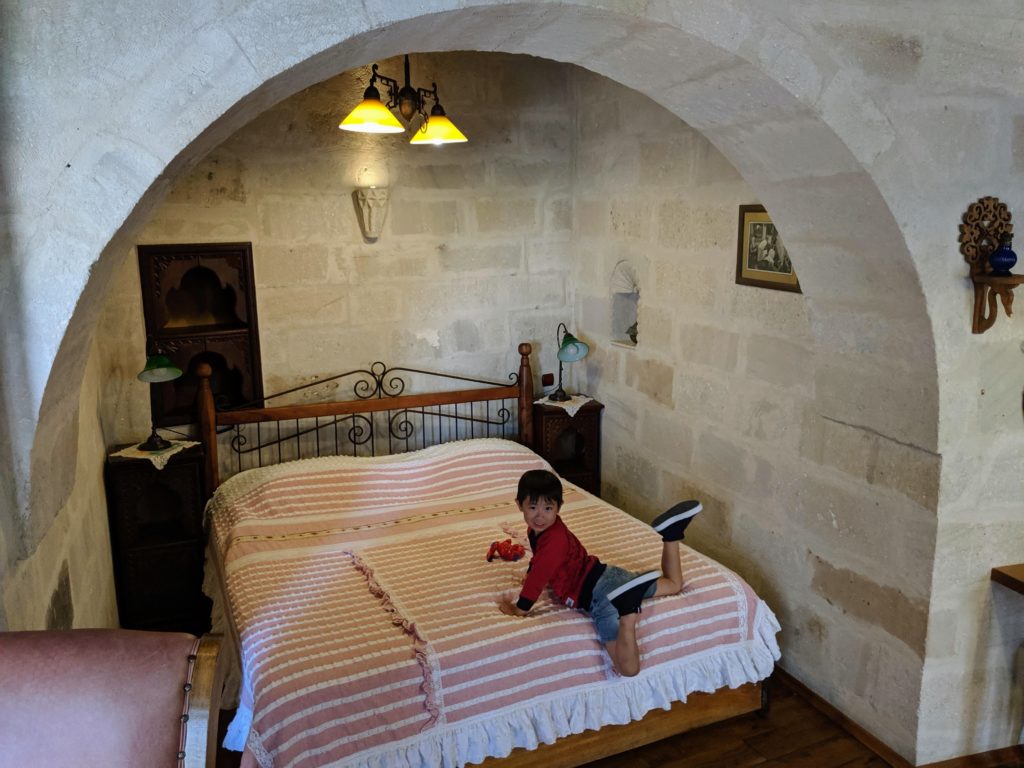 For the morning, we paid a visit to Mr. Coffee. Frankly our energy levels were too low after that given the long bus ride previous night, so we went home and pretty much slept until lunch time. With a quick Google search, we discovered "KeyIf" restaurant, where we discovered "Testi Kebab"! It's a local dish that you will find everywhere, and involves cooking your dish in a claypot. The better ones tend to require upfront reservation, but KeyIf didn't seem to require that. It was still very nice by our books..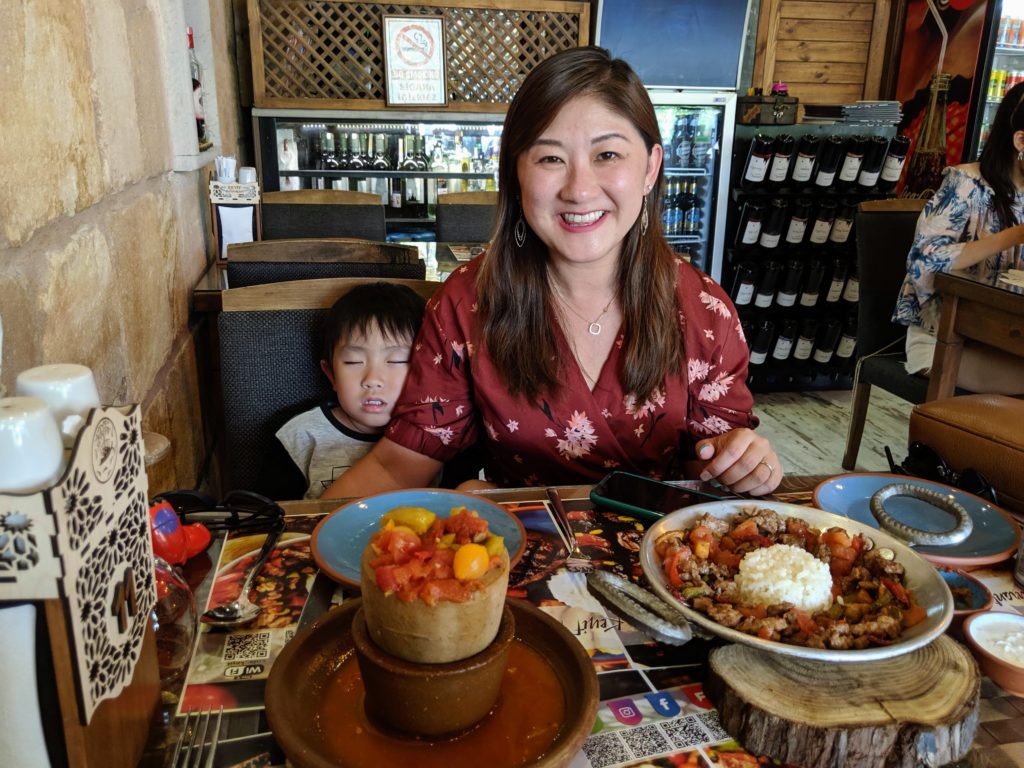 After that, our hotel suggested going to Open Air Museum. But somehow, we got sucked into a "Sunset Program" by a local agent on the way there, involving riding on UTV (off-road vehicles) at a few sites. At 35 euro for all of us, I thought why not. Seemed like a cheap intro to the area.
What initially was a bit of excitement, soon turned into a lot of frustration as we soon found out there's probably between 40 to 50 ATVs all going at the same time. The group size were just HUGE. By the time we got moving, there were plenty of novices that stalled their machine and didn't know how to get their ATV started again. On top of that, as we were moving along the trails itself, we were mostly spending time eating other people's dust (hence the need to bring scarves)!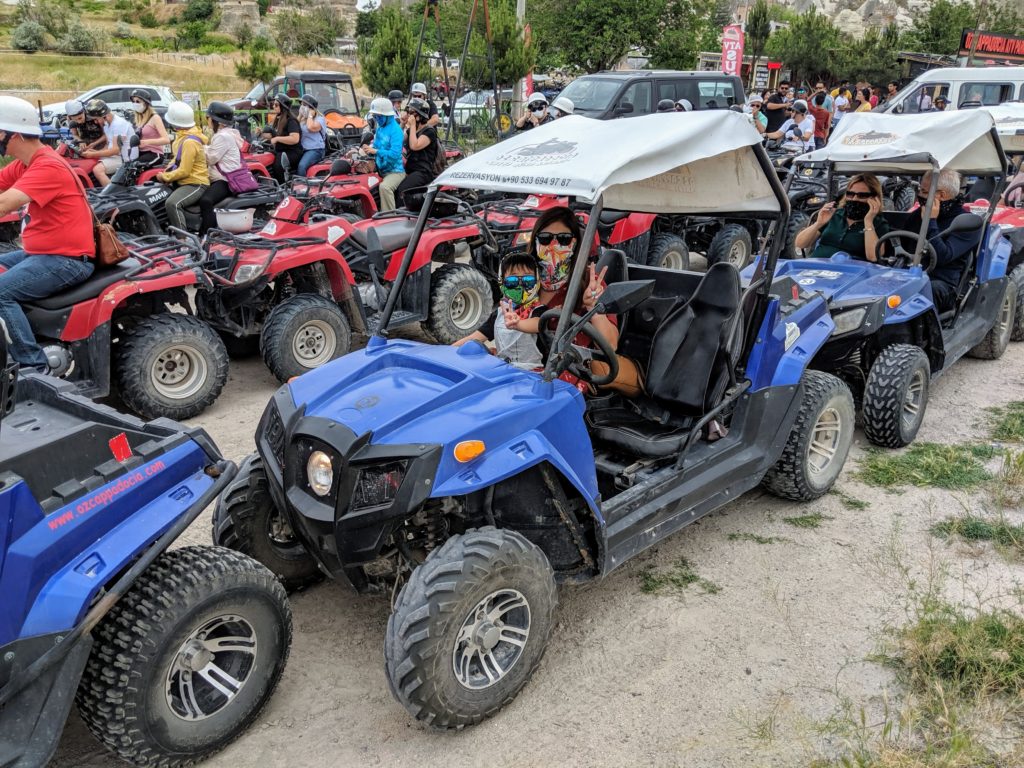 We were suppose to stop at 4 x different sites, which we did. Except we weren't really told what each of those sites were, so I had no idea which sites were which even after I finished the tour.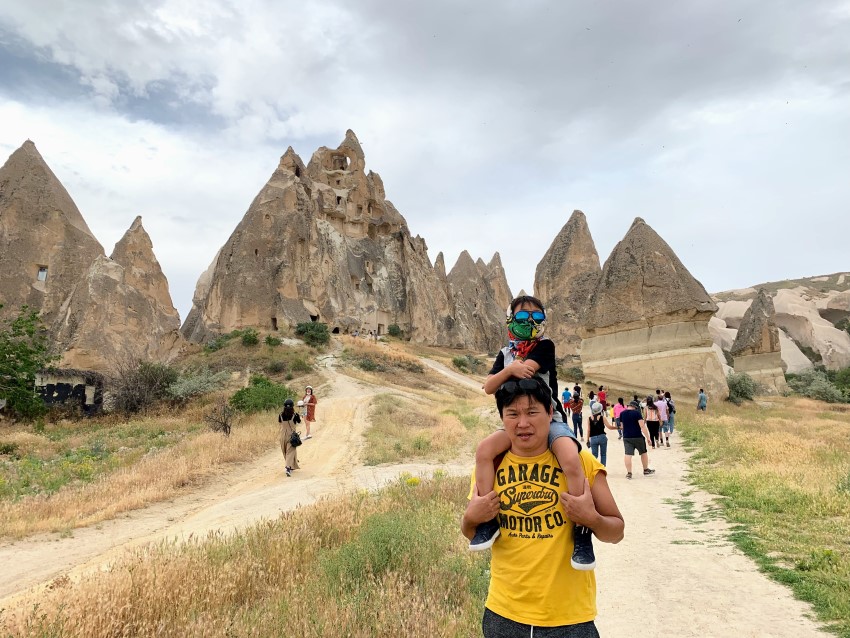 We did manage to catch a pretty good sunset view however, which was probably the only saving grace of the tour.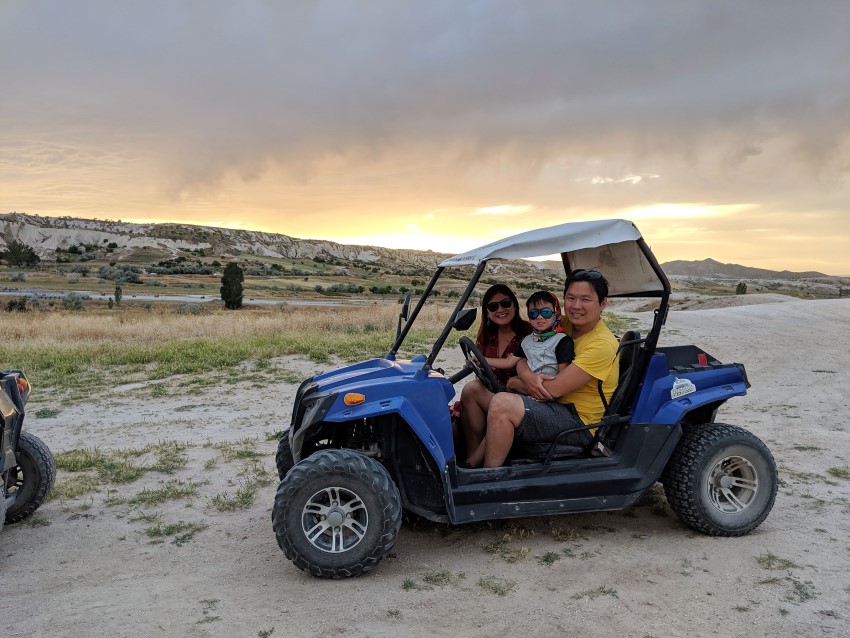 By the end, we were just glad the tour was over, vowing never to jump onto a cheap tour on impulse like that again!
The second day was all about the hot air balloon, THE primary reason why we came to Cappadocia. Except, the day started at about 3:40am, when all 3 of us were picked up by one of Voyager Balloon's vans to head to Avanaos (where their head office is) for registration/check in and breakfast. I specifically went with Voyager Balloon because they were able to offer babysitting service (for 20 EUR), and appears to be one of the larger, more reputable company there. Children under 6 unfortunately couldn't fly, which meant Ethan wasn't going to coming with us. We were introduced to the babysitter when we were there, only to realize she's a teenager who doesn't speak much English at all. She seemed like a nice lady though, so we were good to let her handle Ethan for a couple of hours.
By about 4:30am, we were all again whisked away by their vans to our hot air balloon launch points. This is where our heart rates probably started to go up, watching the hot air balloon being "inflated" in front of us.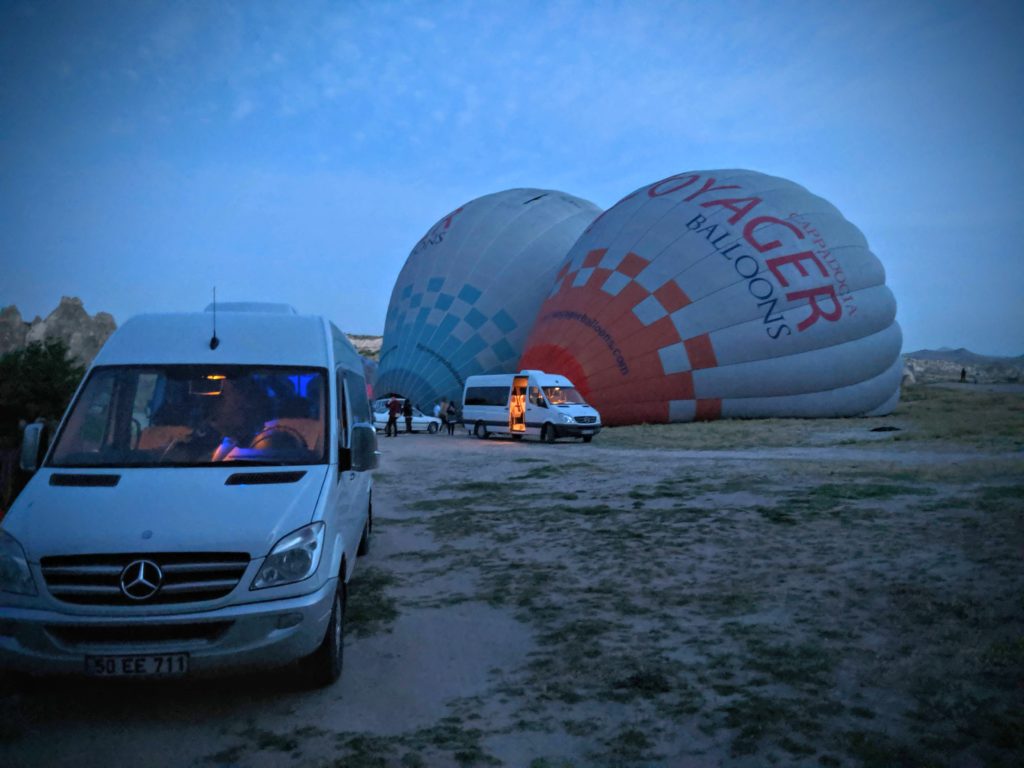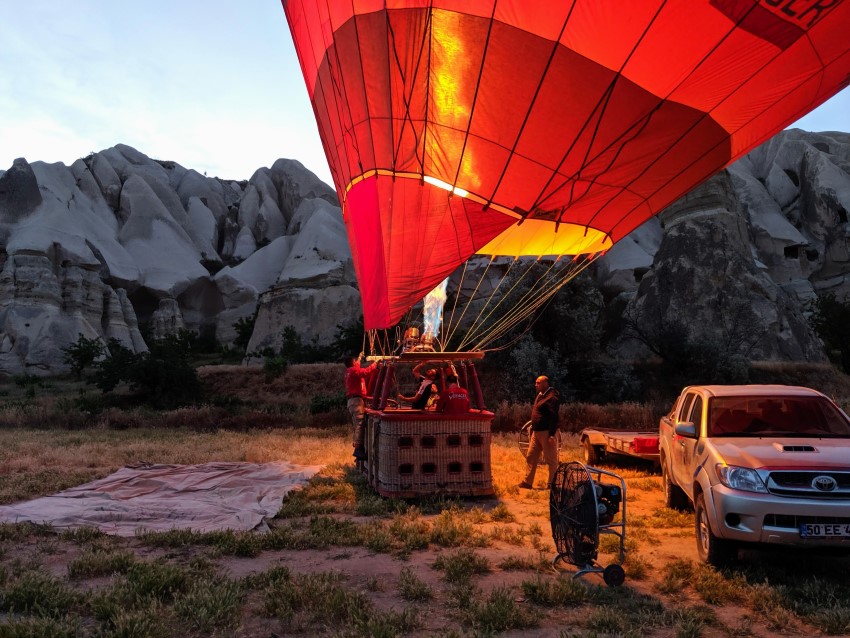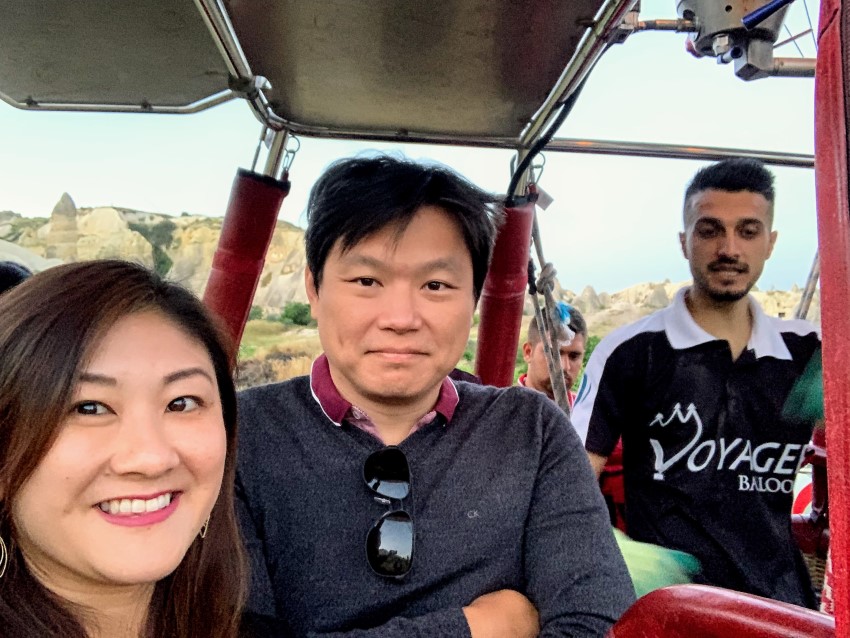 We took a few photos, eventually all told to hop into the balloons, and were introduced to our pilot (Oman), and shown how to position ourselves for the landing. Before we knew it, the balloon took off. From there, all I could remember was we could not stop taking photos. This part of the trip easily hogged the largest share of photos we took of the entire trip!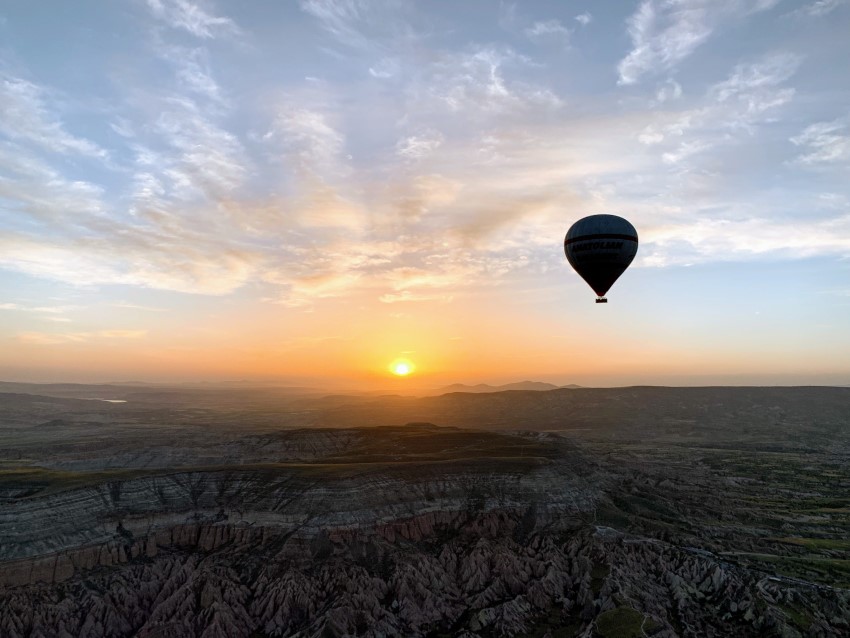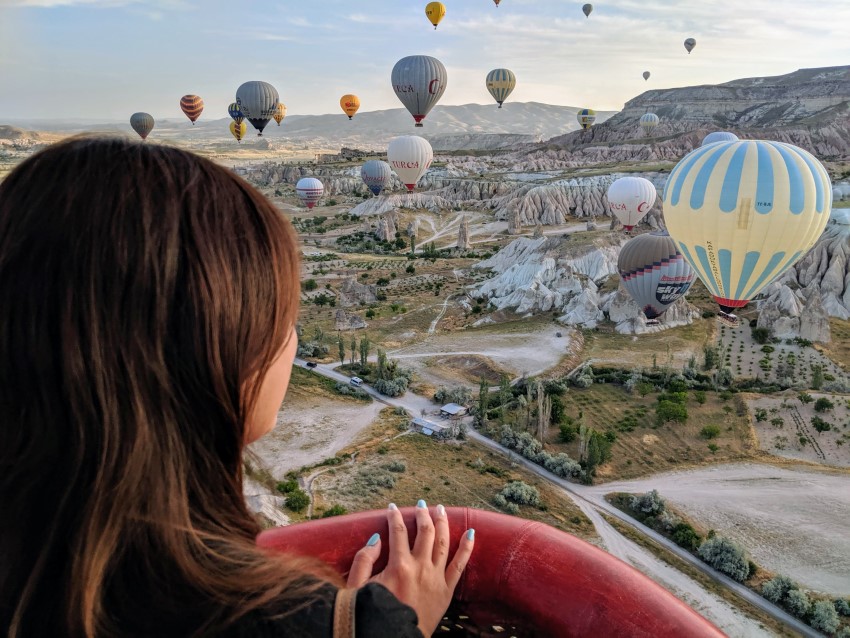 It was a flight that lasted about 1.5 hours, and involved going up and down several times as we went along. When we went down, we didn't get close enough to touch anything, but noticed another balloon that got so close, I thought they were going to crash!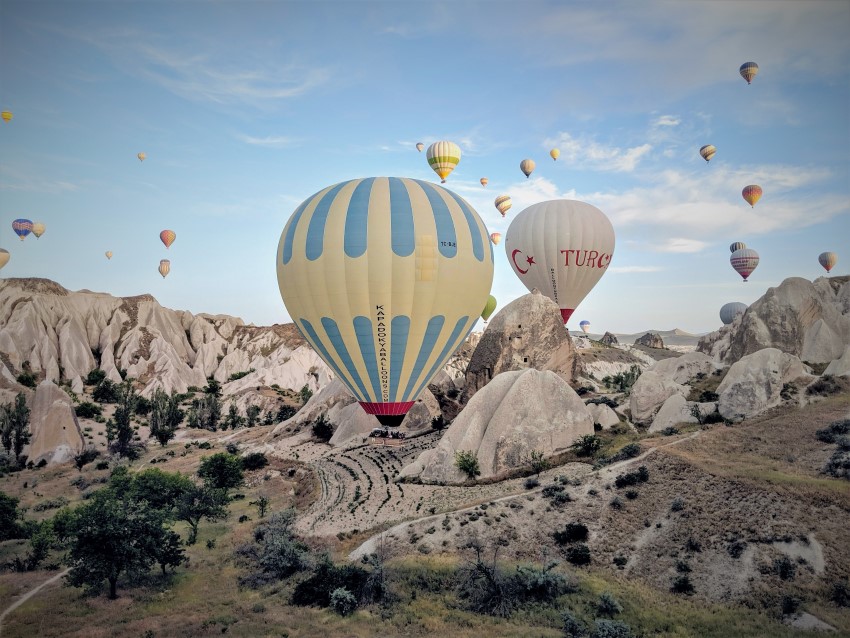 Whilst there were quite a bit of photo taking going on for probably an hour, we settled down a bit, and finally had a chance to open the conversation with some of our compatriot passengers and had a chat. By the end of the flight, we were re-united with Ethan, had a champagne, and was back at our hotel at about 7:30am. Was it worth it? Probably.. Though I think EUR190 is a bit steep for 1.5 hour flight like this. Is it worth doing again? Probably.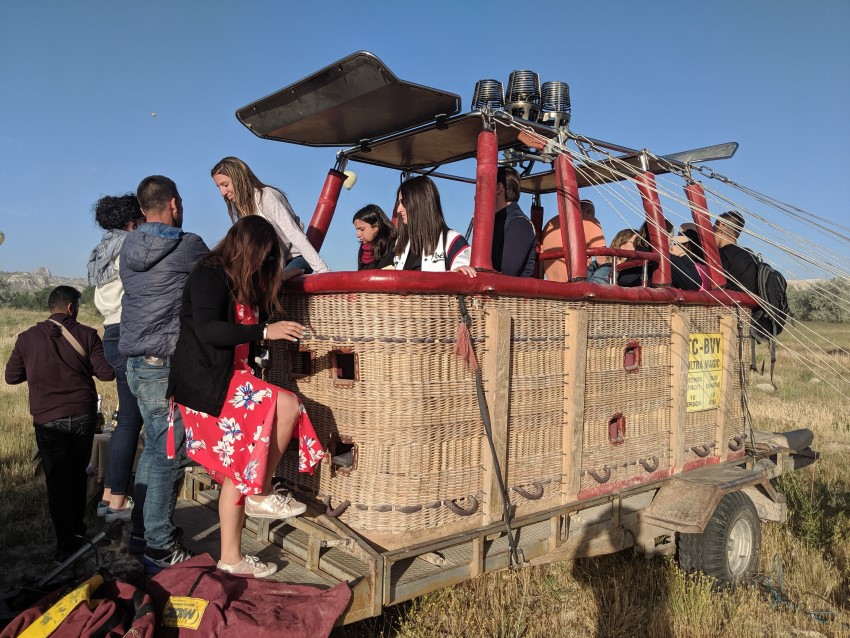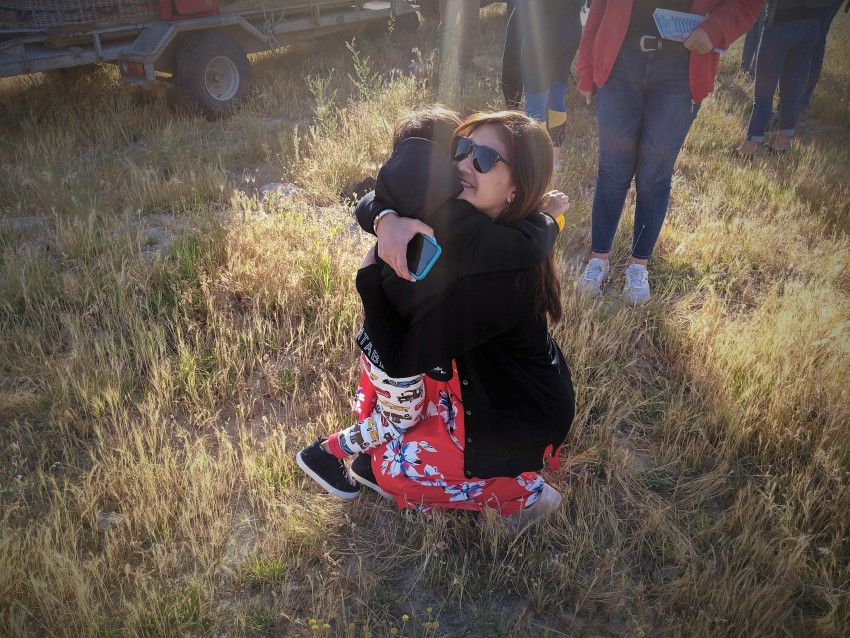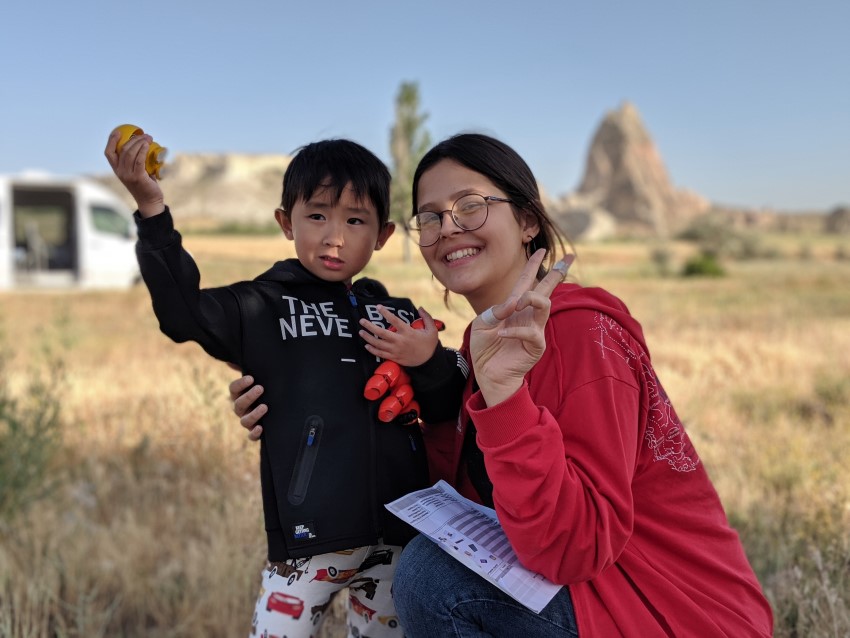 The landing itself was pretty cool, involving 4 ground crew running towards our basket to hold it down, as it hit the ground. It wasn't "smooth" but it got the job done. We got back to our hotel with plenty of day time left to do other things.
Cappadocia was definitely not kind to our sleep pattern, and so far, that's 2 early wake-ups now. We still had a full day and we had to make full use of our time here. Now, Cappadocia seem to have 2 x tours that are very popular and commonly advertised everywhere known as the "Red Tour" and the "Green Tour". Red Tour tends to focus on destinations near town, and as we had more time left, we intended to explore them on our own. We went with so called "Green Tour" through the hotel's recommendation, where it focused on destinations a bit further out of town. It wasn't as cheap as the ones offered by agencies in town @ 55 EUR (typically 35 EUR), but we were sold on the idea of much smaller group sizes. After breakfast, our tour started at about 9:30am, and off we went in a small van, with our guide named "Kahn".
For the day, we covered a few sites including:

Kaymakli Underground City
This is arguably the part of the tour that was most memorable and most fun for Ethan. It's a "cave city" that had its origins around 7th-8th BC, built by Christians at the time as a hideout to defend themselves against enemies. Quite amazing how people were able to dig out tunnels that spans 60-80m deep and is even connected to another underground city some 8-10km away! It was complete with dedicated rooms for praying, kitchen, bedroom, store etc etc, and even designed such that it's not easy for enemies to infiltrate it. The tunnels were not exactly carved for comfort either, with many sections requiring us to squat slightly. I can understand that most people would feel quite claustrophobic in here. Not Ethan however..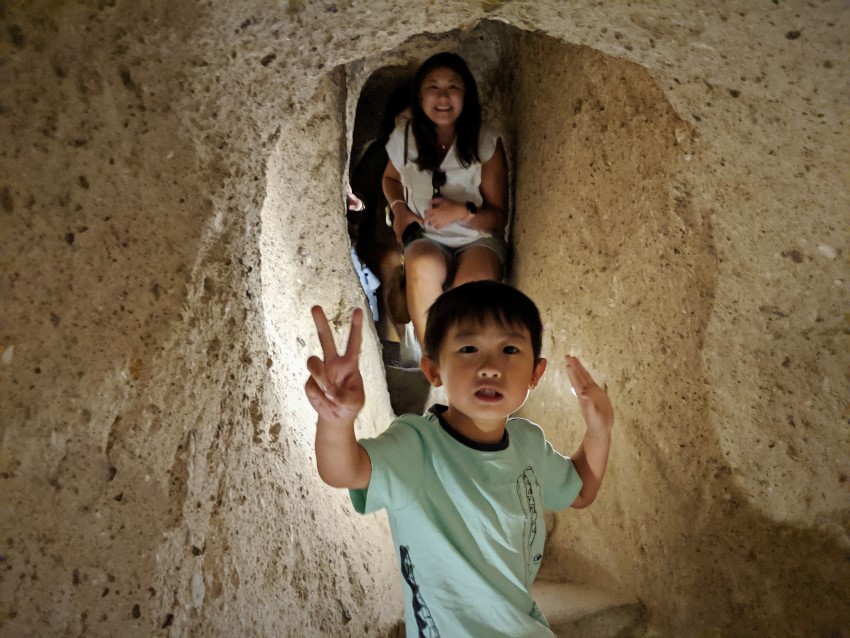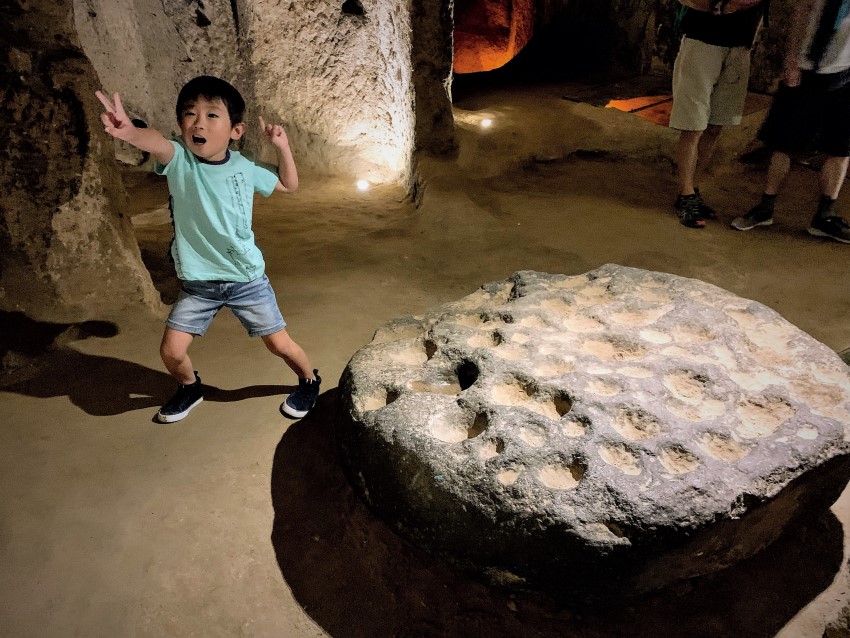 In fact, we enjoyed this one so much that we decided to return for another one, which I'll get to later.
Illhara Valley
This valley reminds me of our visit to grand canyon of USA, except this one features a "tea garden" where we get to relax by the river a bit. It was a good 2 hours hike (mostly downhill) which included a lunch break before we departed for the next destination.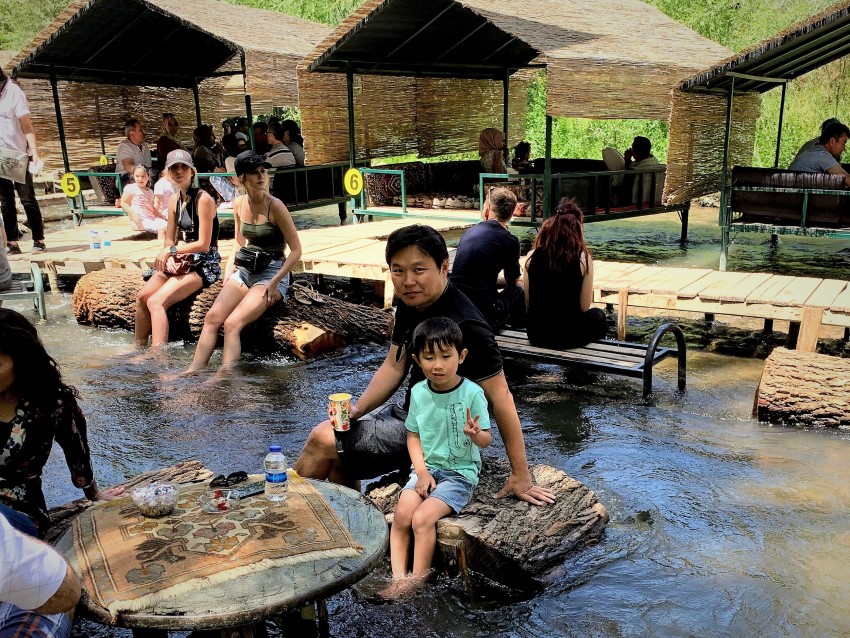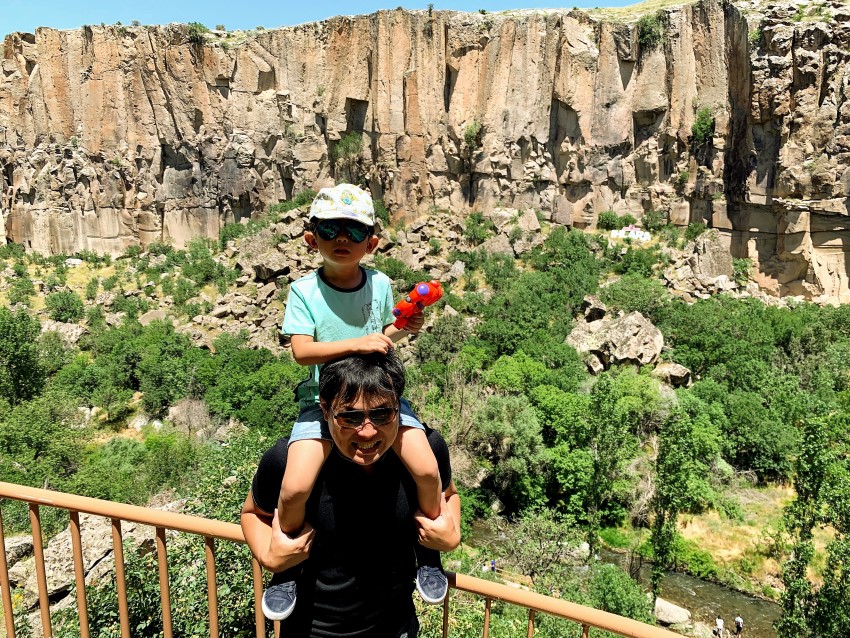 Pigeon Valley
As the name suggest, it's a valley that features a lot of pigeons. It doesn't quite feature as many pigeons as we thought given the name, but it was still worth a visit for the view.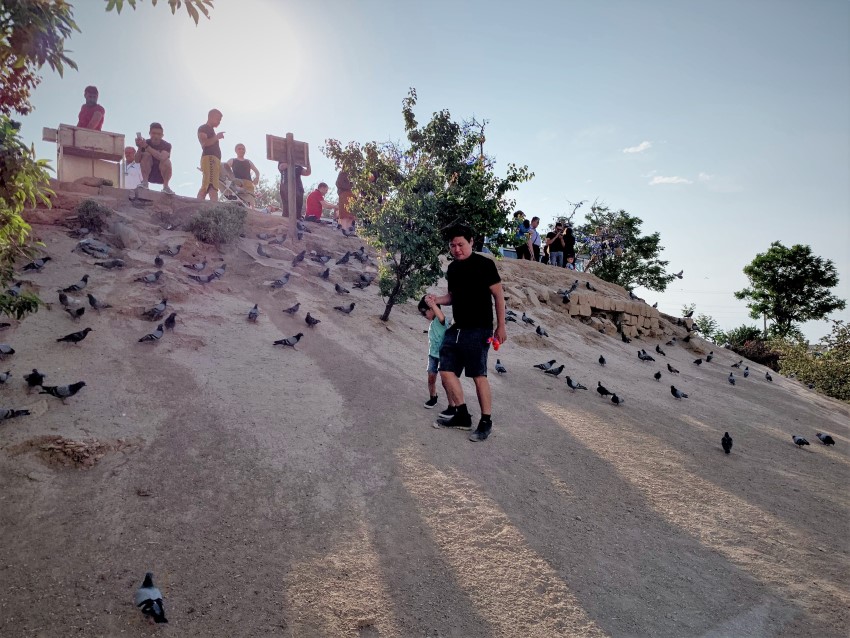 The next morning was suppose to be wifey's "photoshoot" with rising hot air balloons as the background. Except it wasn't meant to be, as the wind was a little bit too strong for hot air balloon flights that morning. So we had to settle for photo shoots without hot air balloons as our backdrop.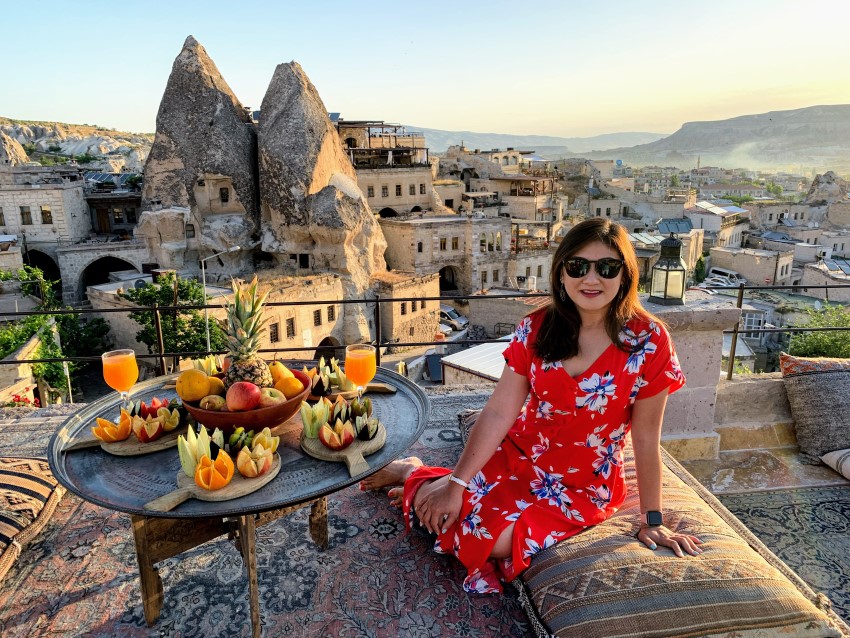 For the next two days, we weren't entirely sure of our itinerary, and we could have just done another tour (e.g. red tour). After checking out of Kelebek hotel, and making our way to our next hotel (Kistar hotel) at Uchisar, we decided to rent a car for two days just to try a bit of sightseeing of our own. It turned out to be a good one! Let me share more with another post.