We spent the first 3 of our 4 days in Cappadocia without a car which was fine and probably how most people coming here would do by default. You hardly need one, as there were plenty of tours on offer. Prior to this, we did the "green tour" and the famous hot air balloon ride which was largely a pick up and drop off affair by the tour companies. On the last day, we weren't entirely sure what to do with the time we had left. Initially I had the idea to go on a rental motorbike, but it was obvious that it wasn't going to work too well given some of the places are only accessible off road, weather was too hot, most sites were simply a bit too far on 2 wheels and most of all it was probably unlawful to have 3 person on a bike. Fortunately, I was able to find a local car rental company who was even willing to deliver the car to our hotel at Uchisar! I used this one here if you're interested. One thing to note about rental car in Goreme is that there aren't any major car rental companies here (i.e. Europcar, Hertz etc etc). So it is a risk you need to consider if you are going to hire a car here. We didn't have any issues with the one hired, but I can't vouch for it if an accident happened!
Anyway, with the time we had left, we explored a few sights including…
Fairy Chimneys
These are essentially chimney looking rock formations that have been carved out as living quarters, churches, storehouses etc by Christians during the Roman period. There's quite a lot of these littered all over Cappadocia, some of which have been turned into hotels right in Goreme. The ones we went to look at is located here, and looks to be a dedicated/preserved site that represented the best of the 'fairy chimneys' at the time.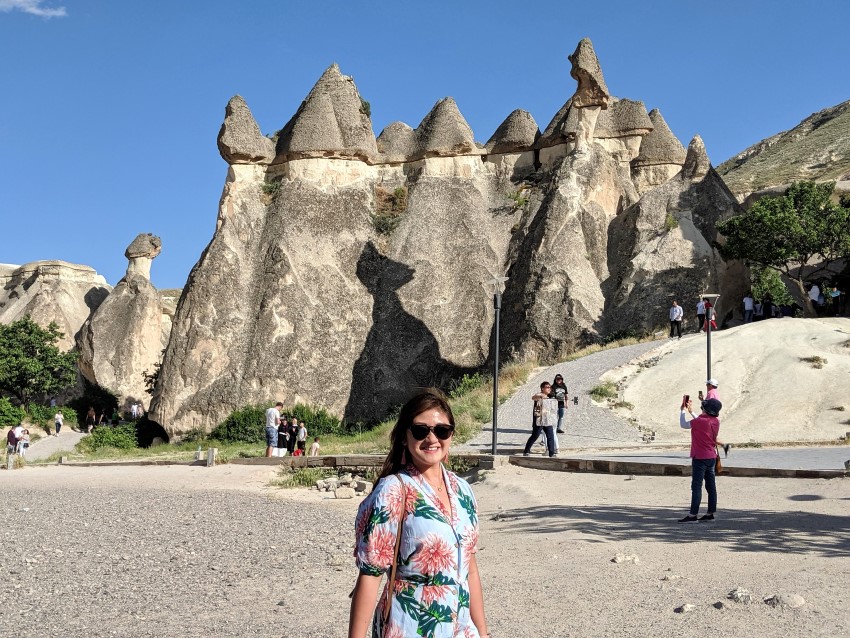 Guray Underground Ceramic Museum
Essentially a museum for ceramic pots, which has been advertised as the "world's first rock-carved underground ceramic museum" located here. We didn't actually visit the museum itself, but the factory/store right next to it, that does not incur an entrance fee. We weren't interested in ceramic pots in the store as we knew most if not all would be significantly overpriced anyway. But we did get Ethan interested in making his own ceramic pot (for a small fee)!
Sunset near Rose Valley
We found a so called "sunset view point" spot on Google Maps located here. We followed Google's literal direction guidance by car (involves a little bit of off-road), which landed us at the bottom of the hill that required a rather steep climb to get to the top.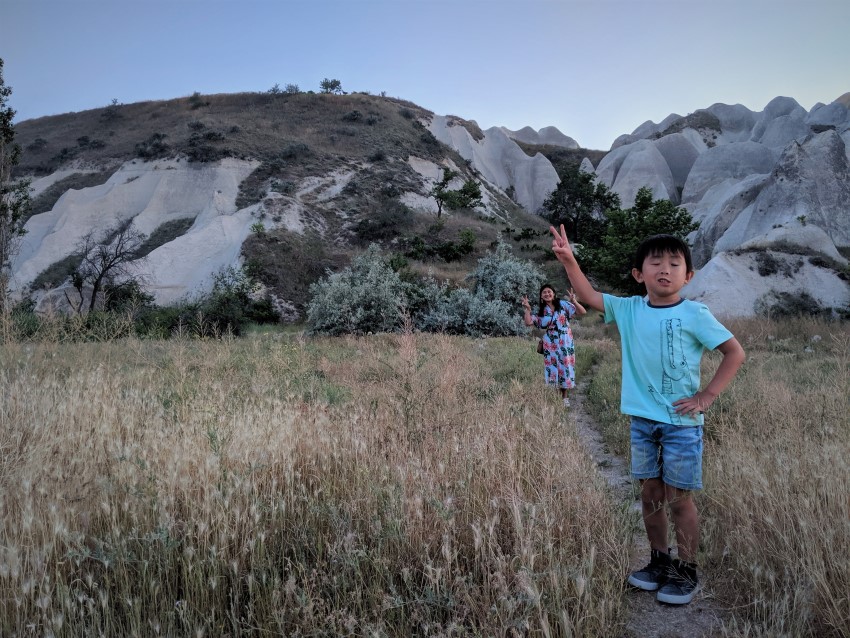 It may not look it from the photo, but I can assure you it was not an easy climb, with me and Ethan making it up there first. Wifey eventually made it up there after about 30 mins. It wasn't that it was a long climb, but that there was a portion where it was very steep and slippery. If you are going to attempt the same climb, make sure you are wearing proper hiking shoes! Or better, drive a bit further down where there is a gentler slope to walk up. It's only when we got up to the top, that we realised that this was the same sunset spot that the ATV tour took us 2 days back, except it was a lot easier coming here by ATV than by climbing up here on foot! The advantage though is that we had more time up here, and managed to actually secure a spot for us to take a few decent sunset photos. We left once it got a bit too crowded.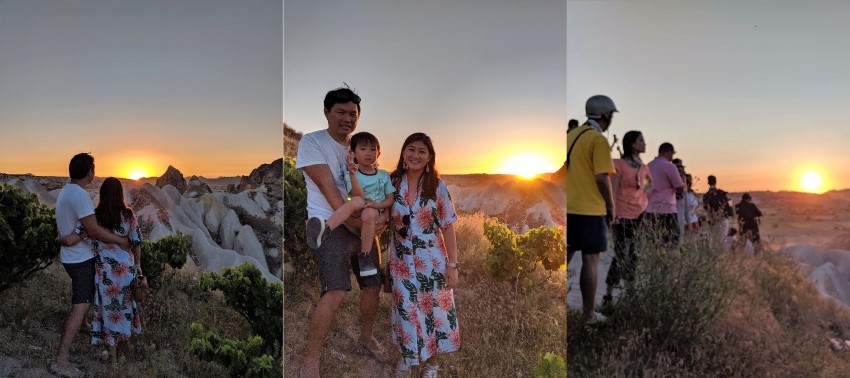 Zelve Open Air Museum
This is one of the two main open air museum in Cappadocia located here. This one is probably the less visited one by tour buses. It featured plenty of chimneys, cave homes, churches, store houses etc. It's an ancient town that features dwellings and religious quarters and was occupied by people right up to the 50s. It is a rather large site, so you can easily spend over 1 hour here if you decide to walk the whole place.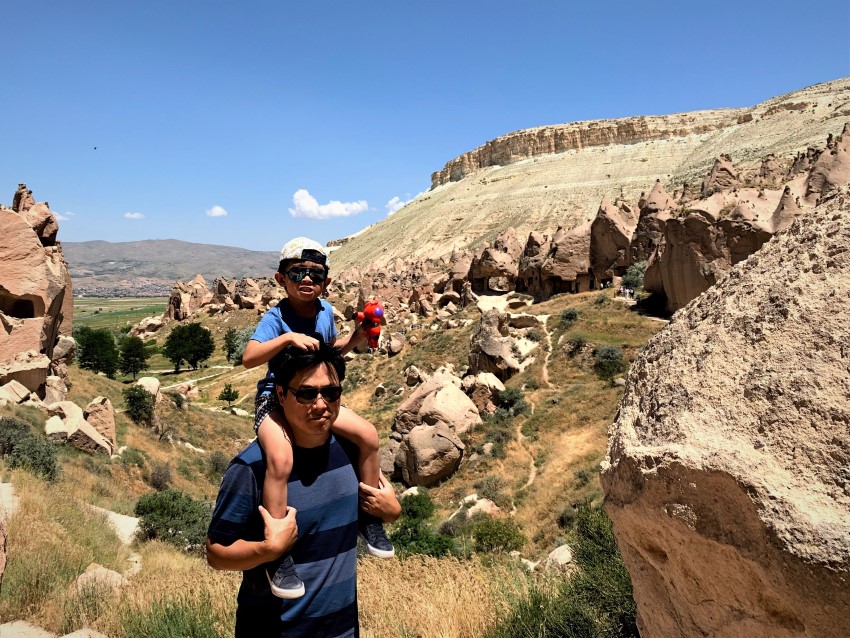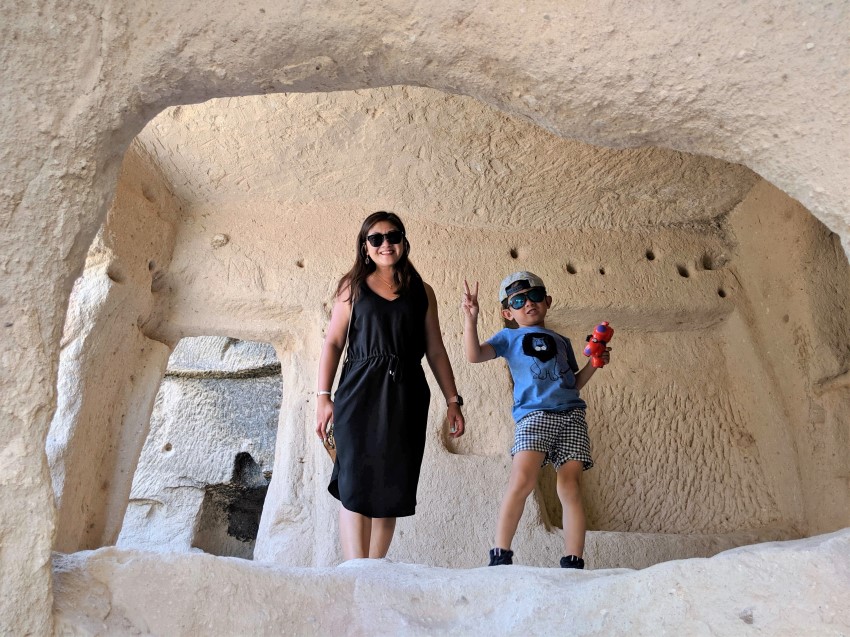 Derinkuyu Underground City
Involved driving a bit out of Goreme roughly 40 minutes away here. We already paid Kaymakli underground city a visit earlier and was so impressed by it that we decided to go to this second one as well seeing how much fun Ethan had at the first one. Once we got here, we realised this one isn't as packed with tour buses but instead it appeared to be favoured by locals instead.
Compared to Kaymakli underground city, this one didn't have any fancy "warm" lighting, had moss covered walls, and some parts were completely dark as light bulbs weren't replaced. There's also a section where the only way up or down to the deeper section of the underground city was via this one way tunnel. The queue to get down there eventually put us off trying to go any deeper. It definitely felt a lot more claustrophobic than Kaymakli!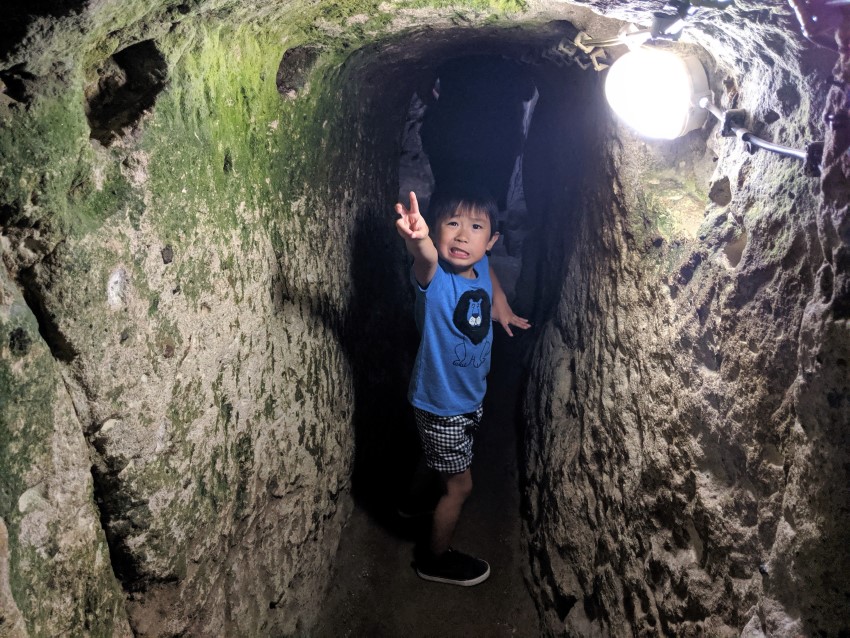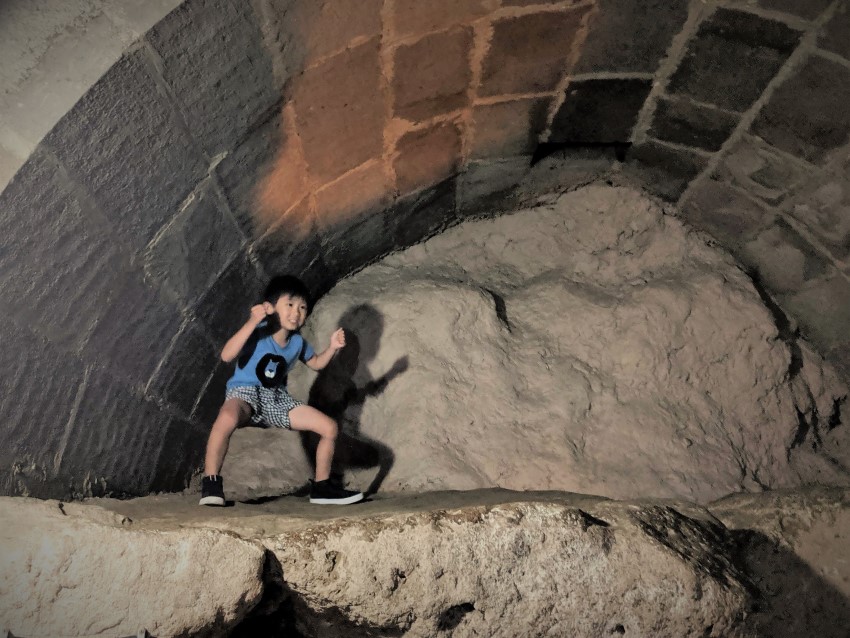 Ethan still had a ball walking around in there. I certainly enjoyed it, and would say this is the one to go to if you want to get a more realistic feel of what it was like in its original condition when it was occupied!
Hot Air Balloon Chasing
The other real reason why I wanted to get a car was hoping that we would be able to chase hot air balloons first thing in the morning. It was a risk because hot air balloon can easily not happen due to weather condition. Fortunately for us, we woke up to a balloon filled skyline!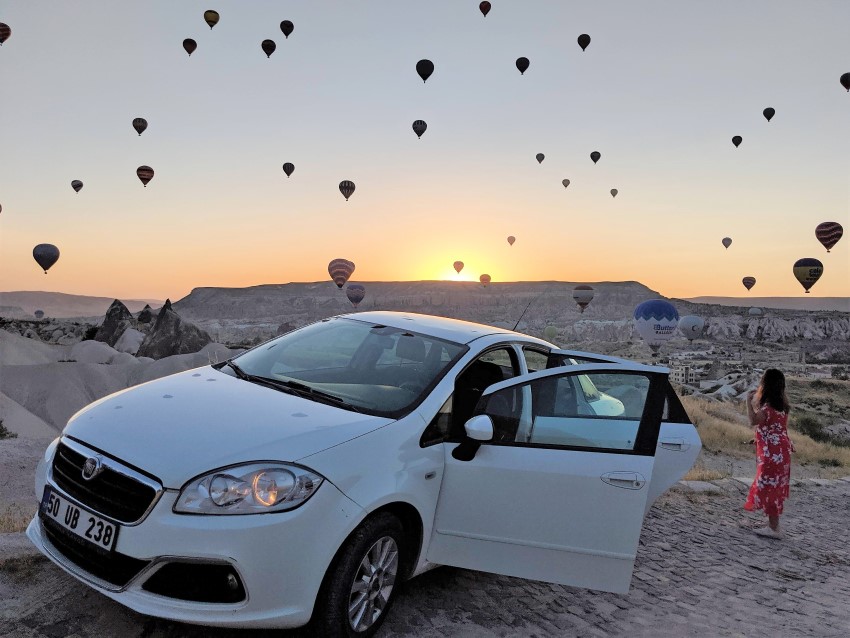 Poor Ethan was carried to the car half asleep, while mummy and daddy were busy carrying a big grin on their faces chasing hot air balloons. We didn't actually know where the hot air balloons were going to take off or land, and simply looked up in the sky and just drove as close to them as possible. It led us to roads off the beaten track and to our surprise there were hardly anyone else doing the same!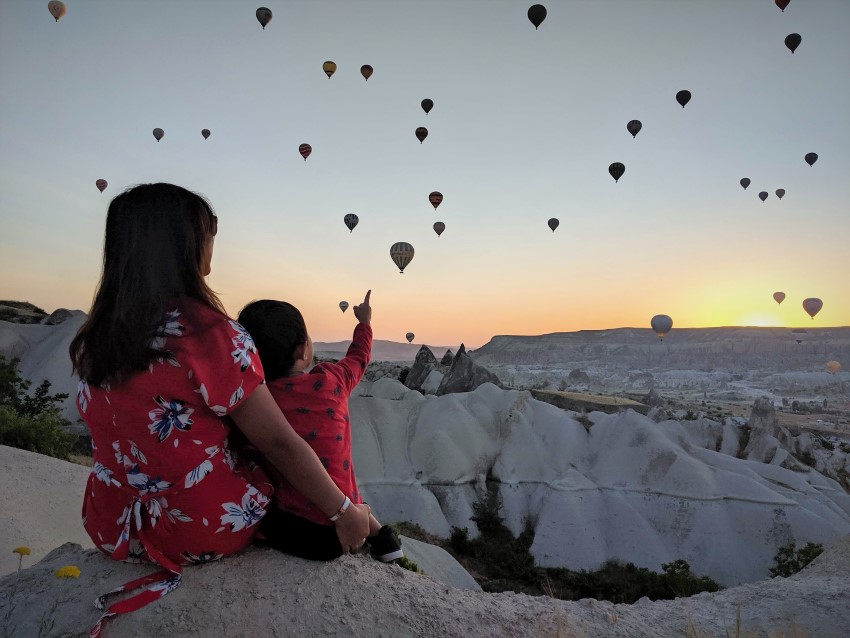 Arguably the sights of the balloons were as good, if not better than the view from the hot air balloon itself! Plenty of opportunity where we got to wave to the balloon and close enough to shout greetings to the hot air balloon passengers as well!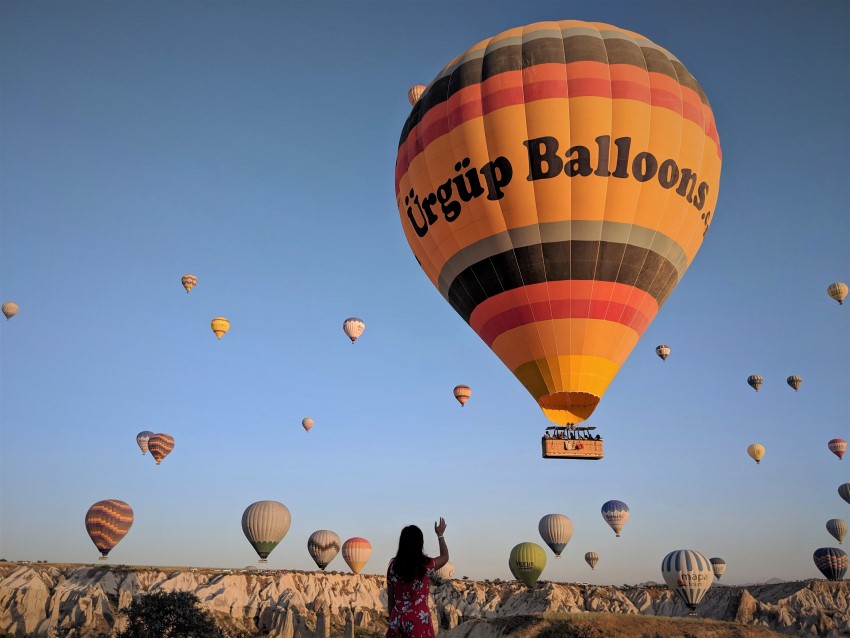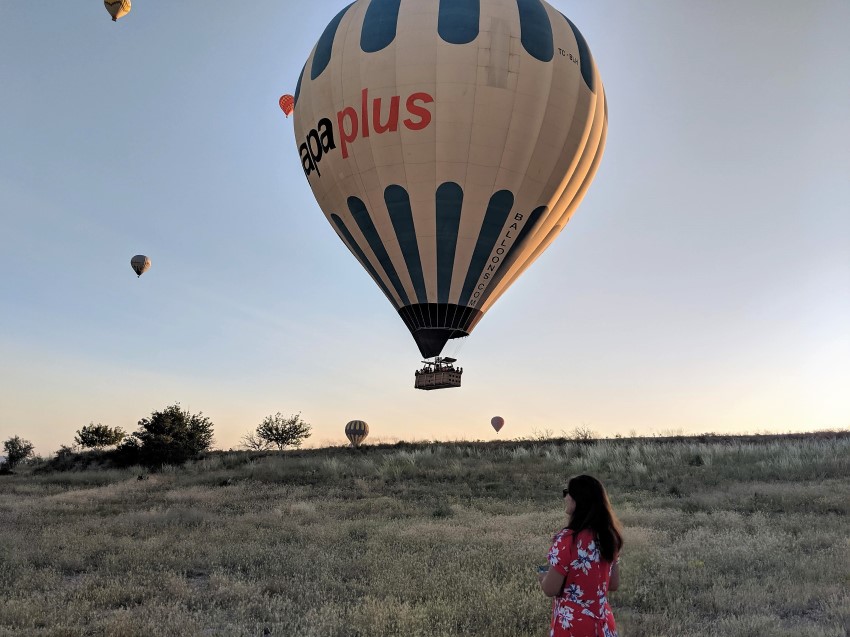 Like the previous day, we ended up taking a LOT of photos as well. I can honestly say that if you wanted to save EUR 190 or maybe you're just acrophobic but still want to get the same excitement, then chasing the balloons around in car is just as fun!
Anyway, once we were done with the car, we finished off the last evening in Cappadocia at Uchisar Castle near our hotel. The view from the top was definitely grand, but just too crowded during the sunset time for us to stick around. We left after a couple of photos.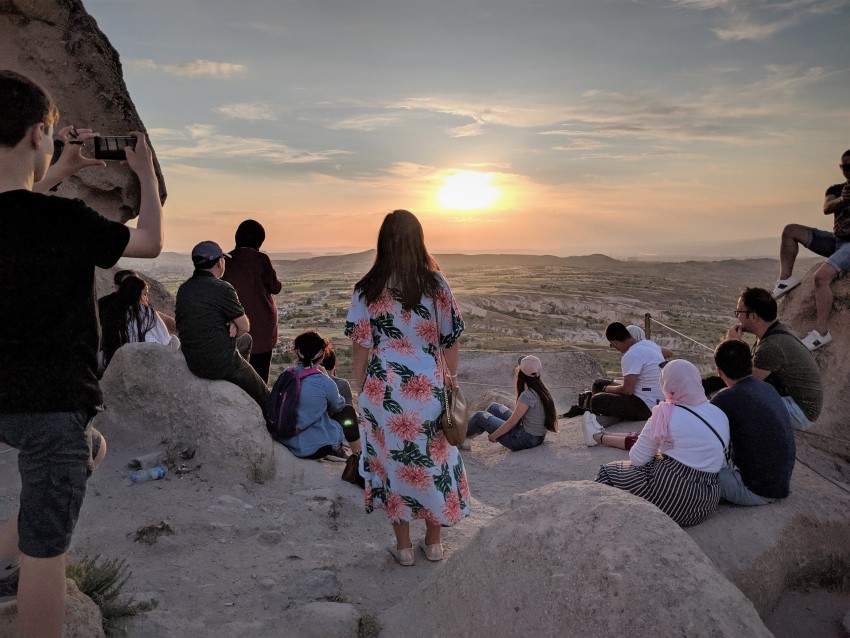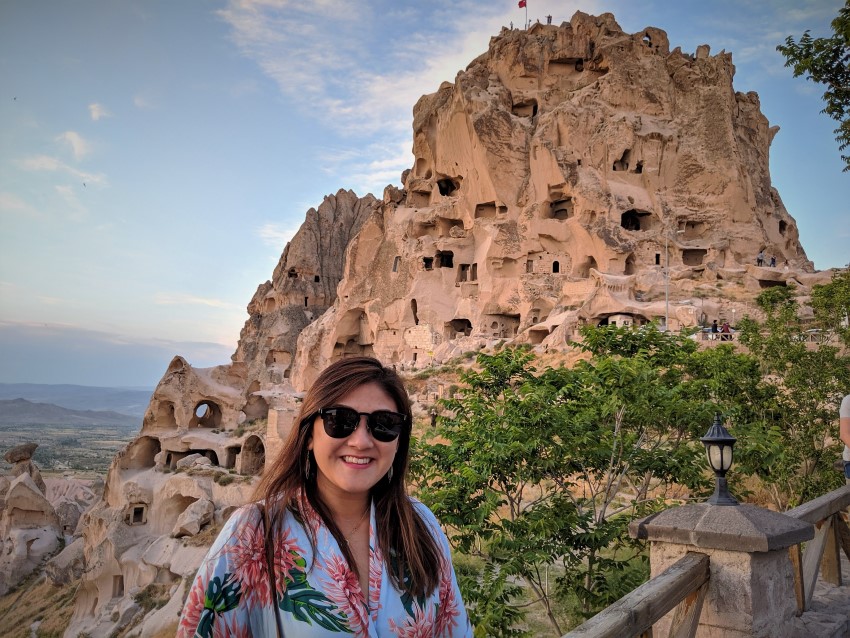 Just to add icing on the cake, on the morning when we were leaving Cappadocia, the sky was littered with hot air balloons again like the way it was when we arrived here. Our taxi driver, without speaking a word of English, even detoured a bit on the way to the airport to a high mountain spot to allow us to take a few photos!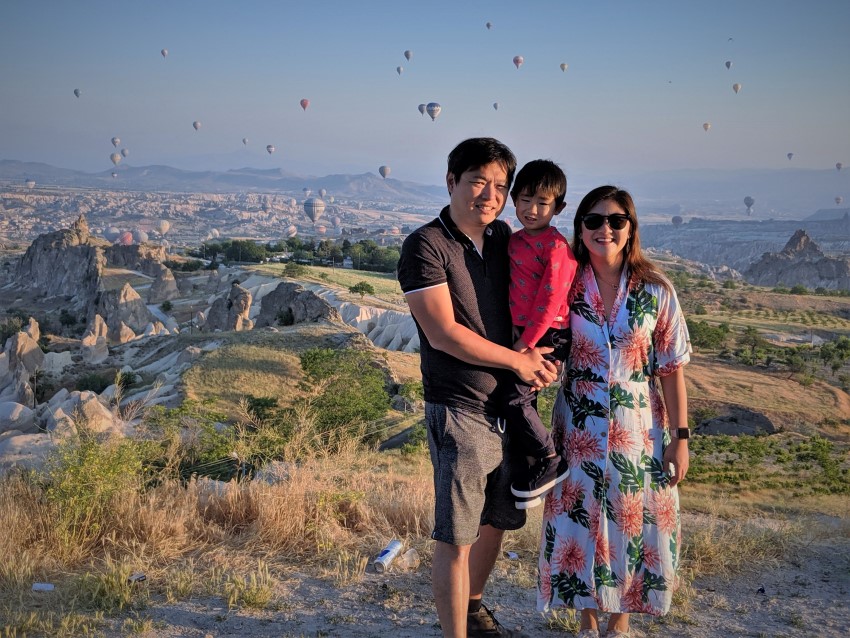 Overall, it had been fun in Cappadocia and an experience that we will remember for quite a while worth talking about and sharing with our friends and family. We definitely left with a bit of a pout on our faces, but we had to move on to our next and last leg of our holiday in Istanbul!