No.. Not the favourite fowl that ends up on everyone's dinner table for thanksgiving every year.. the country! We had left Turkey off our holiday plans for a couple of years now, even though it had been on our radar. Reason for that was primarily because we felt Turkey belonged in the "culture holiday" bucket limited to visiting ancient sites, museums, learning about history etc etc. The impression had always been that it did not have much to offer for a family with a young kid. Now that Ethan is 4 years old, I felt like he was finally ready to tackle more than just theme parks, playgrounds, and Disneyland. So, we finally decided to go to Turkey for our 14 days between 29th May to 12th June right in middle of his semester break.
In that 14 days, we covered Selcuk, Pamukkale, Egidir, Antalya, Cappadocia and finally Istanbul (in this order). Google Timelines dotted out the spots we went to pretty nicely here: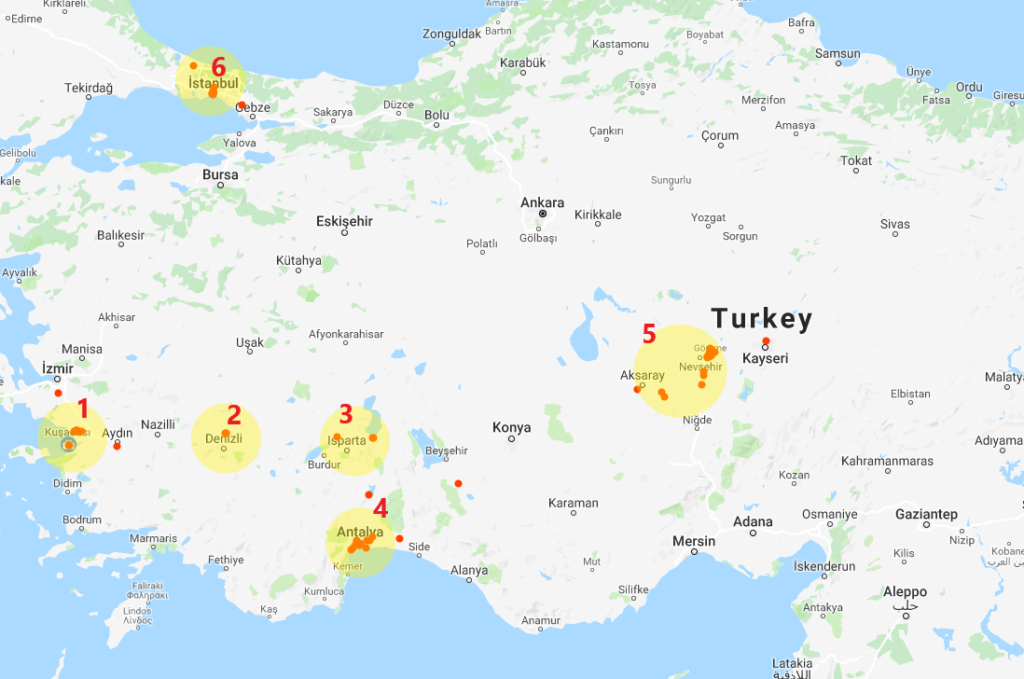 If we had to break the trip down a bit on the main themes of each part of Turkey, it would essentially be down to:
Selcuk – For a bit of ancient roman history
Pamukkale – For a bit of Instragram photography
Egidir – For the beautiful lake view
Antalya – For a bit of beach and more ancient sites
Cappadocia – For the hot air balloon and more Instagram worthy photography
Istanbul – Last minute shopping and relax before heading back home
It's only when I started to plan for this trip a few months prior that I realised just how big Turkey is, and there's no way we would be able to see all parts of it in just 14 days. Good excuse to make another trip here again some time in the future. We were also told about the dangers of holidaying here given it's been in the news more than just a few times lately for political instability. Even the Australian government travel advisory website advised "caution" when travelling there, though it appears to be an issue only if you're visiting close to the eastern border of Turkey/Syria. We simply made sure our itinerary weren't anywhere near there!
One unique thing we did this time round, was taking a child seat for the rental car portion of the trip. Must admit, it was a little bit of a hassle dragging it around as it was considered "odd size", so check-in was a little bit more troublesome. As for mode of transport, this is one holiday where it involved using quite a variety of options including car, domestic flight, bus, local tram, ferry, and hot air balloon! We skipped and hopped around 6 different hotels as well, which come to think of it, was a bit tiring.
Anyway, back to the start. The holiday supposed to start with visiting Jewel Changi Airport early in order to check out the famous waterfall light show. Except, we didn't quite do our research upfront, finding out that early check-in was only available if you get to Jewel more than 3 hours ahead of the flight. We were there 10 minutes too late, and were refused early check-in. So we ended up dragging all our luggage to Terminal 3 where we had to check-in first. We ended walking a lot more than we planned to, which didn't work out too well for Ethan. At least we found that he could still fit on the little compartment on the trolley at 4 years old!
We managed to miss the light show at Jewel by the time we got back there after check-in.. *groan*. Having said that, we still managed to take some photos of the Jewel waterfall before moving on. Lessons learnt.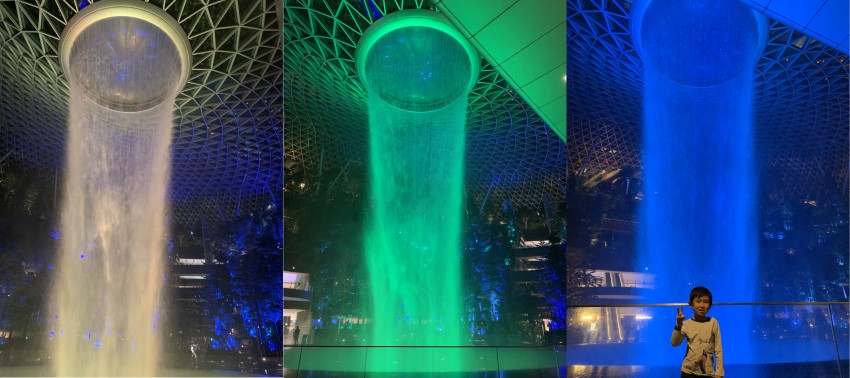 The Singapore Airline flight itself was relatively uneventful. It was a night flight. It's not one of their newer planes with onboard WiFi nor any fancy wireless entertainment. Apart from Ethan, myself and wifey barely slept through the 11 hours flight. One thing we noticed when our flight arrived at Istanbul international airport was the LONG walk to get to the customs. It felt like a 15 mins walk at least to get there. Fortunately, there were hardly any lines at all, and the airport felt almost too quiet for such a big airport!
Once we were out, we had a couple of hours to hang around departure area before boarding for our domestic flight to Izmir for the first leg of our trip. First, we bought 2 x overpriced prepaid SIM from Turkcell. The cheapest of the three operator sold us a 8GB data SIM fo 185TL. Looking at some of the brochures, locals enjoy a much much lower rate for postpaid plans at around 57TL for the same 8GB worth of data. Then, we sat down and tried out our first Turkish food at mvnch café near the domestic departure check-in area. I have no idea what a Boregi is.. But let's just say it was "interesting"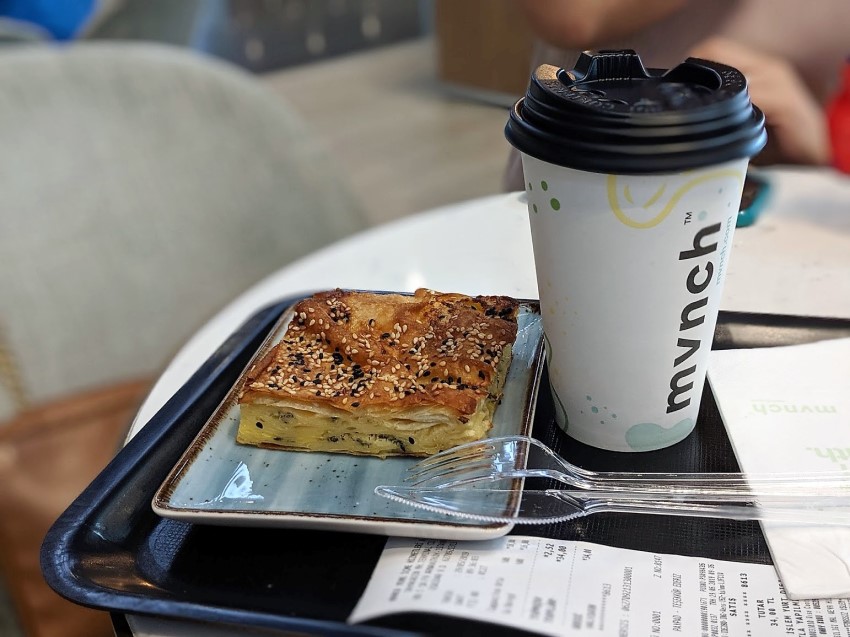 Selcuk – For History Lesson
Before we know it, we were on our flight on Pegasus airline on our relatively quick and painless journey to Izmir airport. Once there, we picked up our rental car (rented from local company called Avec), which turned out to be a Peugeot 301 with manual transmission! That proved to be a pretty fun car to drive with plenty of low end grunt!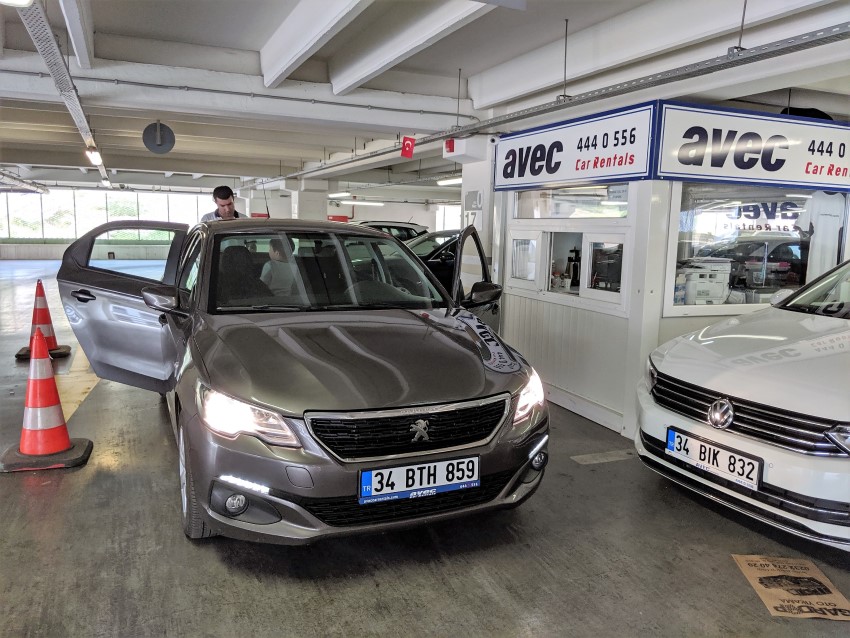 It didn't take long to encounter our first obstacle though, when we ran into a toll booth soon after we drove out of Izmir airport towards Selcuk. We were faced with gates with signs for "OGS" and "HGS".. There were no manned gates either for us to pop in to ask which one we should use. Taking a chance, I drove through HGS which ended being the right one. I had to call up the rental car company afterwards who told me to use HGS! I wished the rental guy at the airport told me that! Remember to ask your rental car company, or Google a bit about HGS vs. OGS to know the difference!
We arrived at our hotel in Selcuk called "Nea Efessos" around 2-3pm in the afternoon, so essentially had the rest of the day to just relax before we embark on history lesson the next day. Relaxation started with our room which came with nice little open spa bath..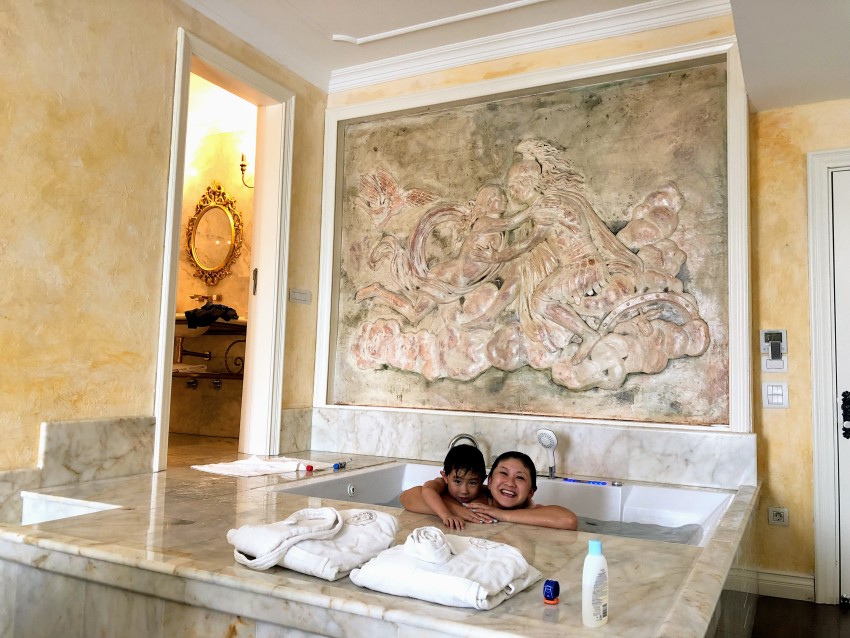 Then we drove all the way to Kusadasi (closer to the beach) for local Toyzzz shop where Ethan found "Mr Stretch" (or Stretch Armstrong) toy he wanted ages ago. I have no idea why he was so obsessed with it, but he found it on Youtube months ago. It wasn't available in Singapore and the minute he spotted one in Turkey, he absolutely wanted one!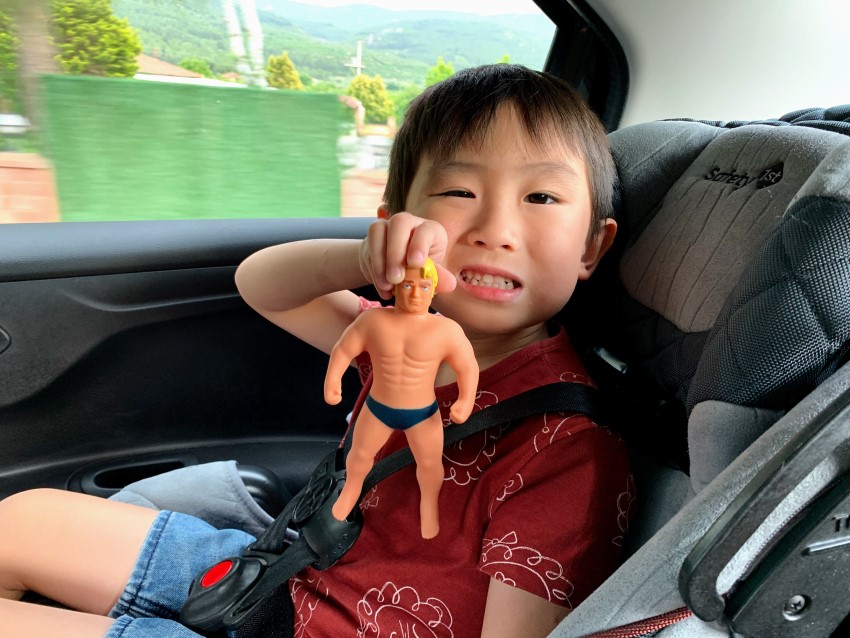 Fortunately, it wasn't all about him and his toy. Us adults discosvered Migros" (equivalent to Woolies in Australia or Cold Storage in Singapore) and I can't remember the last time we were so excited about shopping in a grocery store. We went a little wild with snacks and drinks since they seemed so cheap! Get this.. you get buy a Magnum ice-cream for something SGD $1.50. I can assure you, we had a LOT of Magnum ice-cream while we were in Turkey!
By the evening, we drove to Sirince Village not too far away from Selcuk, for dinner at Sirince Yorem restaurant. Sirince Village itself felt like a tourist trap though we were lucky to avoid it as we went around dinner time when most of the shops were already winding down. We absolutely enjoyed our meal at the little family run restaurant though, which we randomly discovered on Google with very high reviews. And best of all, it wasn't too expensive either!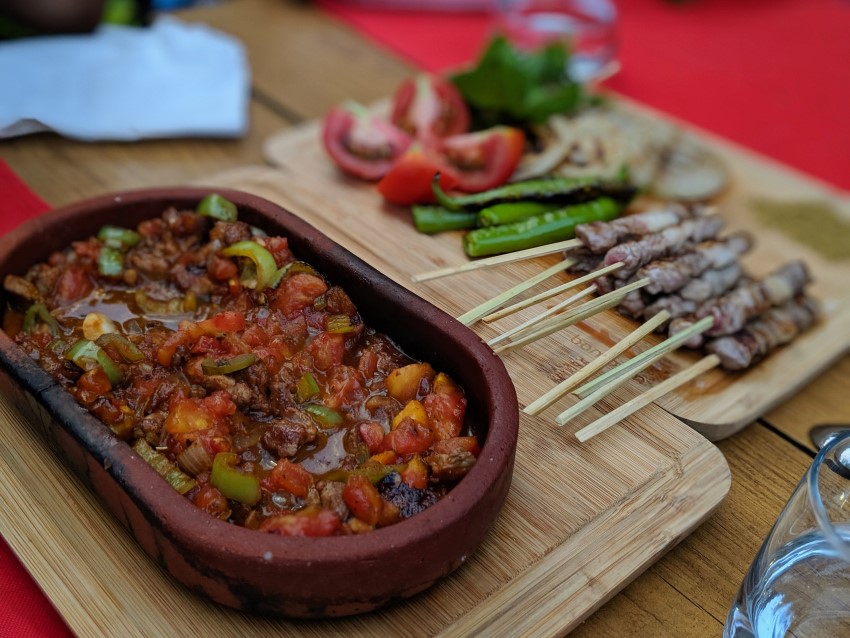 The next day, it was basically a full day hopping around Selcuk checking out ancient ruins of Ephesus (or "Efes' in Turkish), Ephesus museum, and Temple of Artemis. The history of Ephesus stems all the way to the bronze age, to Roman period right up to Byzantine and Ottoman period spanning over 2000 years! There are two entrances to Efes, so called 'North' and 'South' entrance. Most bus tours start with north, and then head to south entrance to pickup their tour guests. We did the opposite, by starting out at the south entrance. Effectively we ended up meeting the big tour groups half way. That way, at least we got to enjoy the first few sites completely crowd free, e.g. Efes theatre with hardly any other tourists!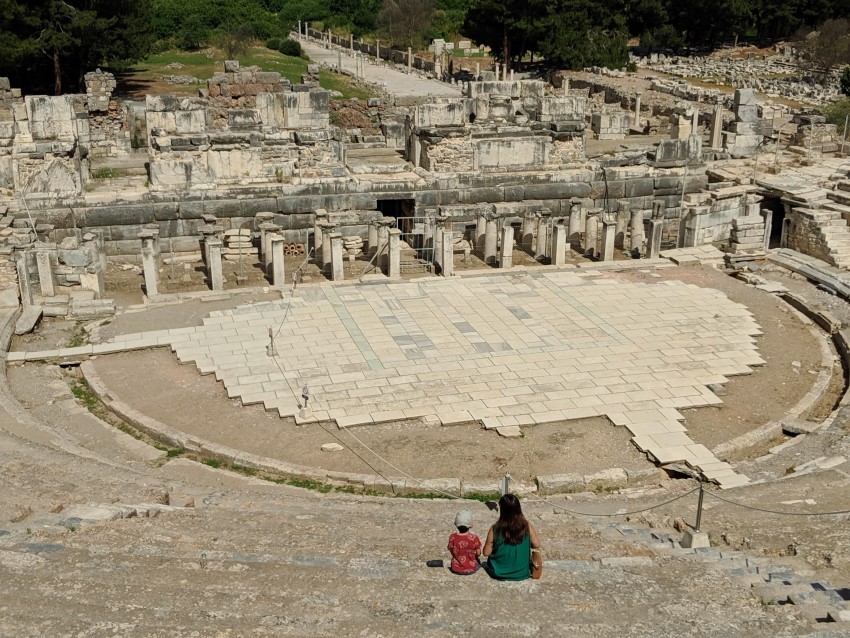 Without a guide, we definitely did not get the interesting commentary that others did. It was quite a bit of walking though, and the later half of the walk, we could tell Ethan was getting a bit agitated.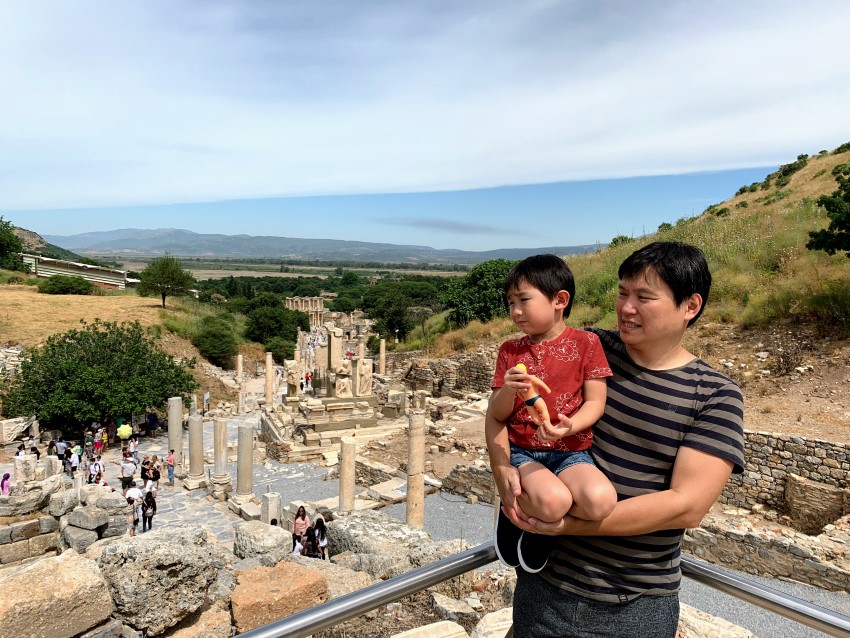 Compared to Ephesus, our post visit to Ephesus Museum and Temple of Artemis almost felt like an anti-climax by comparison. The history of both are definitely interesting but it doesn't quite have the "Wow Factor" of Ephesus itself.
We were pretty much done by around 5pm. We decided to head back to Kusadasi again, this time closer to the beach and main town. We didn't actually ended up sticking around as it definitely felt more like a party town. We ended up heading back to Selcuk to have dinner at Ayasoluk restaurant. It had a very nice deck where we get a chance to watch a very nice sunset. The view felt quite European, yet there's a mosque to remind us that we aren't in Europe!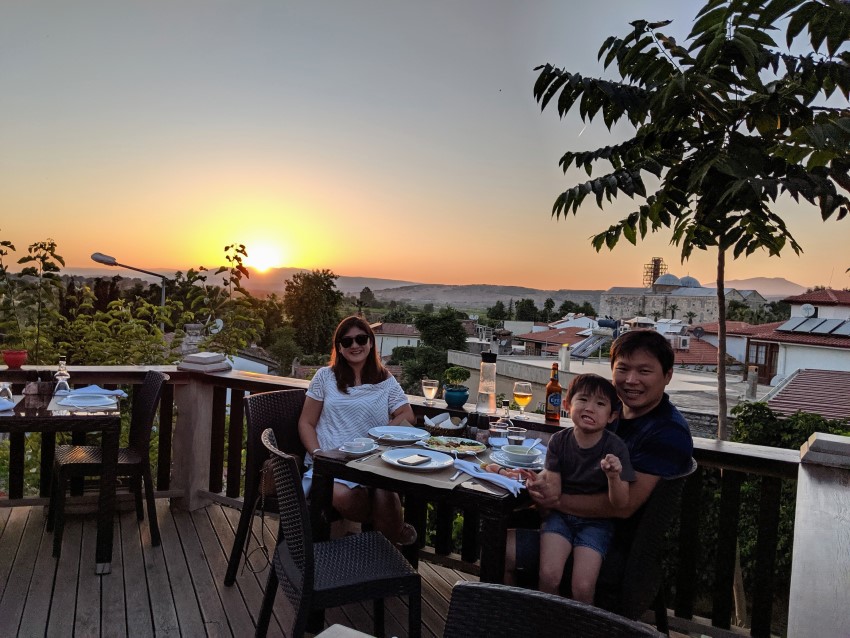 Pamukkale – For Instagram
We only set aside a full day at Selcuk, and began the next part of our trip the next day. For the 3rd day of our trip, we checked out of Nea Efessus hotel, and started heading towards Pamukkale (apparently it translates to Cotton Castle). It was a good 2.5 hours drive before we eventually arrived there. Pamukkale is famous for its natural water filled rock pools covered in carbonate minerals which gives it the white-ish appearance. It's definitely heaven for Instragrammers..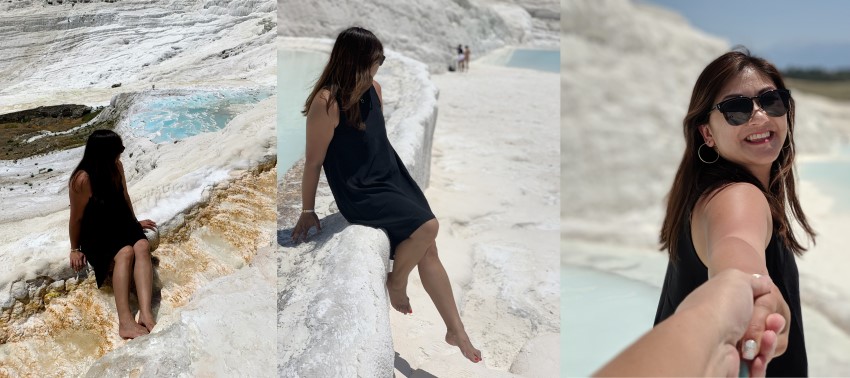 Pamukkale is definitely one of the busier sites full of locals and foreign tourists, which didn't encourage to stick around too long. Besides, I must say the real thing didn't quite look as pretty as photos we had seen on the "brochures". Fortunately, there were other things to see/do around Pamukkale. While Pamukkale gets all the media mentions overseas, what isn't well advertised is the fact that the whole surrounding area is essentially an ancient city known as "Hierapolis". First, we jumped into nearby so called "Antique Pool", where he water itself were a little warm to my liking. It would have been great if it was cold water given the hot temperatures outside. But it is a natural hot spring apparently, with plenty of algae/moss floating around. It wasn't a cheap dip either at about 50 TL each.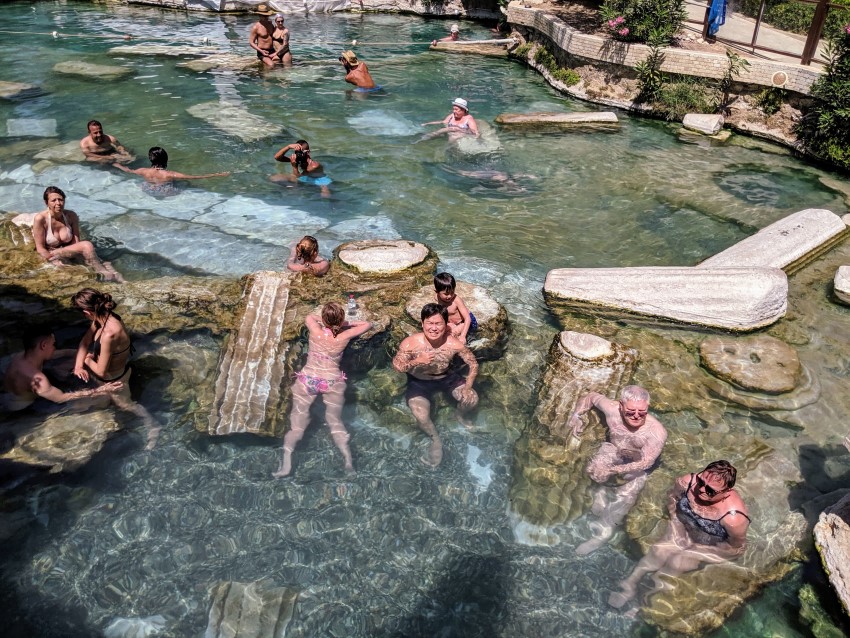 We also checked out yet another ancient theater which is apparently one of the better preserved Roman period theatres around. I remembered thinking in my head just how good of a view must have been for the ancient Romans to not only get to enjoy the shows itself but came with a nice backdrop as bonus!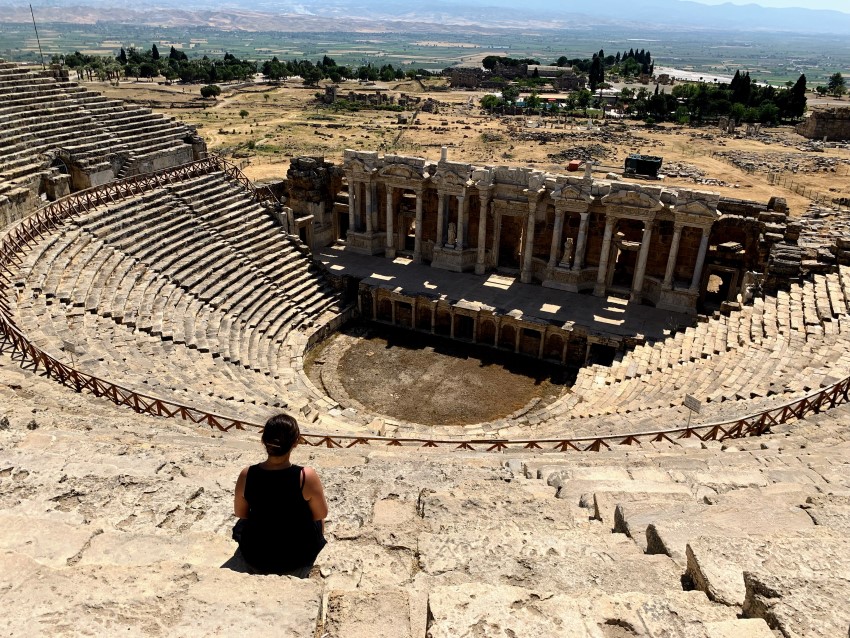 Egidir – For beautiful lake view
We didn't stay over at Pamukkale, as we could do it in a day as a stopover towards Egidir. It was Egidir where we chose to pop in for a quick overnight stay at Fulya Pension. The accommodation was definitely nothing fancy, but it does feature a pretty nice view of the lake outside our room window!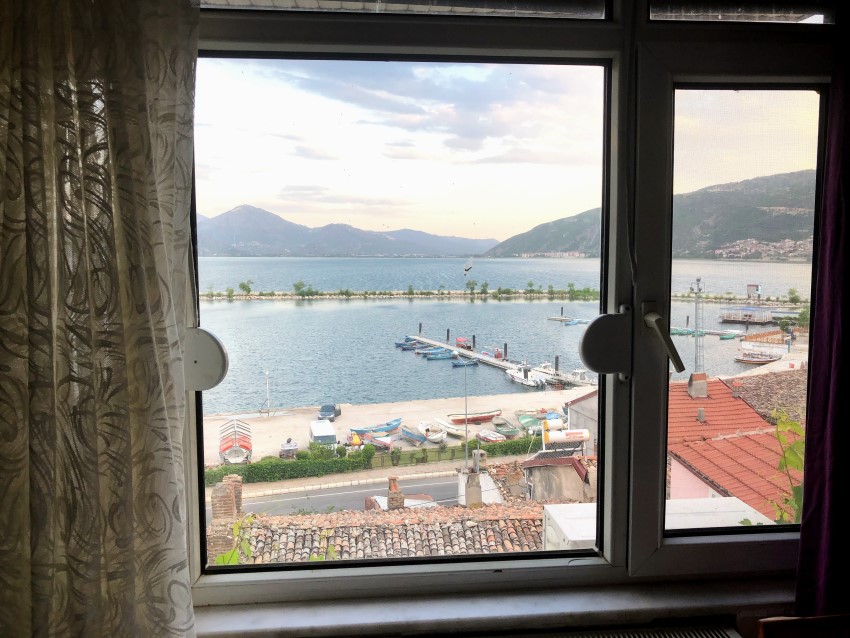 Egidir was probably one part of Turkey where we felt like we were the only Asians around. Language was definitely a barrier here as the hotel was essentially run by a local family who didn't speak much English at all. I ended up relying on a guest of theirs who translated for us. We met a German lady and a South African lady who raved on about Turkey! Oh.. and it's also worth calling out that Fulya Pension was the ONLY accommodation of our trip where Ethan actually slept through an entire night on his own bed.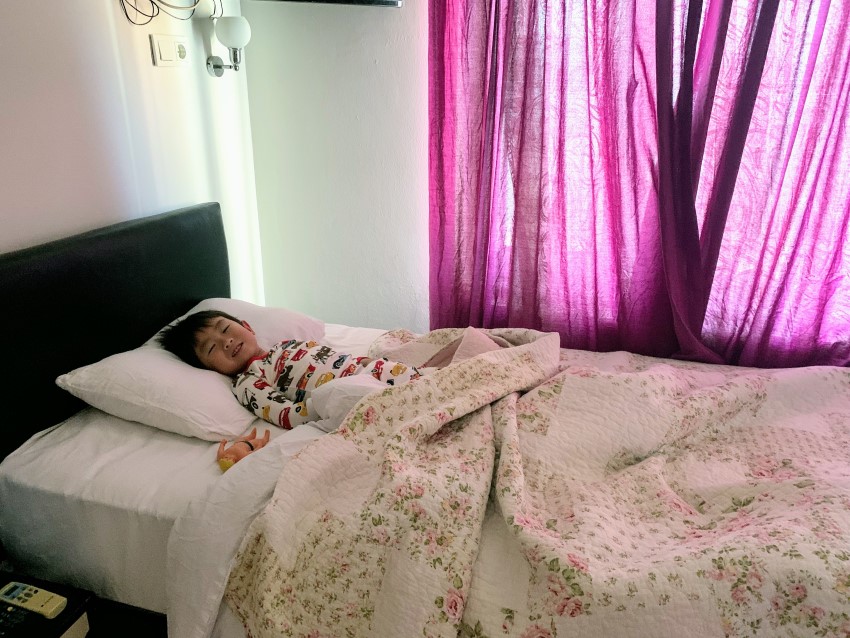 Sunset at Egidir was accompanied with a pretty loud "bang" literally (signalling sunset for Muslims and generally when locals start to have their dinner). We didn't do a lot that evening apart from hanging around the lake a bit, relaxed back at the hotel overnight to continue our journey. It was nice to wake up next morning to a rather grand view of Lake Egidir on the rooftop where we had breakfast.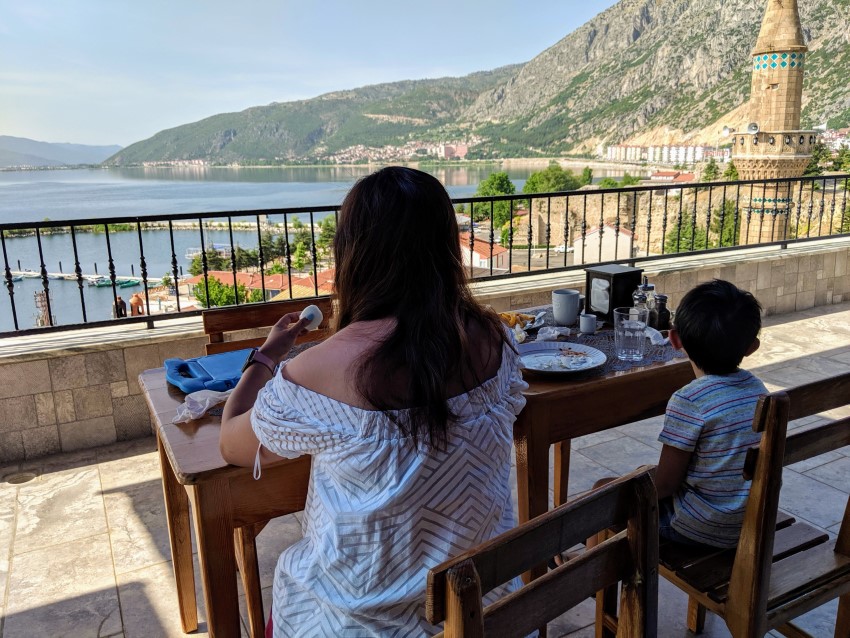 Antalya – For beach and a bit of relaxation
Then it was time to move on to Antalya for our next two night's stay. On the way there, I recalled bumping into a herd of goats occupying the entire road. They literally stopped us right in the middle of the road to allow them all to pass!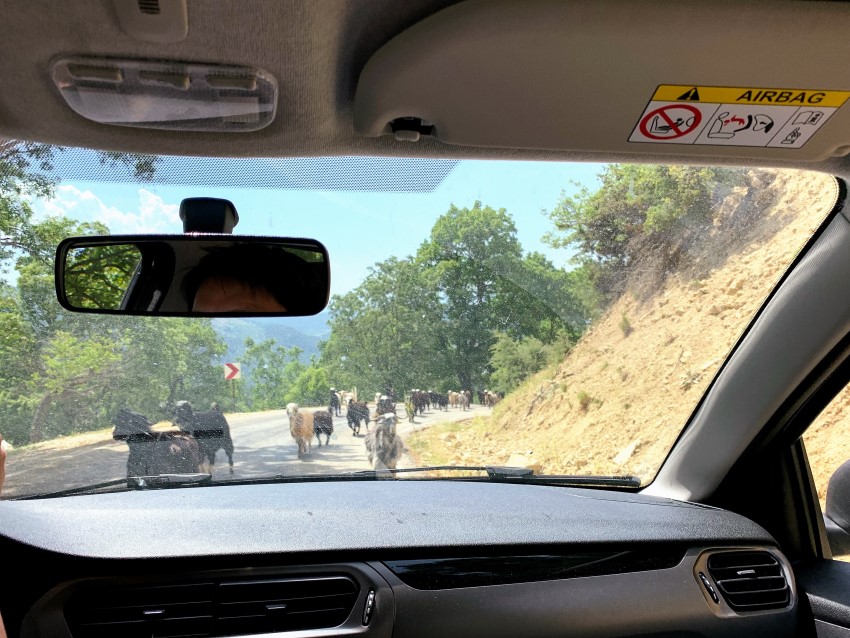 We intended Antalya to be a semi beach holiday as we chose to stay by the beach at Porto Bello hotel. We chose for the family friendly facilities, but apart from the swimming pool and Turkish bath, we didn't end up using much else.
Antalya is a pretty modern city which hosted EXPO 2016. It's not as big as Istanbul, but seemed to have plenty of modern malls, restaurants and traffic to go with it. It just so happen to be a beach town and came bundled with couple of ancient sites nearby as well. It's such a diverse "all-in-one" city that I can easily come back to once again some time in the future.
To kick off our first first evening at Antalya, we went to Ship Inn Marina not far from our hotel. It was a rather romantic place, where we witnessed someone else proposing to his girlfriend, along with the unusual sight of container ship being pushed out to sea. Thought that was quite original..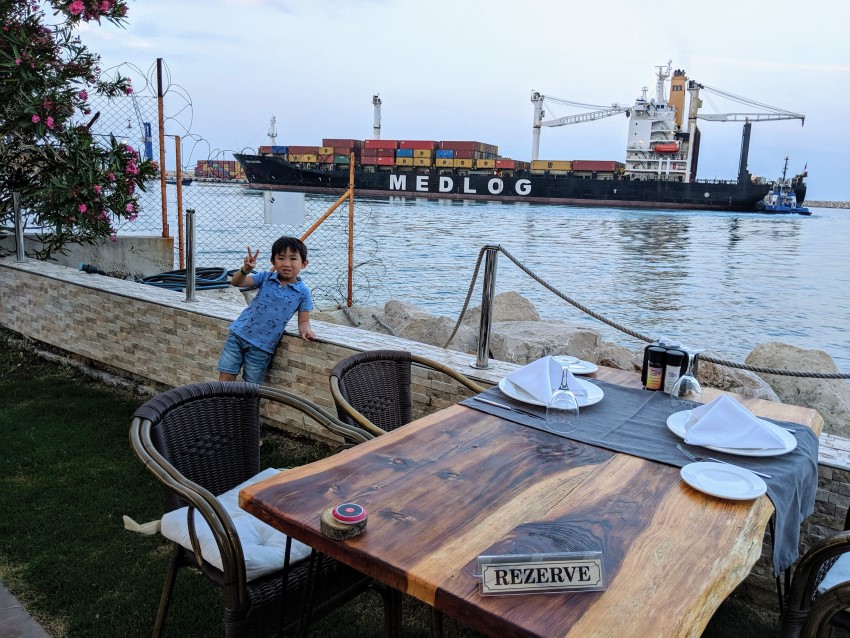 Ethan had a bit of fun at the playground as well. Food was ok, but frankly not "the best"! Nevertheless, it was nice to hang around a spot where the crowd were mostly locals without much tourists (except us!)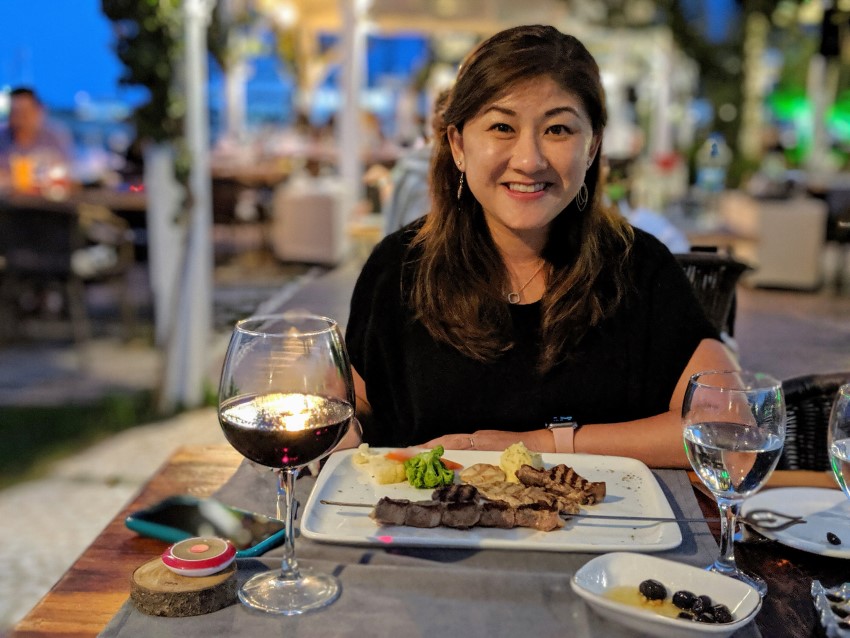 For our 5th day, we covered off a few must-see Antalya sights, including Dudem waterfall, which is essentially a waterfall off the Antalya City cliffs. It's definitely pretty impressive to see in person!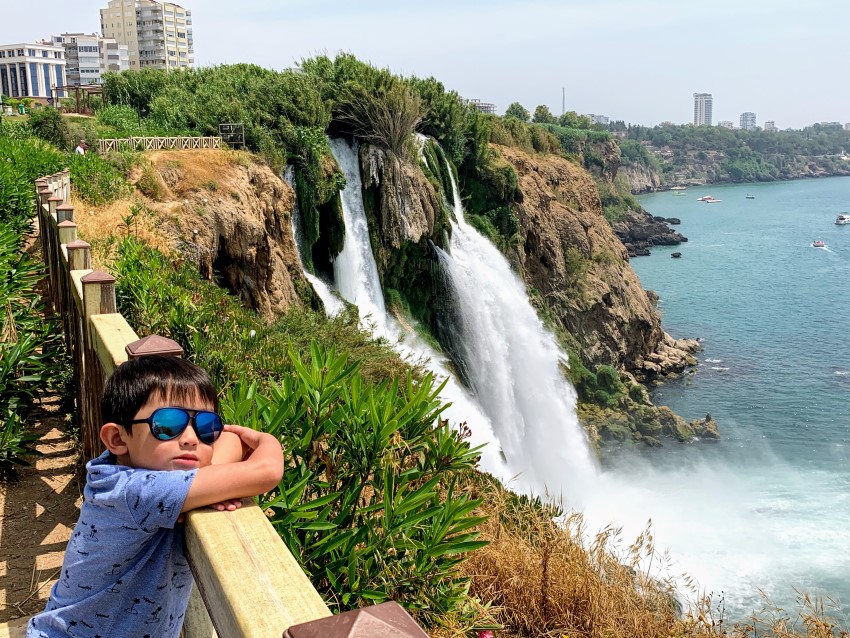 We also drove out of Antalya a bit to visit The Aspendos Theater, which I thought was quite impressive given their claim that to be the best preserved Roman theater in the world. It's still actively used for real shows today! By now though, we've visited quite a number of ancient roman theaters and can honestly say we were close to being "theatred out" at that point.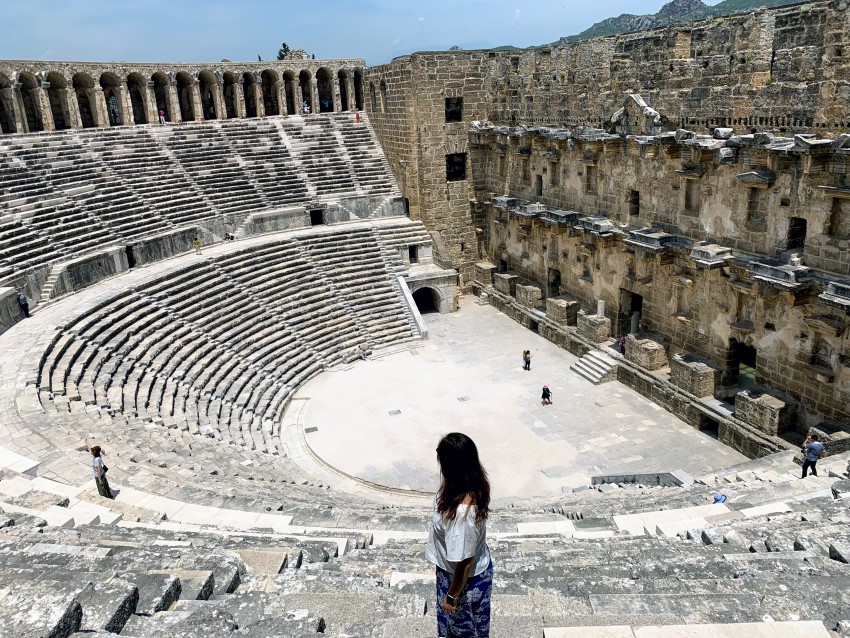 In the afternoon, we paid Kaleiçi (the old part of Antalya city) a visit to finish our day, starting with Deniz Café south of the old town. It's where we managed to find a car park, and the cafe came with quite a nice view of the Mediterranean sea as well. From there, we slowly made our way up towards the center of old town.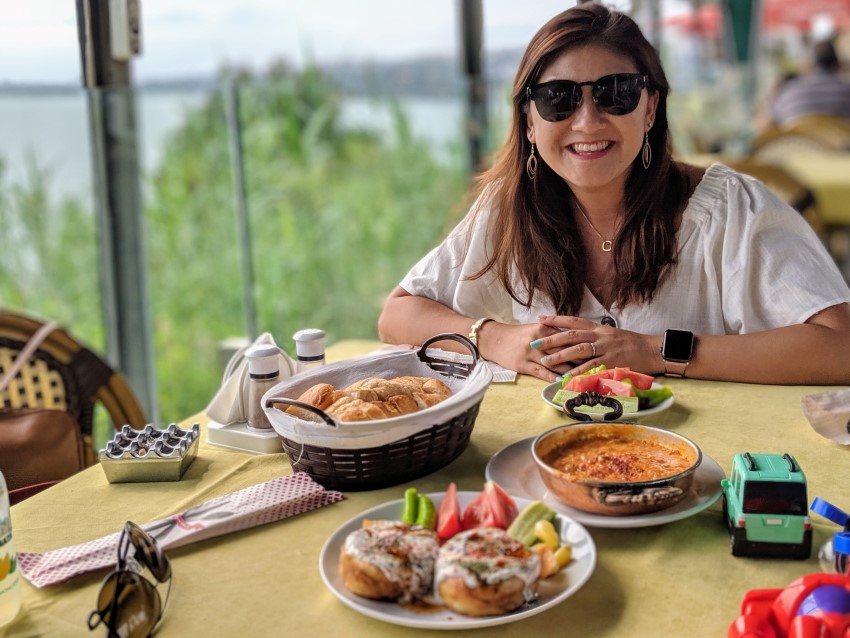 Along the way, we strolled through rather well renovated shops and harbour, which were pretty but probably on the touristy side.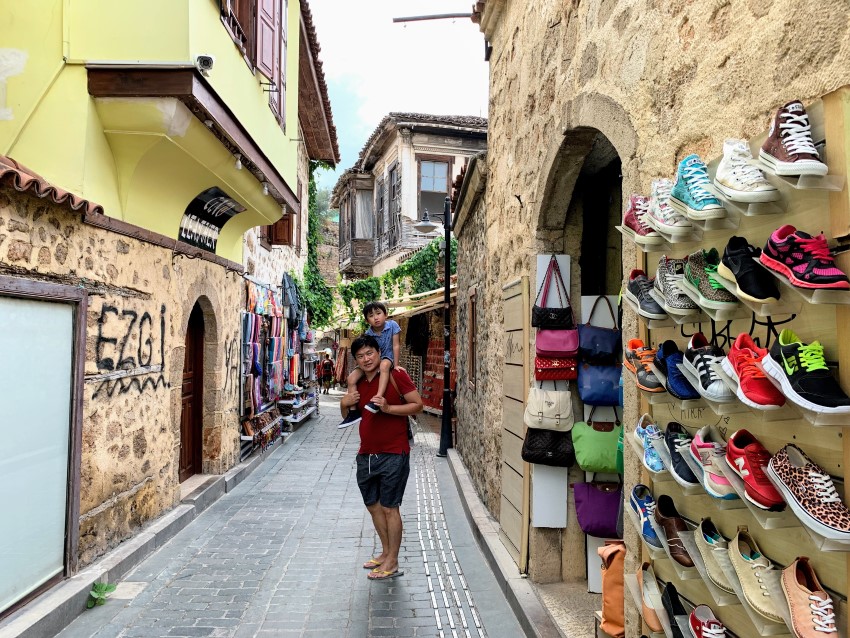 One thing we did notice quite a bit were the number of dogs and cats free roaming around town. We weren't quite sure if they were stray or not, but they all seem to have tags on their ear (presumably council registered).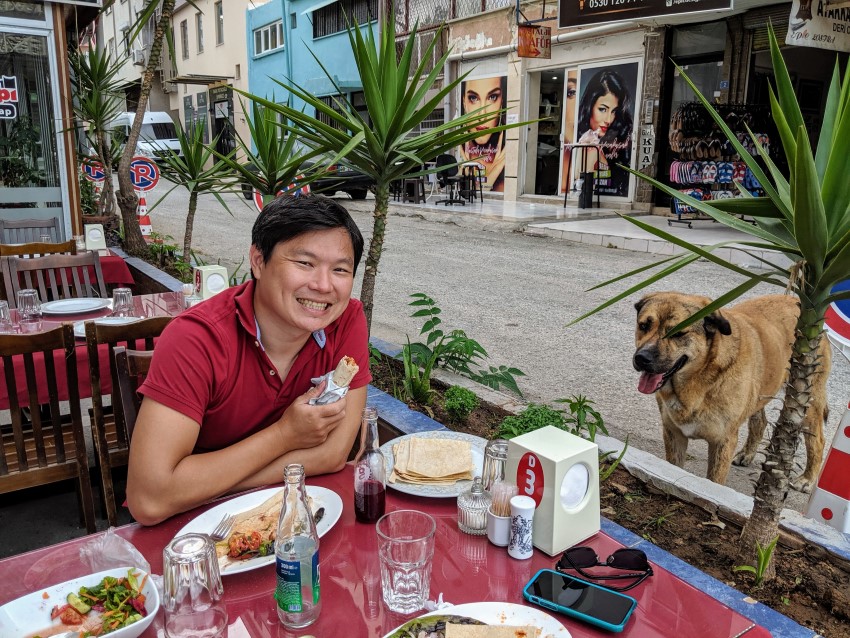 Arguably, it was the evening I enjoyed most, where we sat down at a café for tea, coffee, milkshake and dessert @ Tea Tee's where we get to sit by the street and just do a bit of people watching!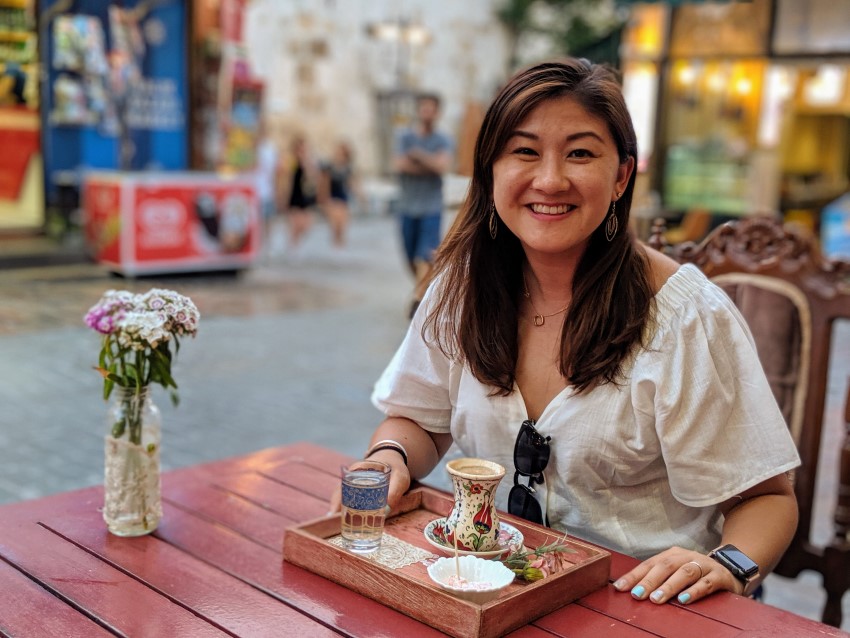 We finished our evening hanging around Karaalioglu Park for another 4 TL (~SGD 1) cup of tea while listening to local music.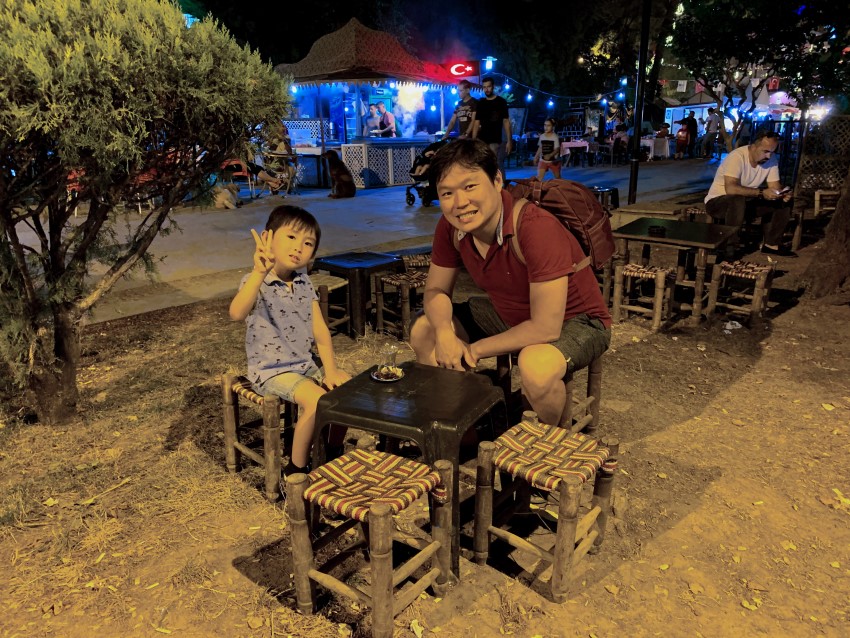 It was definitely a day with quite a bit of walking around on foot!
On our last full day in Antalya, we managed to fit in a Turkish bath in the morning in the resort, as well as checking out the beach in front of our hotel. We never ended up swimming there because I thought the water was a little on the cold side. The beach looked very clean though, and there were plenty others who weren't bothered by the cold and dipped in the sea water anyway!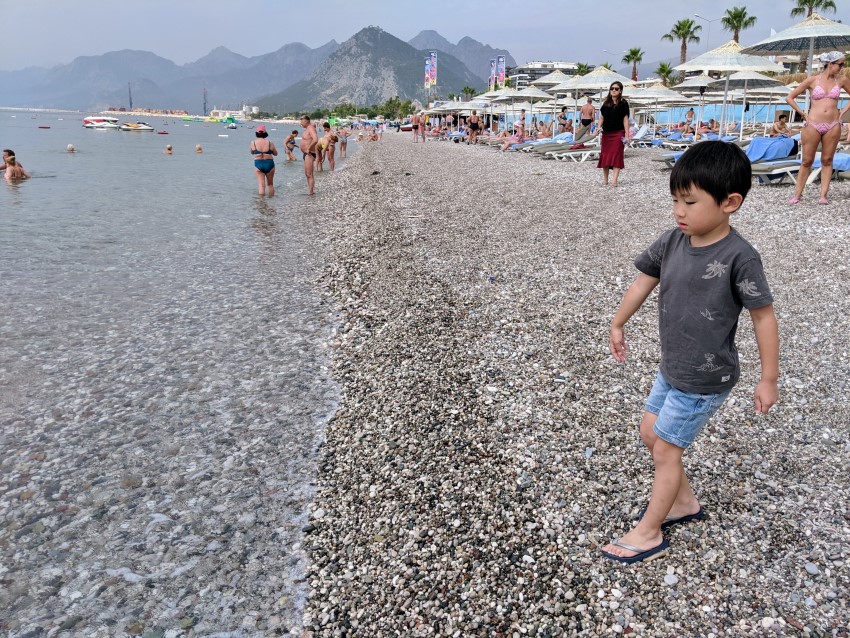 We pretty much hung out at malls for the rest of the day. First it was the largest Migros mall in Antalya, then it was Mall of Antalya once we have returned the car in the afternoon. I wasn't much of the shopping type, but it certainly kept wifey happy and Ethan happy. The only thing I got out of the malls were probably some nice Turkish delight dessert at Lokum.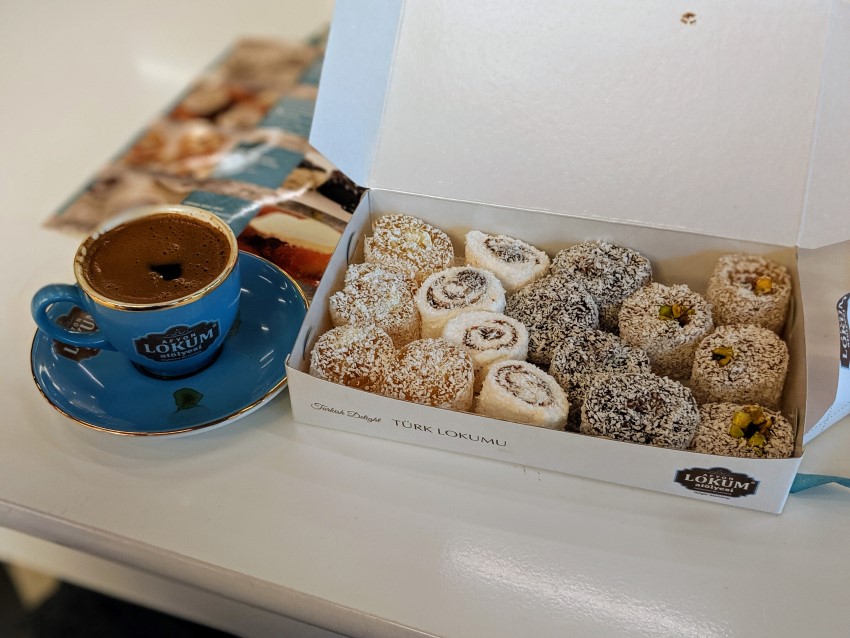 Ethan managed to find another toy that he really wanted, the "Big Hero 6".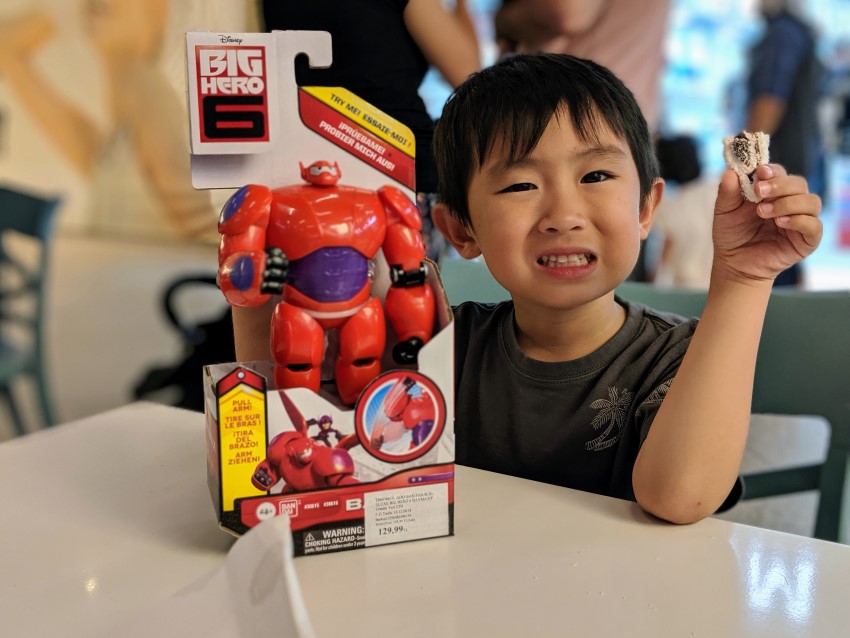 By the evening, it was a 40 minutes tram ride (Antway tram) to "Otogar" (bus stop) where we jumped onto our night bus to Goreme (Cappadocia). For all the hype about how good the buses are, it was a bit disappointing for us given WiFi wasn't working, and the entertainment systems on me and Ethan's seat doesn't even work. It was a pretty rough 10 hours ride to eventually arrive at Goreme the next morning at 7:15am. Granted, RH Turizm bus we took was clean, the journey itself was fine.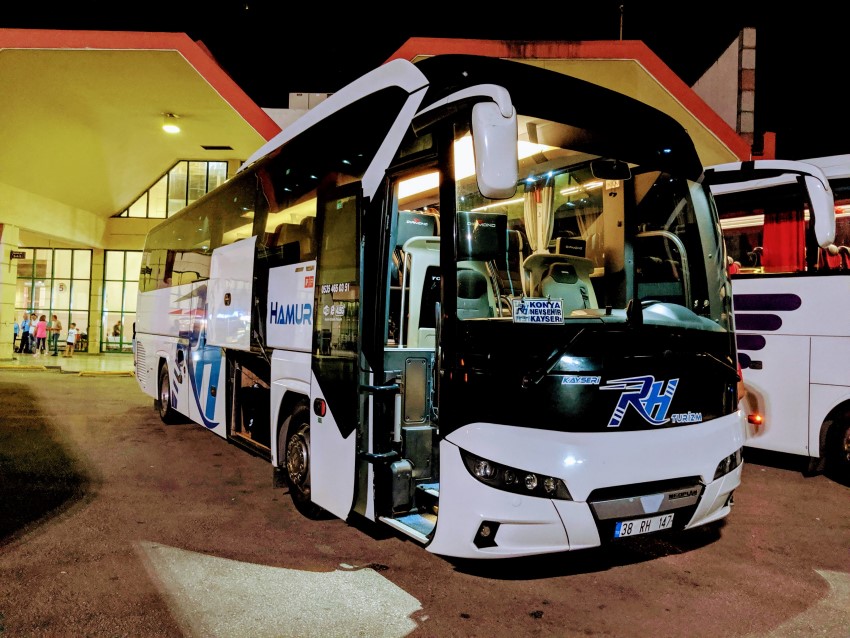 It had been a whirlwind introduction to Turkey so far. By now, we had reached about half-way through our 14 days trip. The holiday had been pretty enjoyable so far, but arguably Cappadocia was the most memorable out of the entire trip, thus worth of its own post! So read on!