Ahh.. Tioman Island. I've known about it ages ago, but have never ever actually put the effort in to pay it a visit primarily because:
It is relatively hard to get to (From Singapore anyway)
The "brochures" didn't convince me that it's actually worth a visit
Perhaps some time earlier this year after about 6.5 years living in Singapore, I feel like we had finally exhausted all the low hanging fruits at least in terms the parts of Asia that are relatively easy to reach (e.g. by direct flight). So, I thought it's finally time to slowly check off all these destinations that probably aren't high on most people's list. I randomly chose to go during the Labour Day break on 1st May, and made it a 5 days / 4 nights weekend, and off we went!
So, let's elaborate a bit on the "effort" part. For the majority of us, a trip to Tioman Island Resort will likely involve at least a portion done by car (whether private car or taxi) to the closest ferry terminal (about 3 hours driving) at either Mersing or Tanjong Gemok (Pahang), followed by at least 1.5 hours ferry ride to Tioman Island itself. So the overall journey to reach your resort on Tioman will be at least 4.5 hours not including time you will need to cross customs into Malaysia and any traffic jam that you may encounter along the way. We kept this holiday "cheap" by taking the Causeway bus (called the CW5 bus from Newton) to cross the border, followed by a pre-booked metered taxi (Blue Cab Taxi) to Tanjong Gemok to board our ferry (Cataferry) to Tioman. The entire journey started with us waking up at 6am, to catch the bus at about 6:30am, to cross the border to Malaysia, then cab to Tanjong Gemok arriving at around 10:30am to board the ferry (Cataferry) at 11:30am to reach Tekek jetty at about 1:30pm. Then it was more waiting for the hotel organised shuttle (more like a truck with seats at the back) to eventually pick us up to get to the hotel itself by about 2:30pm. By the time we are checked in, it was almost 3pm already. So.. A total of 9 hours to get from home to hotel. That's the time that can get us all the way to a hotel in Tokyo city!!

Let's now talk about Tioman Island itself. It is a seasonal island, where 3 to 4 months of the year, resorts this side of Malaysia are entirely shut due to the monsoon season. As a result, the big hotel chains are completely absent on the island given the low investment return. I can comfortably say that you probably never heard of any of the resorts on Tioman Island. However, they do look like resorts that have been around a LONG time though. We chose one that appears to be quite popular called Berjaya Resort. Having said that, it's not popular because it's the best, but does appear to be budget friendly and have been around a long time. Let's just say, we don't have a lot of good things to say about it. You could say most of it is down to lack of service. For example, when we arrived at the ferry terminal (Telek jetty), we were made to wait at the jetty shelter for about half an hour before the truck finally comes to pick us up. Another example.. once we were checked in, we were shocked when we went into our room to find that the room was not ready at all! Here's what it looked like when we opened the door…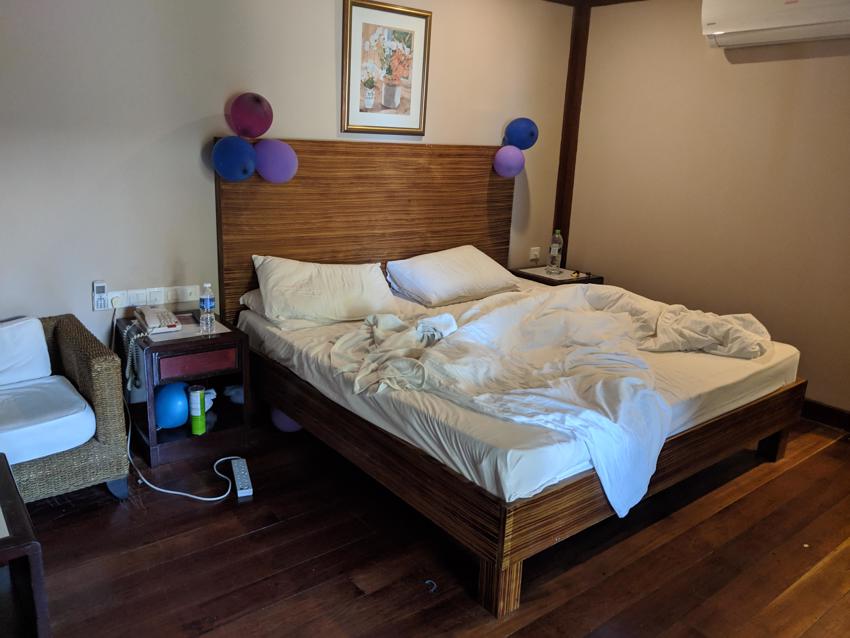 Then, there's the exorbitant prices that they charge for just about anything whether it's food, tours, rentals etc etc. Example.. paying RM25 (~SGD$8.30) for Ayam Pedas, RM70 (~$SGD 23.10) per day for a rental motorbike, RM120 (~SGD$40) for half a day tour. Admittedly, once you convert Malaysian Ringgit to Singapore Dollars, it's not actually that bad. It is just a lot more than any other parts of Malaysia.
But all was forgotten, once we settled down and started to explore the island a bit, starting with the pool at the resort. It wasn't particular a good pool, with visibility worse than ocean right next to it. It's usually the other way around! But, it's one pool me and Ethan jumped into just about every single day, around sunset time.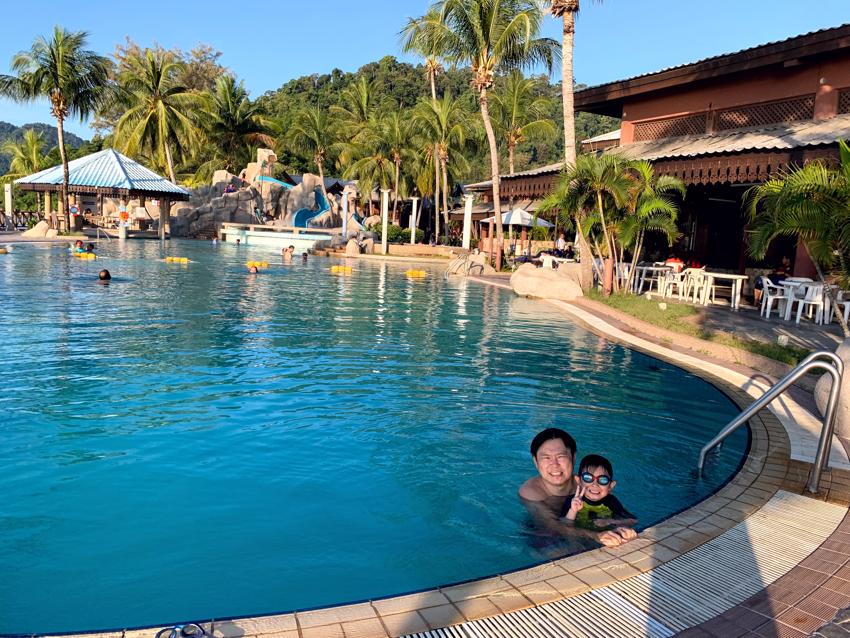 For wifey, she wasn't into the pool at all, so most of the time was spent either taking lots of selfie, or a few "photo shoots" for her Instagram account.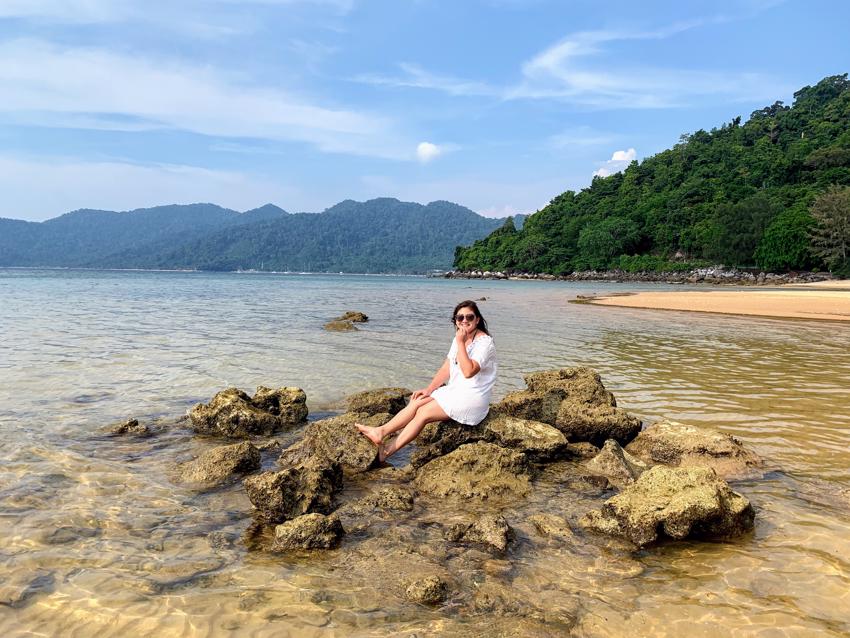 One of the primary reason why I wanted to go to Tioman Island was to get Ethan to try snorkeling. So, naturally we started our first full day with a short snorkel trip at Renggis Island literally just across the beach. It's still far enough that we needed to take a 2 minute boat ride over (for RM40) though.
We were very fortunate to meet a student (her name was Fabrienne) who happen to have a kick-ass underwater camera too. As a result, she helped capture Ethan's first snorkeling experience!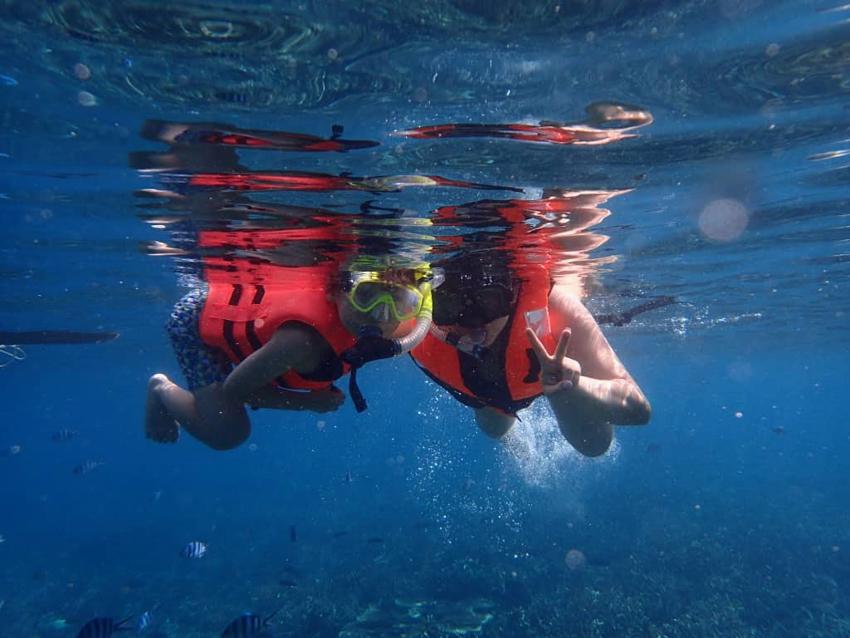 There were definitely a lot of fish to see, and with a bit of struggling, Ethan eventually got used to the sea water and quite happy to keep his head in the water to look around. The highlight for me was probably spotting a rather large squid swimming around. Others reported seeing small sharks as well, which we didn't get to see. But overall, it was a great introduction for the first day.
The next day, we joined a full day tour. It wasn't actually our choice to do a full day "6 points snorkeling" trip (basically going to snorkel at 6 different spots near Tioman Island). We did it because it was the ONLY snorkeling tour available that day (apart from 1-hour one we did yesterday). We knew Ethan would be bored after just 2 points. In fact, most if not ALL of us were pretty much bored after the first 4 spots. Everything starts to look the same after that. It's another one of those negative points about going to Tioman Island. The resort doesn't provide a huge range of choices for tours, and when they do, they put as many people into this one group charging MORE for a tour (this one was RM120) with a duration that most people do not want. I wasn't too happy either when we were also put into a boat that clearly had a sign for "10 passengers", when there were a total of 16 of us (with Ethan being the only kid). Anyway, the trip itself looks like it's pretty standard with snorkeling points at Coral Island, Malang Rock, Kampung Salang (lunch break), Soyak Island, Marine Park and finally Renggis Island (in this order). The highlight for me was probably the Malang Rock formation. It wasn't just the snorkelers coming here, as we spotted divers as well. The underwater geography was interesting, though the range of sea creatures wasn't any better than the one we went the day earlier just off our resort's beach.
As for Ethan, he was done by the second spot. The rest of the "points".. he came prepared!
The other highlight for me was probably the stopover at Kampung Salang for lunch. Ethan fell asleep there..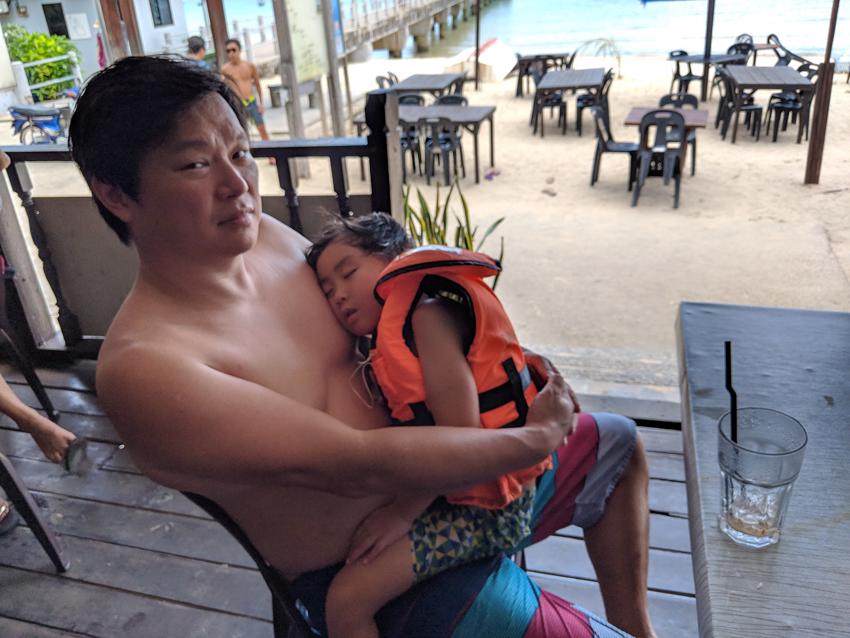 While me and wifey enjoyed a little bit of local cuisine. The prices there were a bit more reasonable (about half of what we paid at our own resort). The kampung (village) itself was not super interesting, but it does have a very local feel to it. Only highlight for Ethan was probably the ice-cream he bought from one of those stores there.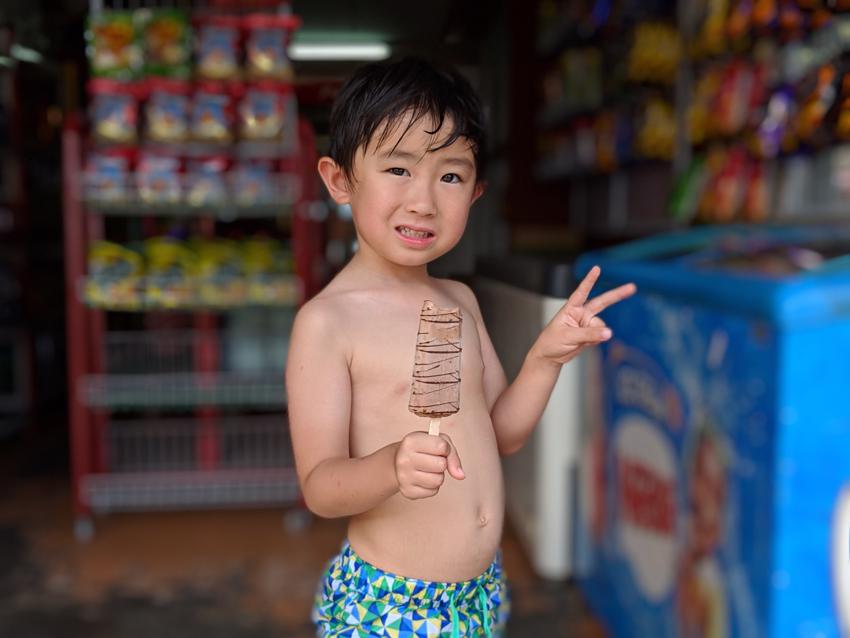 By the end of the snorkel trip, we were definitely "snorkeled out". I definitely hung up my snorkel after that. I definitely paid for it with a burnt back after the trip! But we still had another full day, yet was fast running out of things to do. I decided we needed to get out of the resort on our own a bit, and explore the island independently. I soon found out we could rent a motorbike for RM80 from the resort. Just as we walked out towards the entrance gate, the resort's security guard happened to pop by and offered his personal motor bike to us for RM70 for the day. So I thought.. why not!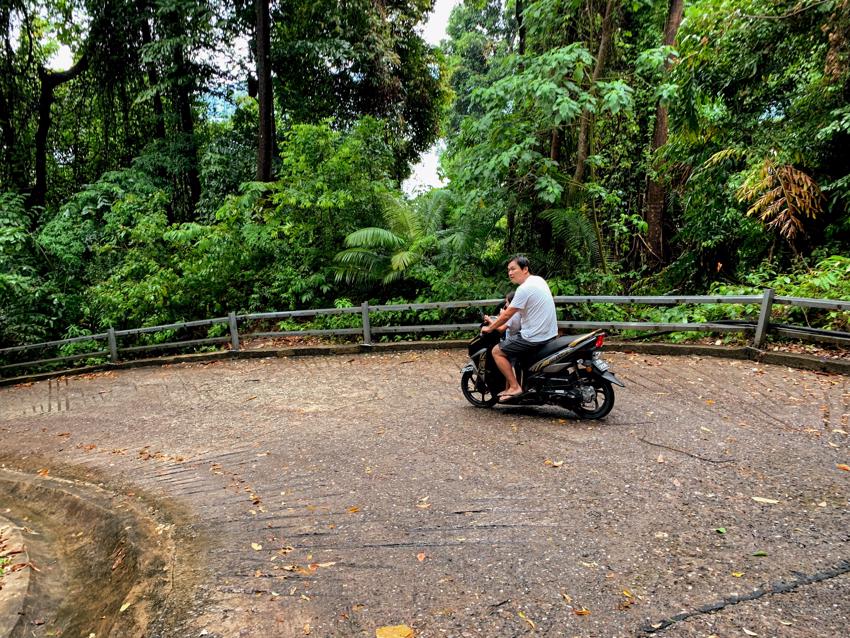 There wasn't actually a lot of road to ride around on Tioman Island itself. On the main stretch of flat road on the west side of island, our bike was only able to go as far as "ABC Village", with the rest blocked off (probably on purpose).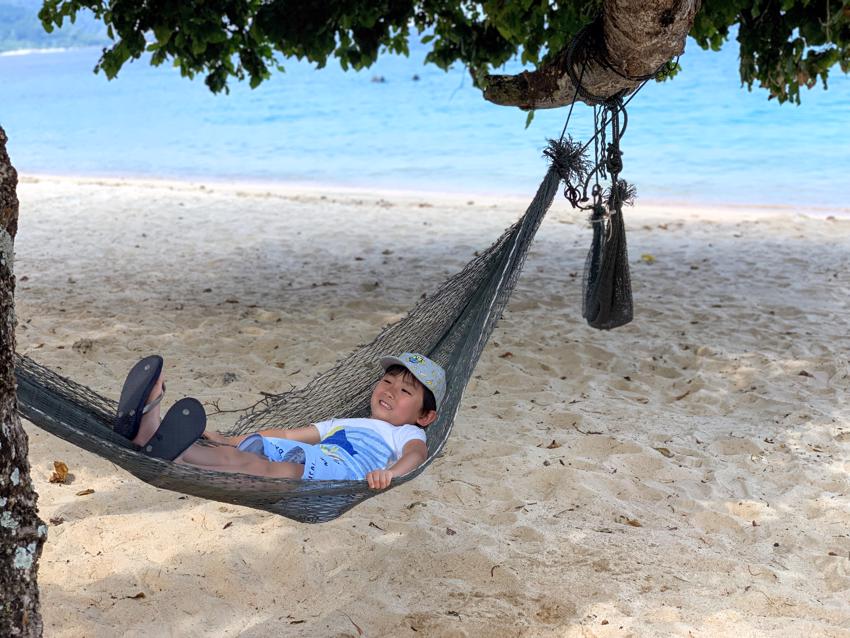 We needed to find another place to go, and recalled the security guard telling us about "Kampung Juara", which required going up steep hills. It didn't take us long to find it, and with plenty of afternoon left, we went anyway.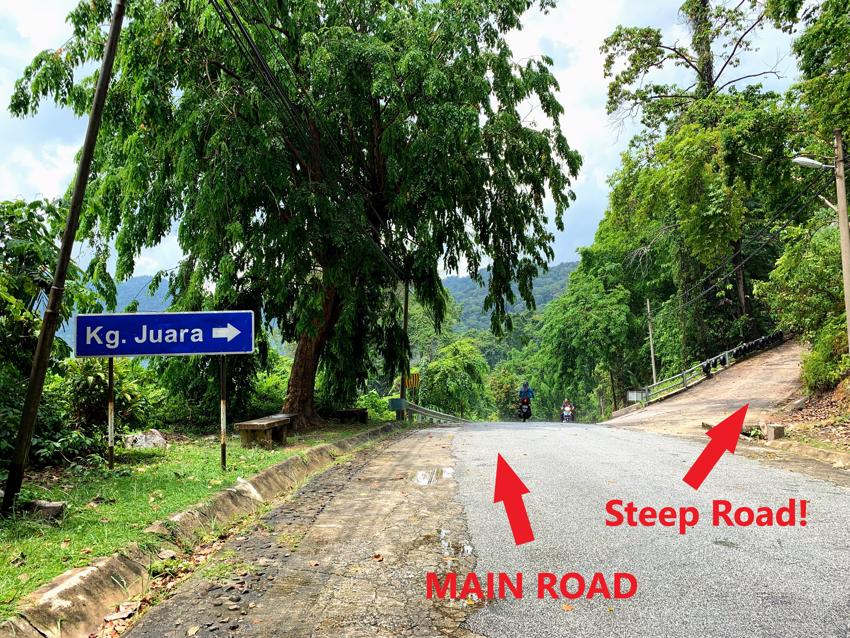 Well.. the security guard that lent us his bike mentioned his bike was "powerful", but he probably underestimated just how heavy we were. The bike wasn't designed for overweight people like us. With angles up to 45 degrees, we found the bike struggling quite a bit on the way up. One section definitely required wifey to get off and walk a little bit!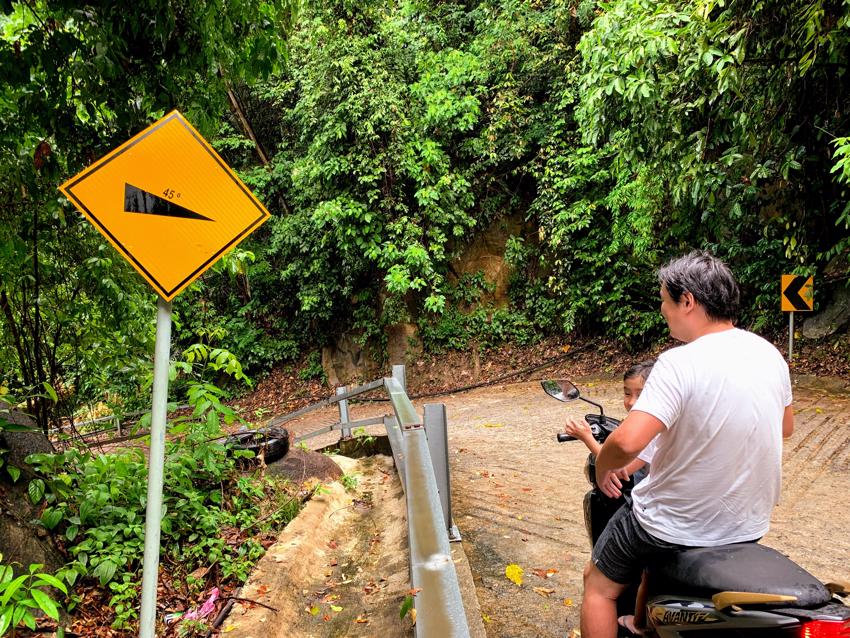 But fortunately, it wasn't all 45 degrees incline! And we made to the other side of the island in about 20 minutes. Kampung Juara didn't have much to offer either, and all we could find was a restaurant/cafe to sit down for a lunch break. The food was definitely pretty good and reasonably priced too (about RM12 for very good friend ricec).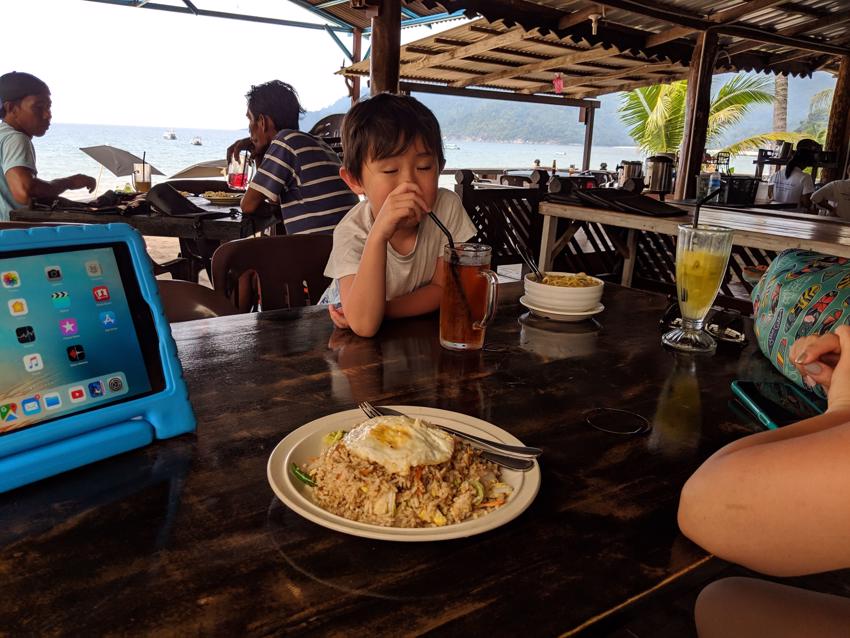 On the way back, we had another bit of adventure when it rained on us as well! It was probably a good thing, because instead of the engine struggling to take us up the hill.. it was now the brakes smoking on the way down! With the rain, it helped a bit to keep the temperatures cool. I am pretty sure if it was as hot as when we came up, the brakes would have caught fire or just failed!! Luckily the rain wasn't too heavy..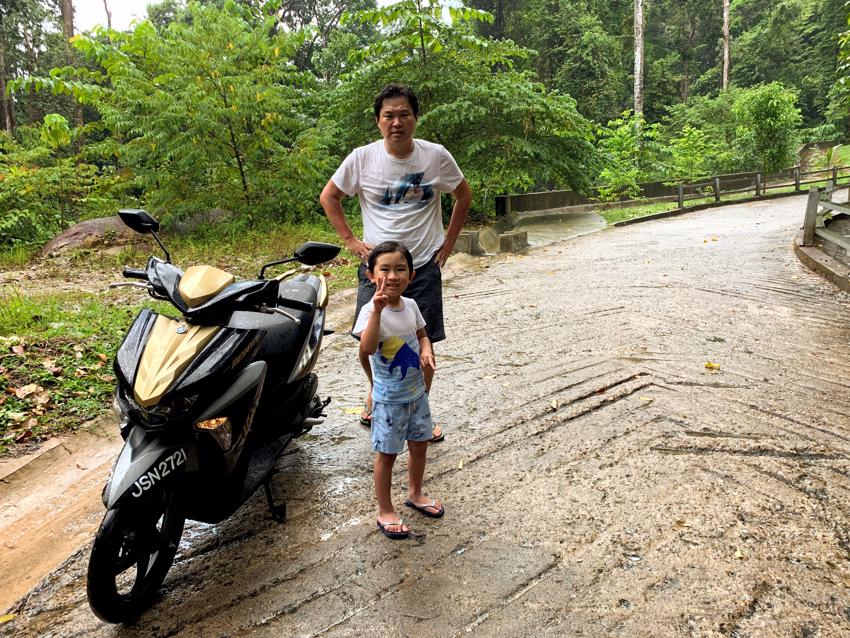 Anyway, by the end of it, Ethan could feel the 'danger' of it too, and was quite glad we were out of the woods. We ended the day with a nice dinner out of the resort at "Sea View Chinese Restaurant". There wasn't any sea view at all despite the name. Ethan took a little nap there.. while me and wifey ate some pretty delicious food.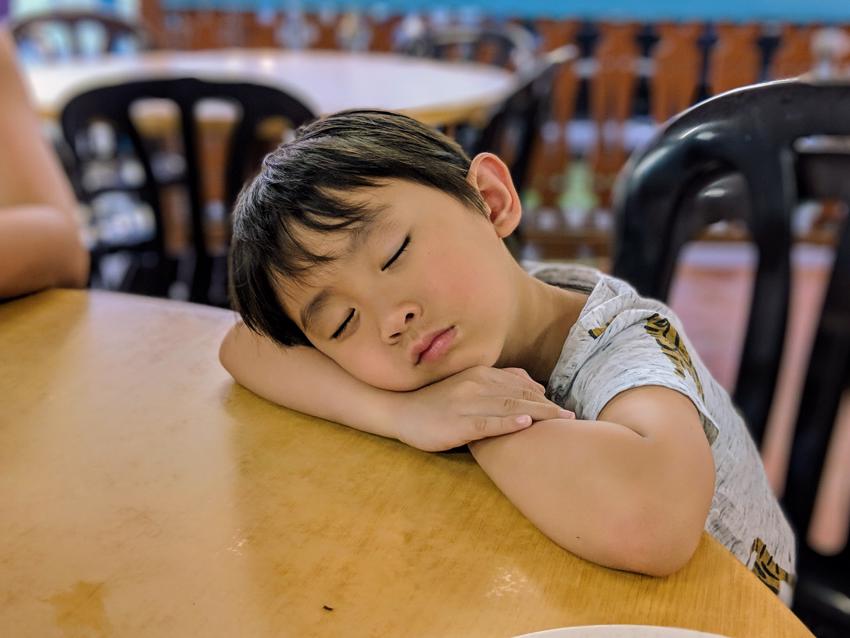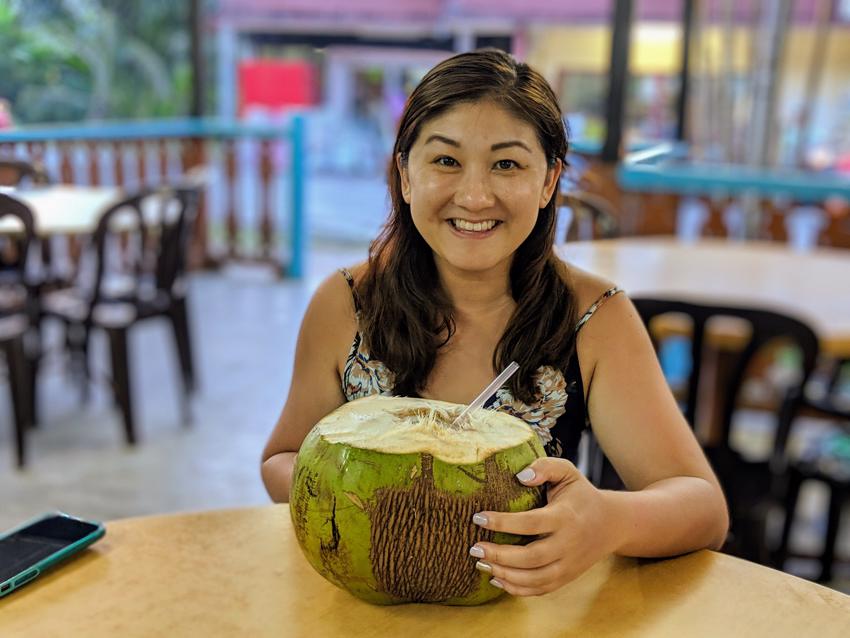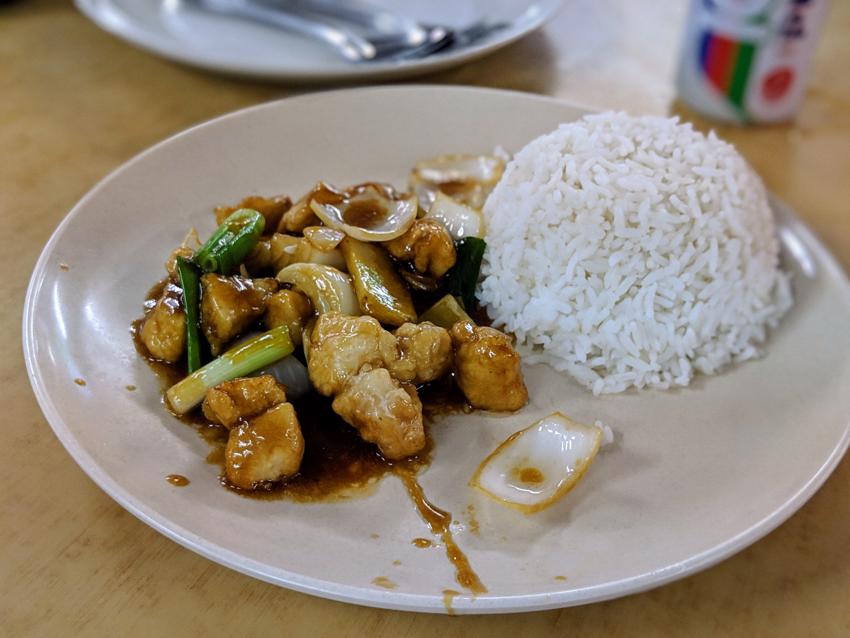 Oh.. and we just had to top up with RM1 (~$SGD 0.35) satay sticks next door as well.. which I swear is one of the best satay I had for a while, especially for RM1 per stick!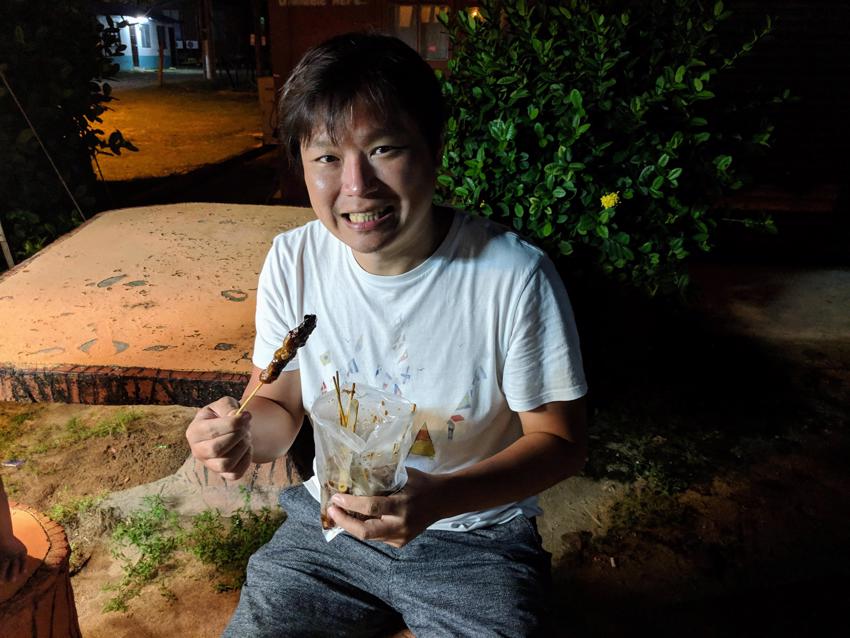 On our last day (on Sunday), the entire day was essentially wasted trekking back to Singapore. Our pre-organised taxi got us to JB Sentral (near customs to cross over to Singapore) and we managed to fit in a short 2 hours shopping at Komtar / City Square in the evening to get it out of wifey's system. My highlight was probably dinner at Ding Tai Fung (For half the price of Singapore).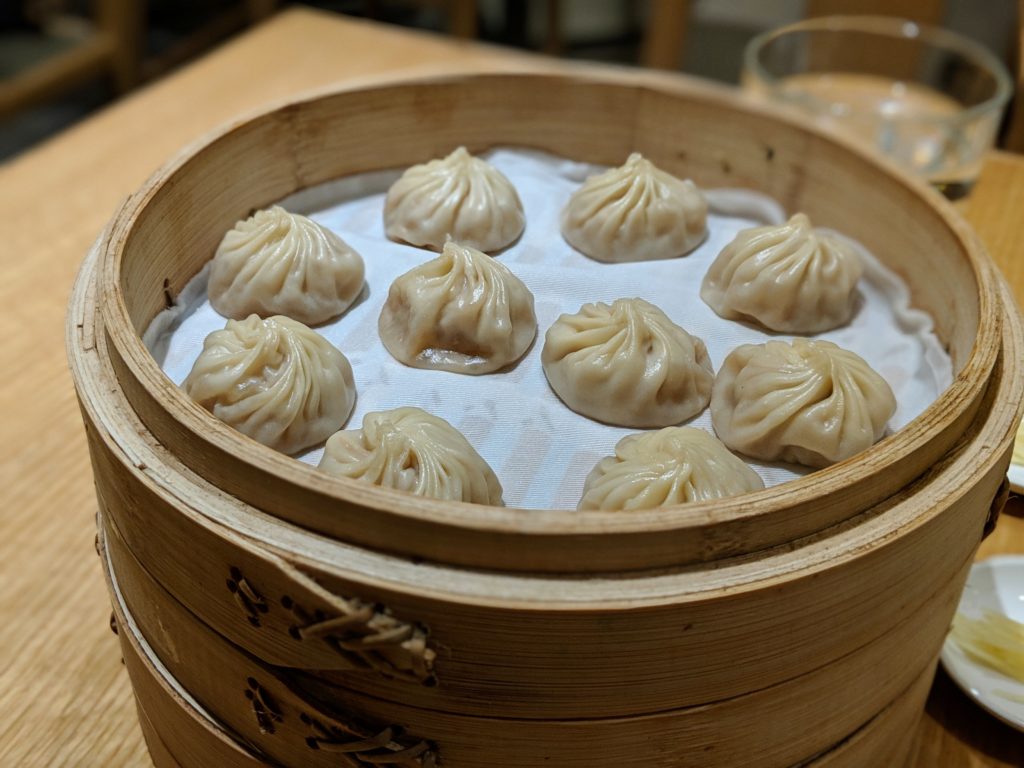 Overall, we concluded that we could have came back from the island a day earlier. Though, the extra did allow us to have a bit of adventure outside the resort. Was it worth the effort to go there? Probably ok for a once-off trip, especially if you are new to snorkeling and want a "gentle" introduction. I probably won't return to it for some time!