Looking back at my blog, I realised I actually haven't been back to Bali since our baby moon during the final months before Ethan was born! That was 2014. Out of the blue, I suddenly had this itch to pay Bali another visit again. We've been to Bali a couple of times and from memory had covered most of the common areas like Ubud, Kuta and Jimbaran (Yes the touristy parts). This trip is meant for us just chill out in a new area that we haven't been to. I decided on Canggu after a bit of research, which is apparently an up and coming area. It's definitely the more "surfie" part of Bali. I don't surf, but I'm going there anyway with the expectation that there is more to Canggu than just surfing. It was definitely last minute with the flight/accommodation all booked just 2 weeks before we departed (booked on 24th March, and departed on 3rd April). It was just a short 4 days / 4 nights quick trip.
Anyway, there was another reason why I decided to take a short holiday as well. There was uncertainty at work as to whether I will still have a job depending on the results of the most significant restructure I've seen since I was with the company 7 years ago. Hence, knowing that this may be our last holiday from Singapore, we took the plunge!
Whilst we did have pretty good memories of our previous trips to Bali, one thing had consistently disappointed us, i.e. the immigration checkpoint on arrival! These days, Australians no longer need visas to enter the country anymore. But that didn't seem to have made a difference. It still took us a good hour to line up just to get out of the airport! And mind you, this time we were deceived by this new line supposedly dedicated to families with kids under 5 years old. You would think that means shorter line and faster exit. The line was short alright. But it was just this one guy manning it and he definitely took his sweet time for each family too! Frankly it was faster just going with the regular queue. Once we passed immigration.. You would think that's it. Unfortunately, there was yet ANOTHER line just to clear customs. Even with a special "No declaration" gate.. There was still a massive queue to get out! It's one annoying start to a holiday that was suppose to be relaxing!
Fortunately, our driver organised by our hotel was on time, and got us to our hotel in one piece without any hassle. We chose to stay at the Haven Suites Bali Berawa. I must admit, the standards for hotels are pretty high these days. For the money we paid for it (about SGD$178/night), there were an awful lot of inclusions namely airport transfers, free first day scooter hire, free mini bar (replenished daily), 4 pieces of laundry included, very large room (60m2) and direct pool access! No wonder the hotel name rhymes with "Heaven"! The room was large…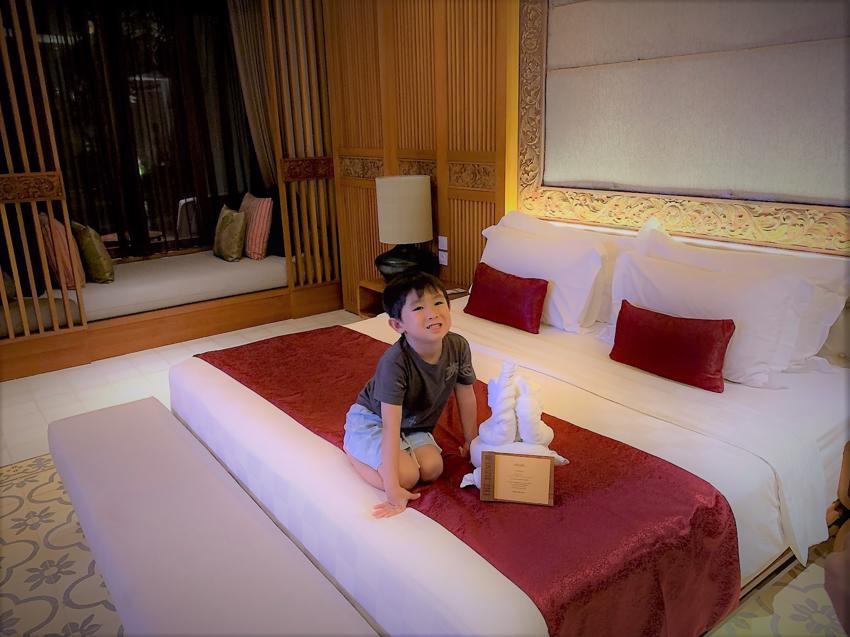 Staff were friendly, and I can assure you, we used that pool just outside our room every single day!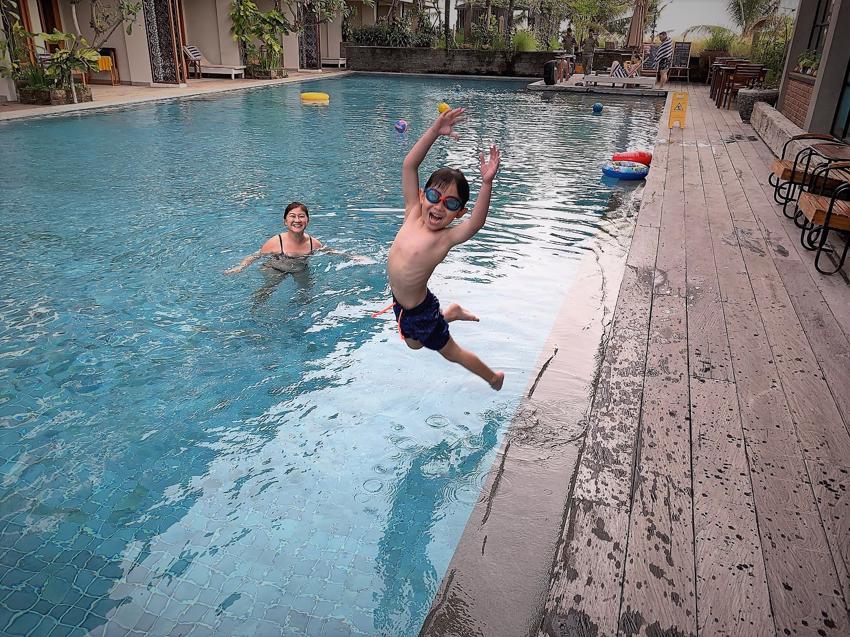 Breakfast wasn't super fancy, but it does have a huge selection of healthy food though. I enjoyed the local fruit selection the most, especially salak ("snakefruit")!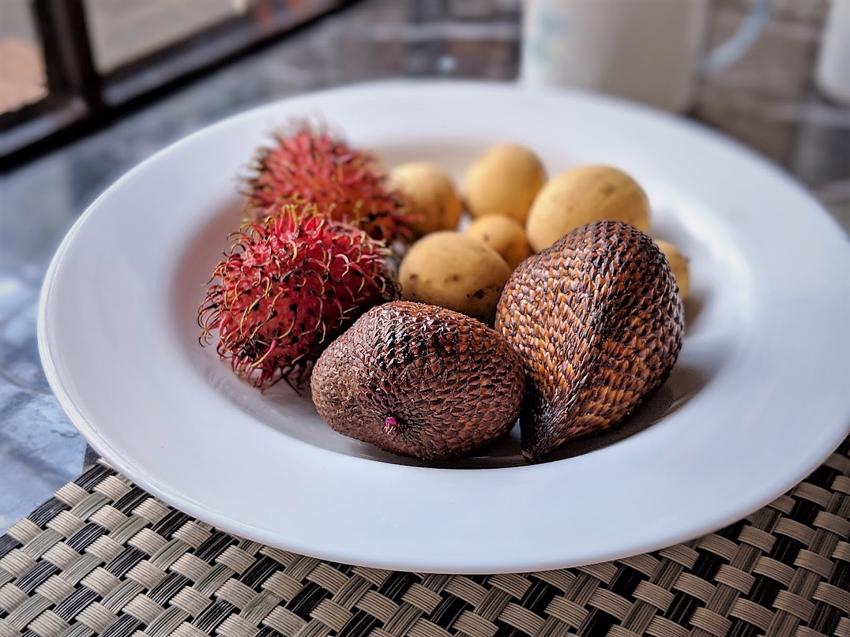 As usual, I didn't waste any time to jump onto my favourite mode of transportation.. i.e. scooter to explore the area right away. We even brought our own helmets (at least for wifey and Ethan anyway). Oh, and the hotel includes the first 24-hour hire for free! Very convenient.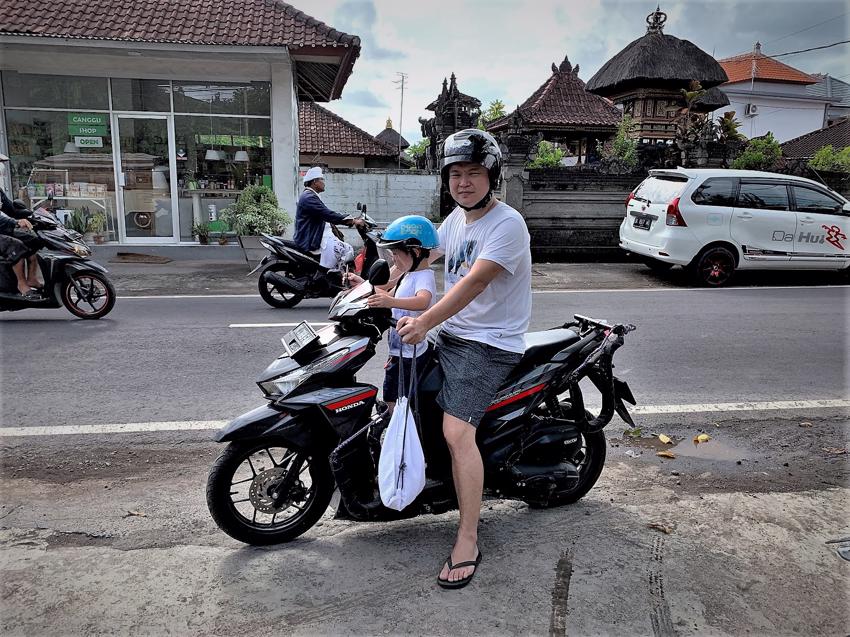 It was then a lot of scooting around Canggu, discovering what this little part of Bali has to offer. Here's what we got up to..
Warung Dandelion
It's a local restaurant with a plenty of character. It even comes with two rabbits hanging out near the entrance to entertain your kids. We went straight with local food, namely Gado Gado and Mie Goreng, both costing just 45,000 IDR (~SGD $4.50).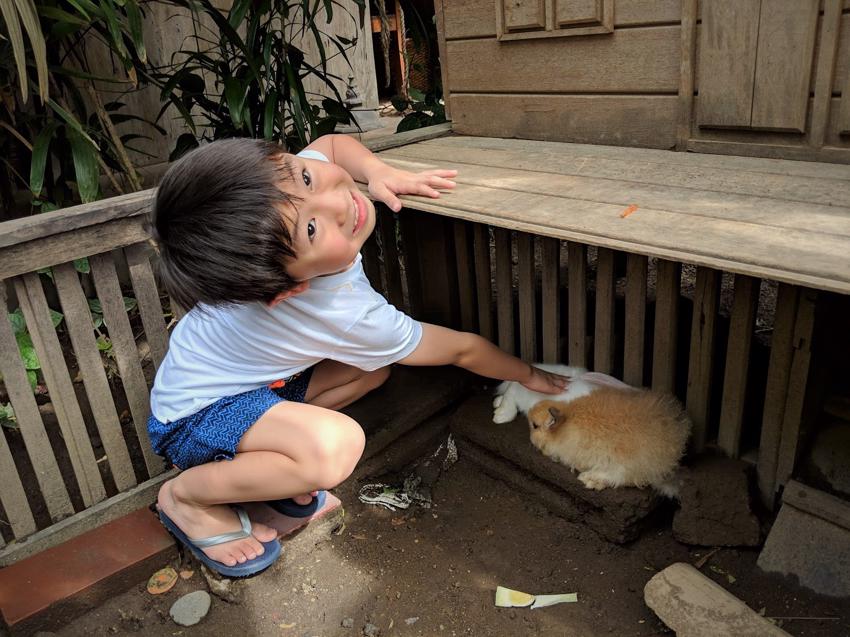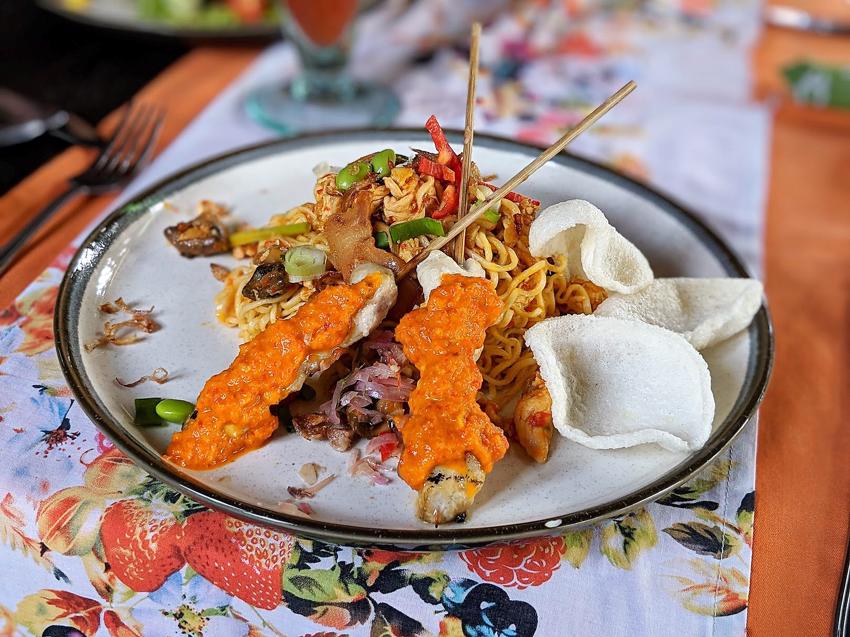 Wahaha Pork Ribs
They claim to have the "best pork ribs in Bali". It's definitely good, just not sure about "the best".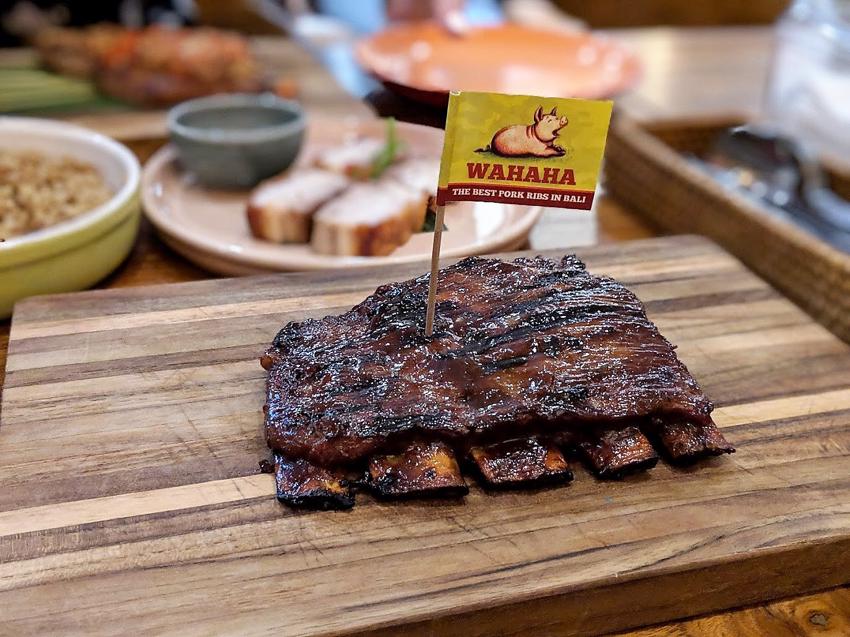 "The Shortcut"
You'll find various travel blogs talking about this famous "shortcut". It shows up as "Jl. echo Beach" on Google Maps. We didn't specifically look for it, but if you are riding a scooter, you will invariably run into it as it's the fastest way to cross from one side of Canggu to another. Riding over this road (more like 'pavement'), you will see nice lush green rice paddies along the way. It is elevated, so if you're not careful, you will end up falling into the rice paddies if you're too close to the edge.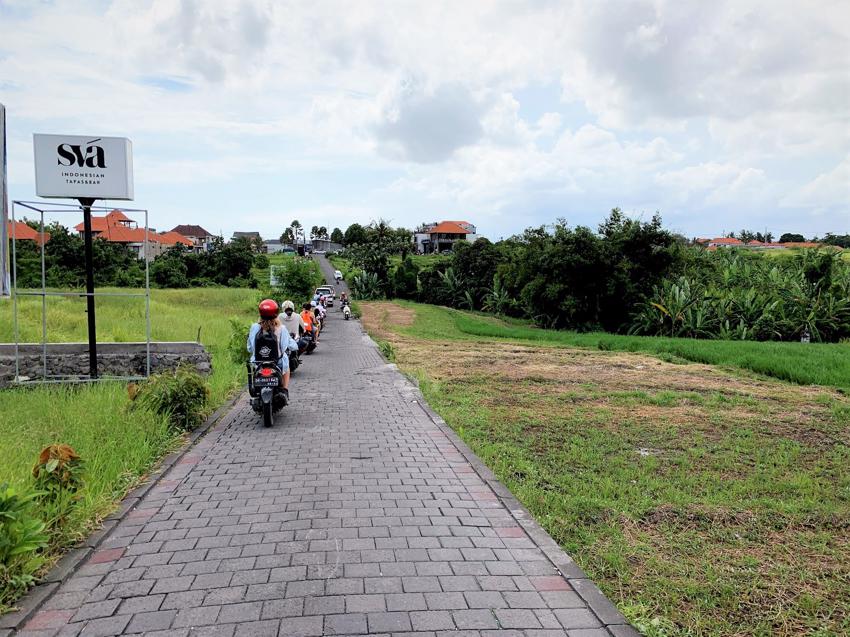 The road isn't meant for cars, but it doesn't appear to stop the cars from going through here just to avoid the longer route on public road. When cars flood in, it will inevitably become a massive traffic jam! We were caught in one of these jam one evening, and I just could not understand why would cars want to even try navigating through here, not to mention how dangerous it is to end up over the edge! Check this article out about the crashes that happen at the shortcut, and apparently there's even a book for it!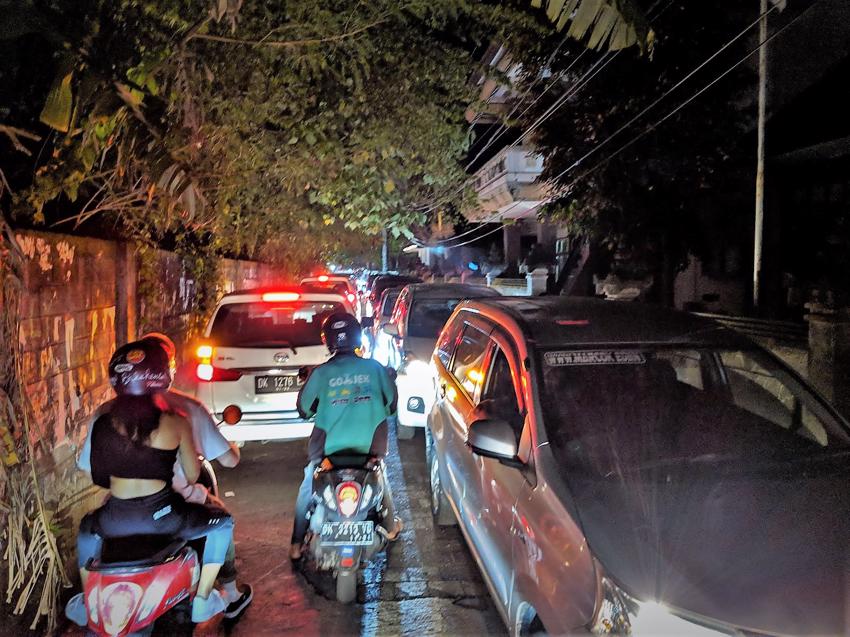 Cinta Cafe
Canggu is littered with cafes like Cinta Cafe, where they offer smoothie bowls in an Instagrammable fashion. We couldn't resist going there for one of our own Instagram photo. Oh.. yes.. it actually tasted pretty good as well. There's even a nice view of rice paddy at the back.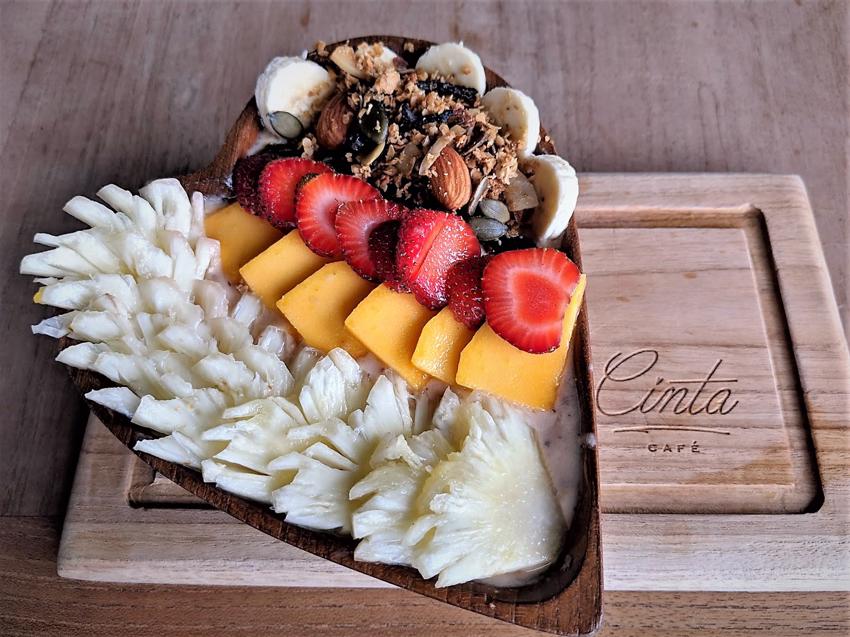 Tamora Gallery
This is probably the only modern artsy shopping/dining complex in Canggu. It's the only place where we found a bubble tea shop (though it isn't really that good) to satisfy me and Ethan's bubble tea cravings.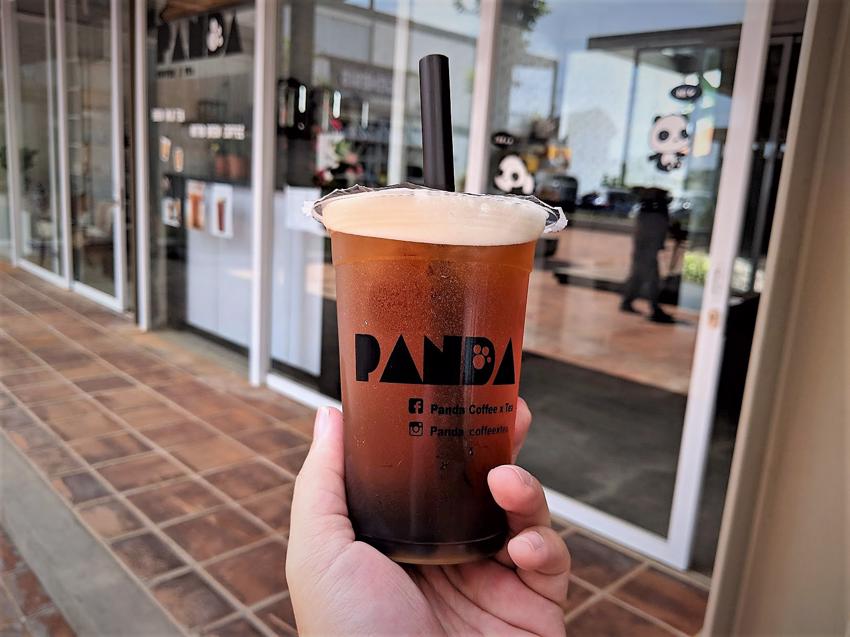 There's even a small playground for the kids to hang out. Though Ethan didn't particularly like it and probably only spent like 5 minutes there.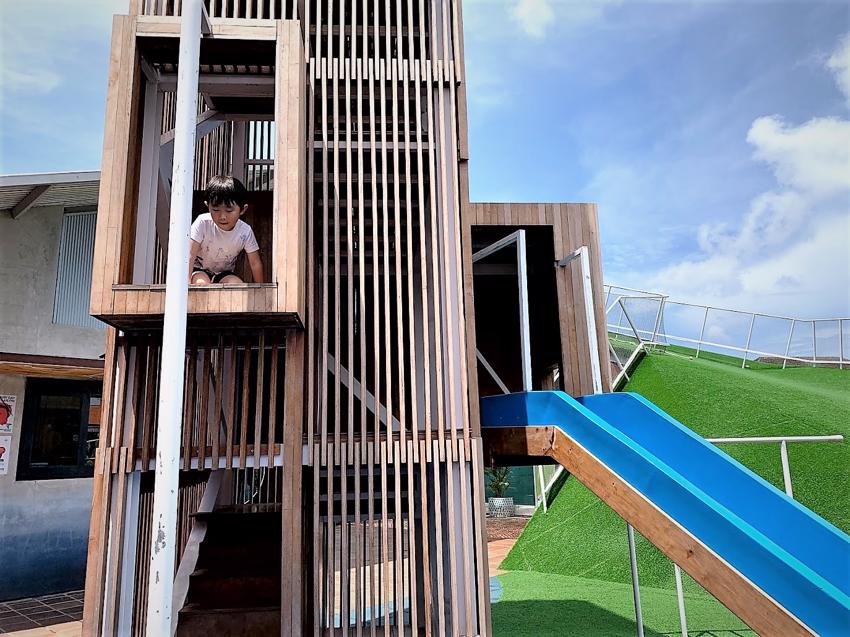 Taman Segara Madu Water Park
On the surface, this didn't look like a good water park at all based on reviews we found on the Internet. It definitely looks old, and doesn't look too well maintained. We went anyway as it was cheap. Myself and Ethan ended up having a TON of fun there, because you can hire a tube and go down water slides!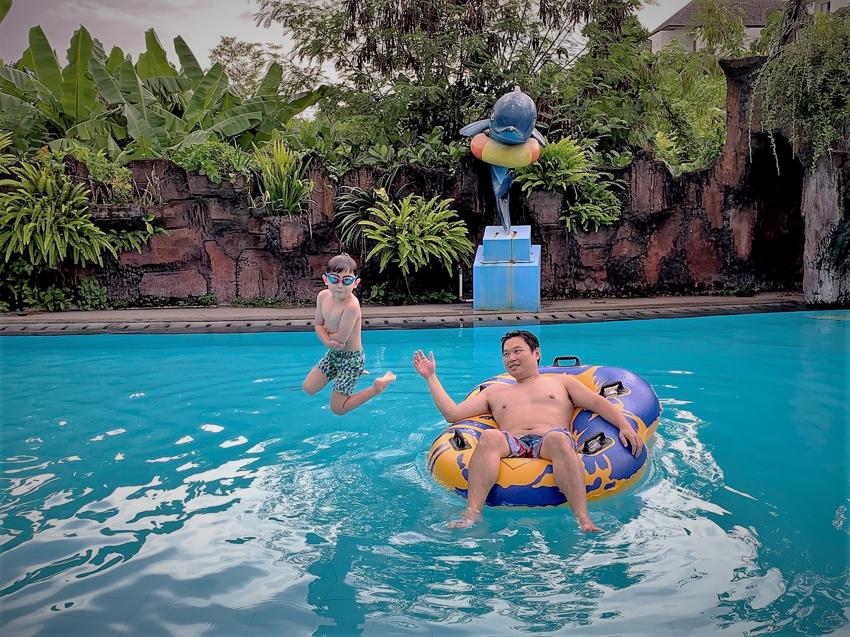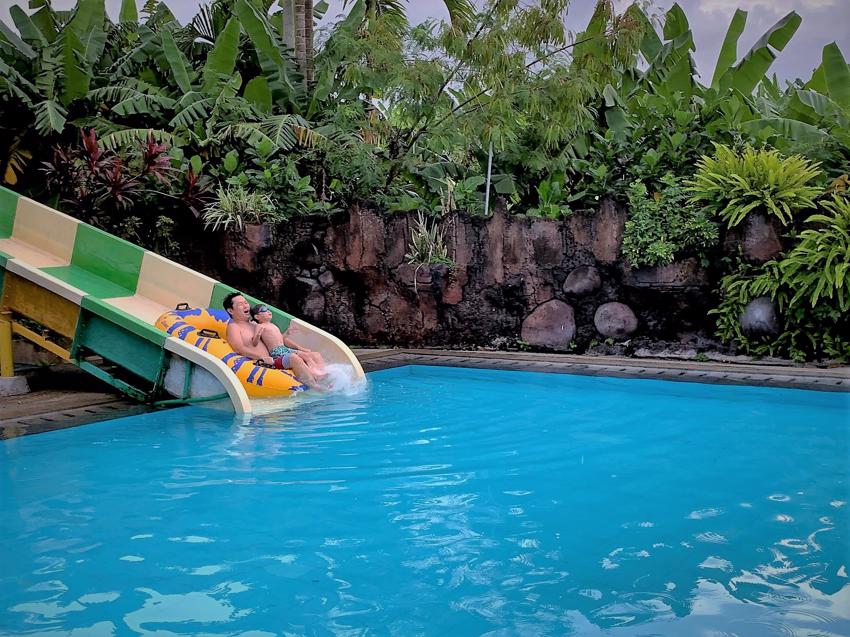 Warung Nasi Babi Guling Men Agus
One of the most memorable cuisine we had in Bali during our previous trips was this pork dish called "Babi Guling". We couldn't pass up on it this time, though it was a budget option with the store located just off a main road. It was GOOD. It didn't feel touristy, and it really does feel like you are going to a local restaurant! Love it!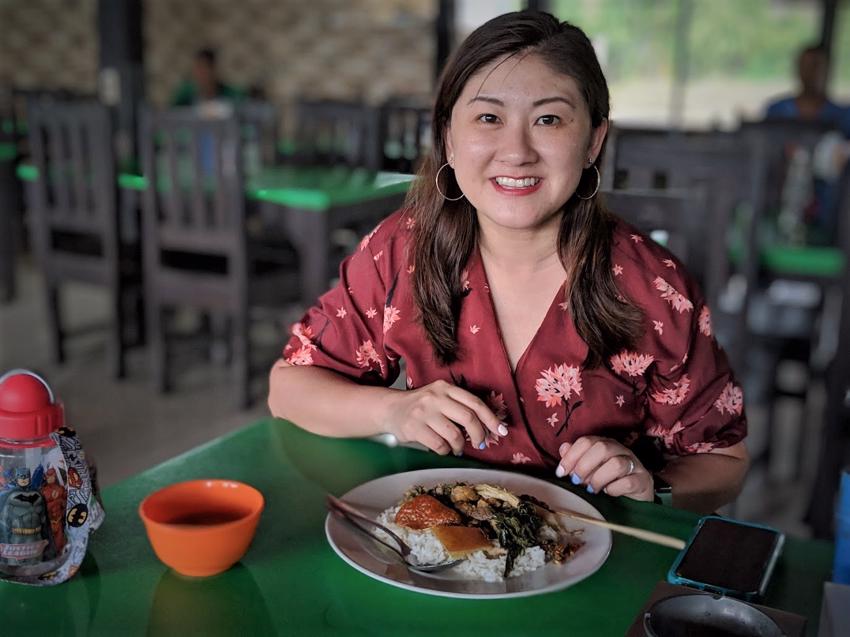 Batu Bolong Beach Sunset
Watching a sunset is one those things you have to cross off in Bali, except the weather seems to get in the way quite a bit this time round. It was rather cloudy most of the days we were there, and we were lucky to catch a short glimpse of it, before the sun disappears into the cloud again.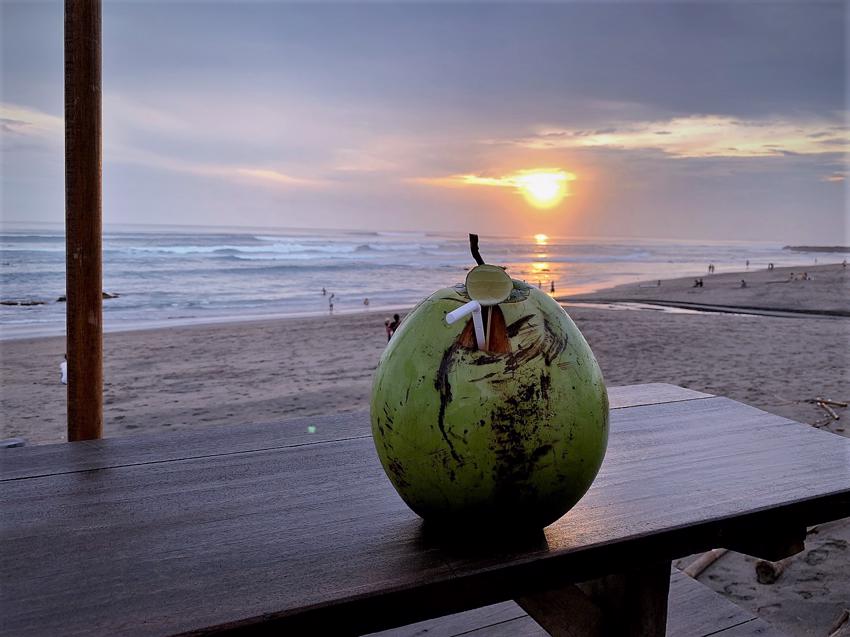 Massage @ Finns Recreation Club
Bali and massage is almost synonymous with each other. We went slightly 'fancy' with the massage offering at the Finns. Reason being that babysitting is included at the Cubby House next door. I am no massage connoisseur, but would say it's good enough. Main thing is Ethan couldn't get enough of Cubby House which is a win-win from my perspective.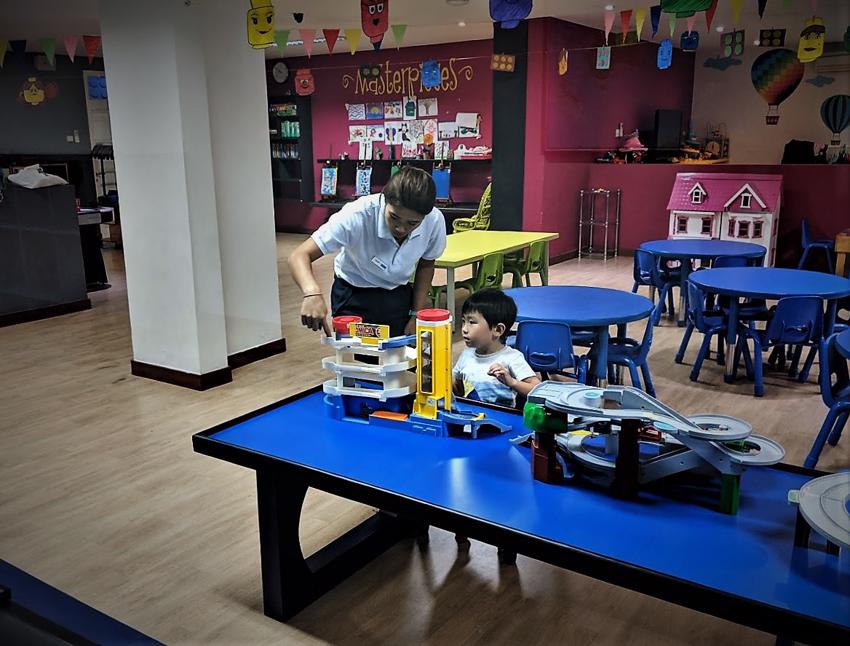 Finns Beach Club
Finns Beach Club is pretty famous at Canggu. It certainly has a 'glamorous' feel to it, and we probably never felt so out of place hanging around there. We went there for a quick dip in the pool just to cross it off. One thing I can say is that we realised Ethan doesn't mind loud music at all!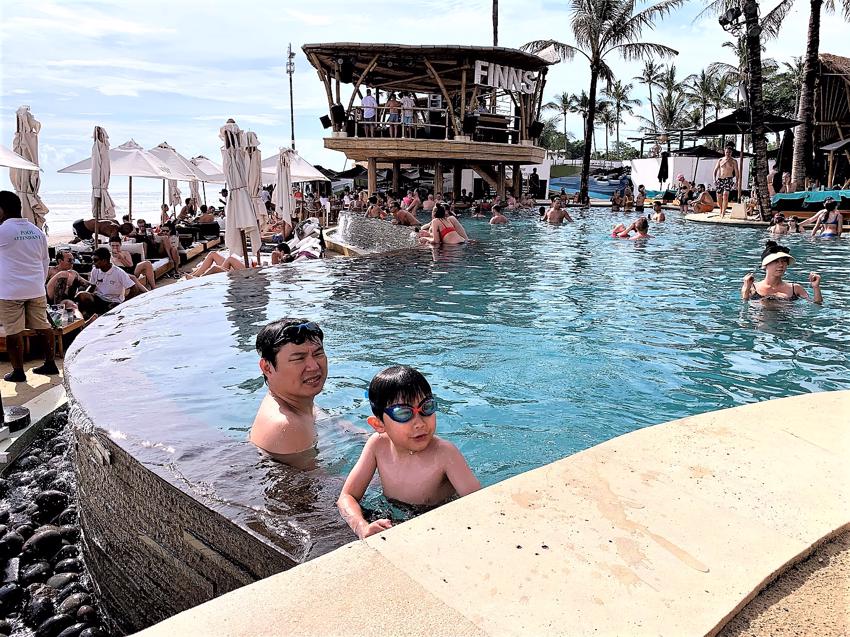 Sunset Viewing Again
Next to the Finns, we found what appears to be a surfie's hideout. The road to the beach isn't paved at all. But there's plenty of bikes here.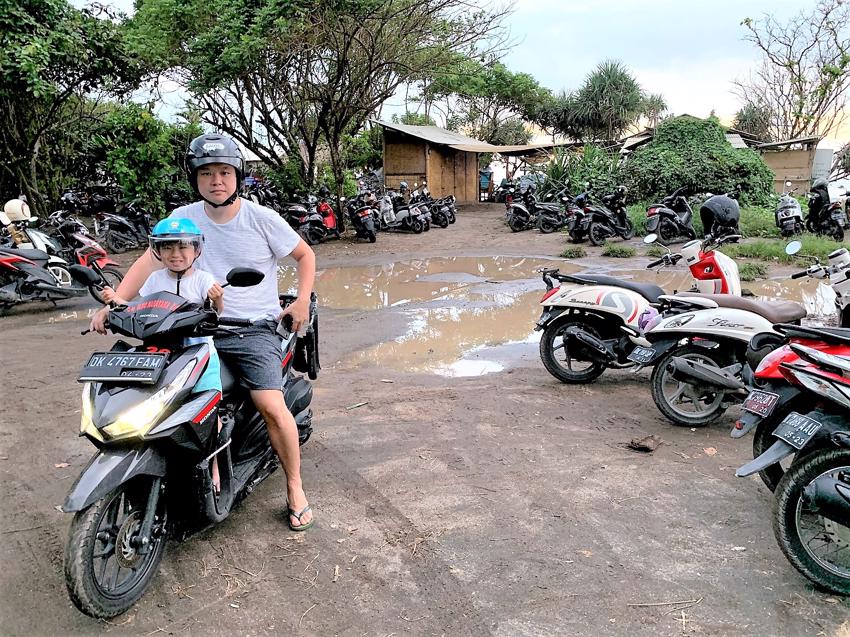 Whilst most people come here to surf, we just bummed around on the seats littered on the beach. I definitely enjoyed hanging around here than at the Finns or at Batu Bolong beach!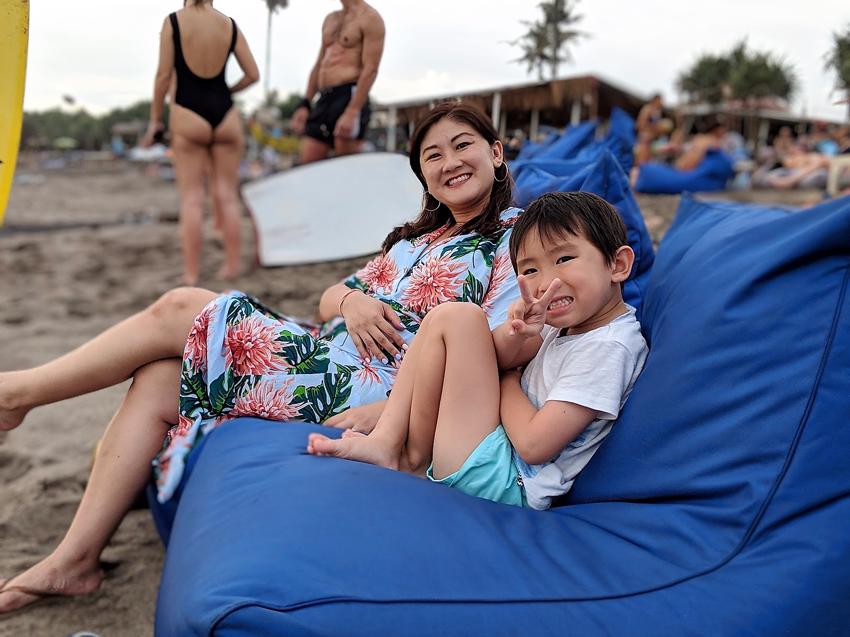 Well.. one thing must be said. Ethan pretty much avoided all contact with sand. If he's not bumming around on a chair, he's using his dad as a convenient "ride".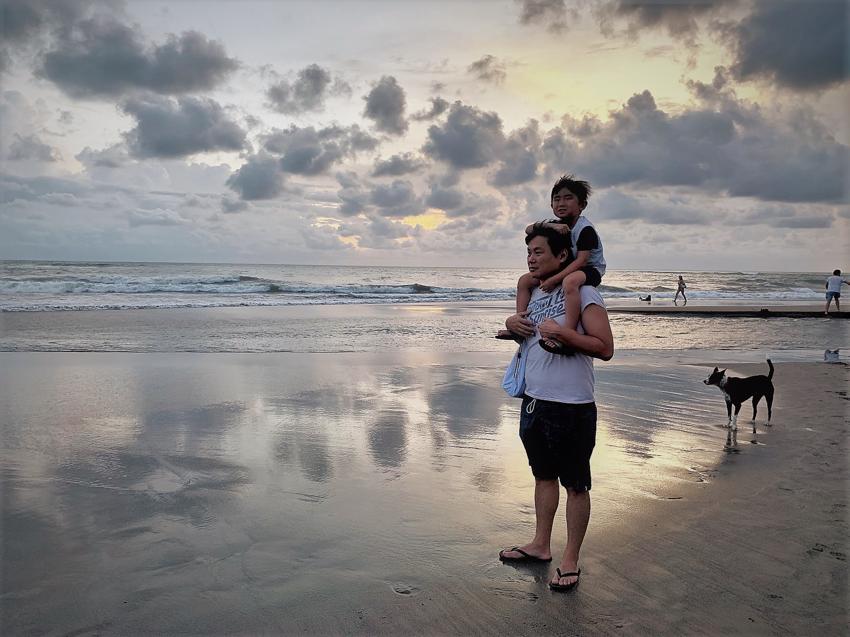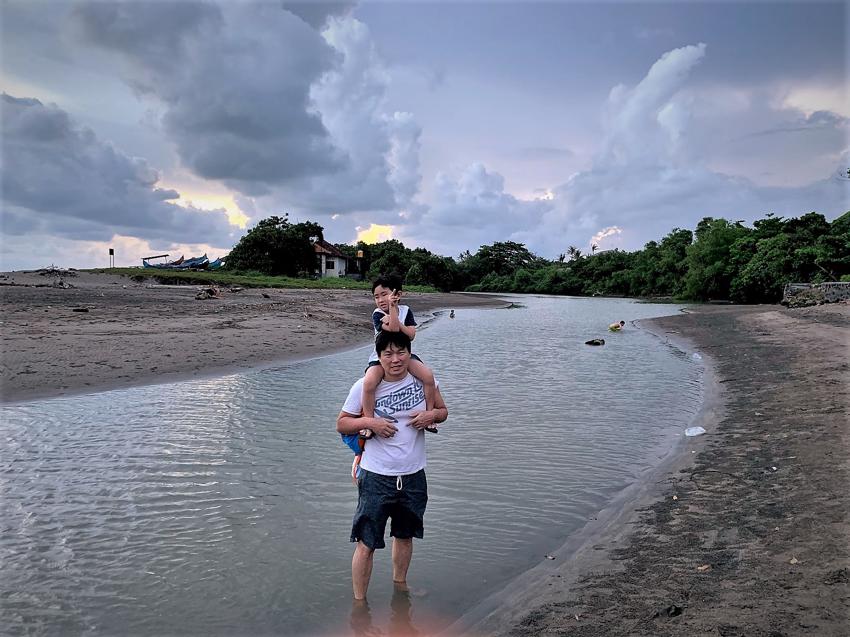 On the last day, we decided to skip hotel breakfast, and tried something different at Rise and Shine café just to take our last Instagrammable photo, along with our last motorbike ride before we head off. We even managed to fit in a quickie in the hotel pool too!!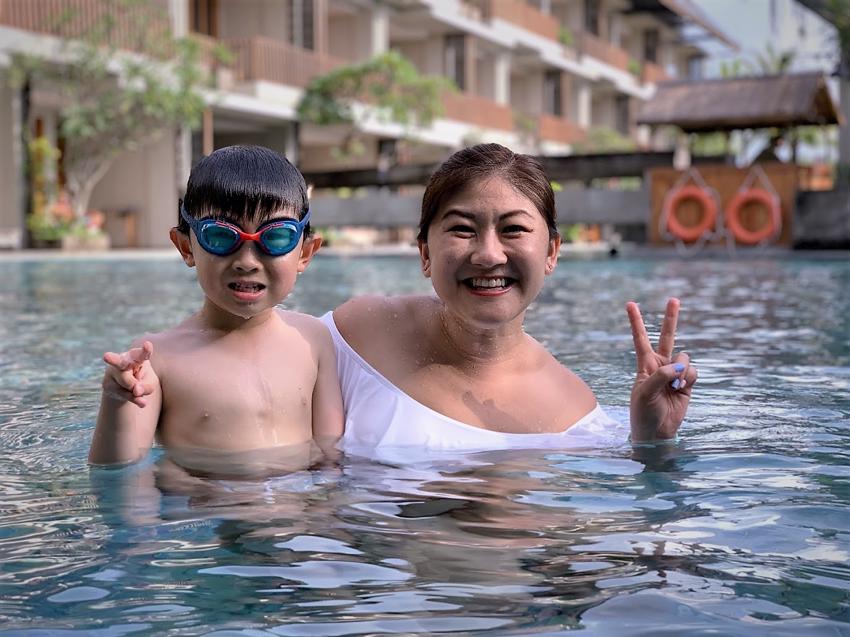 It was a holiday that we can proudly say was a "healthy" one, where we didn't come home feeling bloated. In fact wifey and I both claimed that we lost 2kg each after this trip! Maybe it really was all those smoothie bowls we had.
Looking at Google, I only realised just how big Bali is. We've barely covered just the lower half of Bali after all the trips there. Google Timeline did a pretty good job illustrating just how little we covered this time round at Canggu!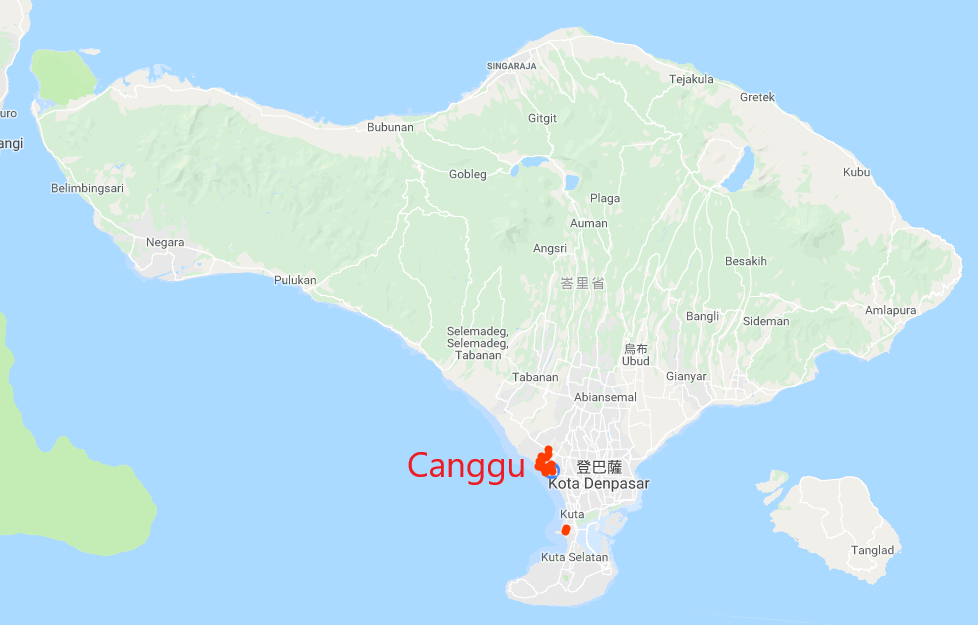 Certainly a good excuse to come back to Bali for more, as there's just so much more of Bali we haven't seen! Anyway, there was one positive outcome after this trip. Not long after I came back, I found out I STILL have a job in Singapore. So looks like travel around Asia will continue, at least in the short term!